Description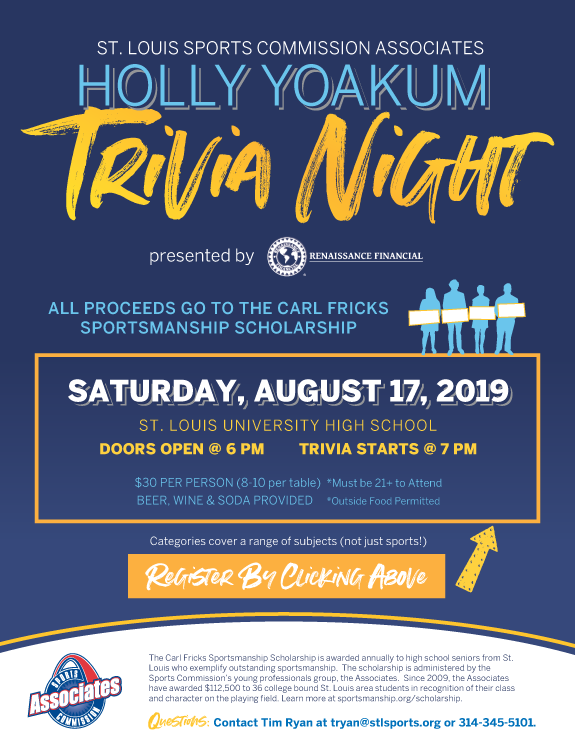 St. Louis Sports Commission Associates Holly Yoakum Trivia Night Presented by Renaissance Financial
Saturday, August 17, 2019 at St. Louis University High School
Doors open at 6 PM | Trivia begins at 7 PM
$30 per person* (8-10 people per table)
Beer, wine and soda provided
Categories cover a range of subjects (not just sports)
*Proceeds fund the Associates' Carl Fricks Sportsmanship Scholarship.
ADDITIONAL INFORMATION:
If you would like to participate, but can't pull together a full table, half tables of 4 ($120) or 5 ($150) will be available. Choosing this option means you will be paired with another half table group.
The Post Sports Bar & Grill is offering an opportunity to pre-order pizzas for your trivia team through the registration process. Pizzas are $12 each (pre-order) and will be delivered to your table prior to trivia questions starting on August 17. All proceeds from pizza sales will be donated to the scholarship. There is a limited number of pizzas available, and can be reserved on a first-come, first-served basis.
If you are not able to participate, but wish to help in the fundraising efforts, you can donate auction items, purchase a sponsorship, or make a tax-deductible contribution to the cause. Please respond to Tim Ryan at tryan@stlsports.org or 314-345-5101 if you wish to help in other ways, or have any questions. Your participation and contributions will help more of St. Louis' extraordinary young people achieve their college dreams!