St. Louis Social Media Club: Social Media + Family

Thursday, September 23, 2010 from 6:00 PM to 9:00 PM (CDT)
Event Details
We hope to be livestreaming the event tonight over at http://bit.ly/smf2010live but don't stay home to watch the stream, come out and join us and enjoy all the food and beverages we have ordered for you :)
Join Social Media Club St. Louis and Chris Heuer, Chairman and Founder of Social Media Club, for this important conversation about Social Media and Family. Chris Heuer will be joined by dads and moms who blog/podcast for a panel discussion around their use of Social Media. Following the panel and a brief Q&A, we will break out into small groups to expand the conversation over drinks.
*********************************SPECIAL NOTE*********************************
Thanks to our sponsor, Chevy, there will be drinks and appetizers provided at this event. We are asking for a donation of $10 at the door with ALL proceeds going to LetsCureCP.org
*********************************SPECIAL NOTE*********************************
For the last several years, the majority of the focus has been on how Social Media has been transforming organizations, but at the same time, social media has also been transforming the relationships between parents and their children; between husbands and wives; and between all members of extended families.
The emergence of "The Social Family" is bringing a whole new set of efficiencies to communications between family members, and making it easier to keep in touch across long distances. It is also not without its own set of challenges, from the common "my kids won't friend me on Facebook" to more dangerous issues such as child safety, cyber bullying and online stalking. With every increase in the level of public disclosure we make about our lives, we are at once becoming more connected to our broader community and providing potential evil doers with insights into our homes and our family life.
Where to draw the line and how to be mindful of all these potential challenges takes real effort. So together we will find out what every social family should know.  We also want to know if social media is helping keep dads and moms more connected with their families and what sort of services parents would be most interested in seeing developed.
On the evening of Thursday September 23 from 6:00-9:00pm, we will gather to discuss this important topic thanks to the support of Chevrolet Cruze, a modern family car which is setting out to change the rules for compact cars. Drinks and light appetizers will be served. Our host for the evening is Chris Heuer, founder of Social Media Club, the world's leading non-profit association of social media professionals and participants, now in over 200 cities around the world. 
6:00-7:00pm  :  Registration and Networking
7:00-7:15pm  :  Welcoming remarks about Social Media Club and its future, Chris Heuer
7:15-8:00pm  :  Panel with local Parents Who Blog
8:00-8:15pm  :  Q&A
8:15-9:00pm  :  Small group conversations over drinks
Our panelists:
Todd Jordan Married for 26 years, Todd is the father of two young men, and grandfather of three girls.
An old school geek, Todd raised his boys around technology from the start. His youngest has been online since kindergarten. Todd' older boy just never got involved until being deployed with the Army,  where Facebook helped him stay connected with his own family.
Todd started off with BBS systems and was an early Internet user. From running his own BBS in New Orleans, Todd has become a social media and blogging enthusiast. This lead to bringing his whole family online, including on Facebook, Twitter, and Flickr. He's even encouraged his granddaughters to participate in online communities with Webkinz, online games, and more.
Blogging on tech, social networking and more, Todd has also blogged about kids, families and life online on Dadomatic, other parenting blogs, and his own Broad Brush.
Melody Meiners is a freelance writer and interactive marketing consultant who lives in St. Louis with her husband, drama-queen baby, and neurotic dog. She is learning that parenting changes everything, but she refuses to abandon her heels and martinis for the standard issue mom jeans and feathered haircut. She graduated from Webster University in 2005 with a degree in English Literature, and she is working feverishly to prove that she is qualified for something other than correcting other people's grammar while serving them fancy coffee drinks. She is the founder and managing editor of Girls Guide to the Galaxy, a partner and contributor at STLFamilyLife.com, and you can find her personal blog at MrsSmartyPants.com.  And, of course, when she isn't blogging she is feverishly tweeting as CosmosGirl on Twitter. She is also the founder of St. Louis Women in Media, a local women's networking group for media professionals and hobbyists. Basically, she is a typical thirty-something working wife and mother who is desperately warding off those evil mom jean spirits and trying to make sure her kid doesn't grow up to shoot laser beams out of her eyes (a very likely scenario at this point).
Kristina Sauerwein is an author and freelance writer and editor who blogs during the predawn hours and on the miraculous afternoons when her toddler naps. Besides her busy, bruiser, bug-stomping 2-year-old boy, Ryan, she is mom to a 5-year-old year girl, Zoe, a kind and kooky-in-a-good-way kindergartner who loves Broadway musicals and repurposing recyclables for art projects. She is also wife to a man she met at a press conference when she was a rookie newspaper reporter writing a gritty crime story. Had a murder not occurred, she may not have met her husband and created the two most wonderful kids ever born. Not that she's biased. Speaking of which, Kristina's professional past includes staff-writer positions at daily newspaper such as the Las Vegas Sun, St. Louis Post-Dispatch and Los Angeles Times. Once she became a mom, however, she delved into the more me-focused world of  social media. She is a popular contributing blogger for BabyCenter's Momformation, which is frequently honored as a leading blog, one that reaches millions of parents globally. Sauerwein's "mom influence" in the parenting community has attracted attention from dozens of major corporations such as Sony, General Mills and Johnson & Johnson, all asking for her insights. For BabyCenter, she writes a weekly column called "Balancing Acts," in which she examines universal, humorous and sometimes controversial mom experiences. Additionally, she has started writing regular features about home design and decor, and, this fall, she is launching a personal lifestyle blog, White Picket Senses, which will focus on relationships, parenting, home and garden, food and all things domestic. A Phi Beta Kappa graduate of Syracuse University in New York, Kristina is also author of the critically-praised, nonfiction narrative, "Invisible Chains: Shawn Hornbeck and the Kidnapping Case that Shook the Nation." She tweets as "sourwine," the correct pronunciation of her often-botched last name.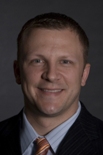 Doug Terfehr has three primary passions in his life – family, work and … Red Bull. More on the latter later. A marketing communications and social media integrator at Fleishman-Hillard, Doug has fully embraced the influence and movement social media can have on consumer behavior. He understands that content is key no matter when it is used, and is a leader in driving that position through to several clients throughout the agency, including the sponsor and star of Thursday's Social Media Club party, the 2011 Chevy Cruze. An avid contributor to blogs and a status update junky on Facebook, Twitter, Foursquare and anything in between, Doug
blends a mix of industry news, clients news and personal news into his social media activities every day. A father of two, Doug has introduced his family to the connectivity of social media by having all family members "live" on Facebook in one way or another. Doug is fueled around the clock to continue to learn more about the penetration and performance of integrated marketing by one thing – RED BULL. Lots and lots of Red Bull. In fact, Doug has a personal vending machine stocked solely with the delicious juice served 8.3 oz at a time. Stop by his office Thursday night to check it out in person!
*********************************SPECIAL NOTE*********************************
Good news! Fleishman Hillard, our hosts for the event and our partner on the campaign with Chevy Cruze is going to cover your parking in the Broadway Garage for their building. They will validate it for you in the event 
*********************************SPECIAL NOTE*********************************
Sponsor and Host
About Chevrolet Cruze (our sponsor for Social Media + Family event series)
Earlier this year, President Obama called the Chevy Cruze "the car of the future", because it's the car that has something for the entire family. It's the only car in its segment with a 5-Star safety rating, and it comes with an unprecedented 10 airbags, providing you peace of mind while hauling even your most previous cargo. Its upscale amenities like Bluetooth, turn-by-turn navigation and 18" aluminum wheels let parents and children ride in style. And with hybrid-like fuel efficiency and a headline-making sticker cost of only $16,995, the Chevy Cruze is giving the modern family what it deserves – something that appeals to the entire family
About Social Media Club (the host of Social Media + Family)
Social Media Club (SMC) hosts conversations that explore key issues facing professionals and organizations as technologies transform the way we connect, communicate, collaborate and relate to each other. SMC's primary missions are focused on promoting media literacy, promoting standards based technologies, championing ethical behavior and sharing our collective knowledge and insights with each other and the world. As the world's largest organization of Social Media Professionals, we reach leading influencers and social media enthusiasts in face to face meetings held in over 230 cities around the world. As part of our dedicated efforts to improve media literacy, our SMCEDU.org program is striving to improve the quality of social media education in universities. Please consider joining our effort to professionalize social media by joining as a professional member today.
Attendee List
Sort by:

Date

|

First Name

|

Last Name
When & Where

Fleishman-Hillard
200 N Broadway
(St. Louis Place, at Pine and Broadway)
St. Louis, 63102


Thursday, September 23, 2010 from 6:00 PM to 9:00 PM (CDT)
Add to my calendar
Organizer
Social Media Club hosts conversations that explore key issues facing our society as technologies transform the way we connect, communicate, collaborate and relate to each other.
We are focused on expanding digital media literacy, sharing lessons learned, promoting ethical behavior and advancing industry standards. Social Media Club is a non-profit organization, and the world's largest community of Social Media Professionals, with local chapters in 300+ cities.
Learn more at http://socialmediaclub.org and connect with us at http://twitter.com/socialmediaclub and http://facebook.com/socialmediaclub