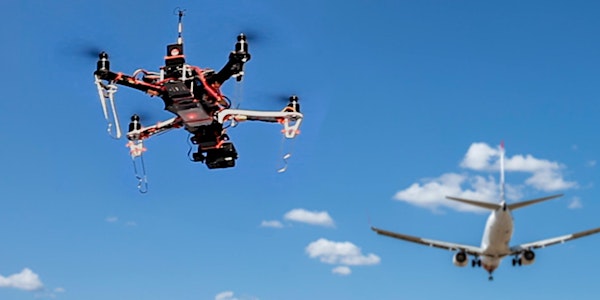 ST. LOUIS AVIATION INDUSTRY FORUM INAUGURAL PROGRAM SERIES
When and where
Location
Bi-State Development 211 North Broadway, Suite 650 One Metropolitan Square Saint Louis, MO 63102
Description
ST. LOUIS AVIATION INDUSTRY FORUM INAUGURAL PROGRAM SERIES
Drones – They Are Coming. Are We Ready?
A Series of Three Networking Lunches
Hosted by Bi-State Development and St. Louis Downtown Airport
Drones or Unmanned Aircraft Systems (UAS) are finding ways into our daily lives at all levels—aerospace, public safety, industry and infrastructure, leisure, retail services and the list will only continue to grow. This technology is already here and it presents great opportunities, but also comes with real challenges, especially in a fragmented, regulatory environment. This series of three industry networking forums, hosted by Bi-State Development and St. Louis Downtown Airport, will bring together diverse perspectives to begin to explore how the St. Louis region is approaching drone use and what we should understand in order to effectively move forward.
*Registration is available for all three programs or individual sign-up. To register for more than one session, select any date and Eventbrite will allow you to add others to your cart at checkout.
Who Should Attend: aviation and aerospace professionals, general aviation and commercial airport staff, business leaders, university faculty, local government officials, public safety professionals, and interested community members.
Cost: $16 per event, boxed lunch included. | $48 for the full series
Location & Parking: All sessions will be held in the Bi-State Development Board Room at Metropolitan Square, 211 N. Broadway, Suite 650, St. Louis, MO 63102 in downtown St. Louis.
Validated parking in the Metropolitan Square garage; entrance on Pine Street. Please bring your parking ticket for validation.
---
1) Drones in our Society—Today and Tomorrow
Wednesday, September 26, 2018
11:30 a.m.-1:30 p.m. | Program begins at 12 Noon
Panelists:
Ravi Sahu, Founder and CEO
Strayos
Dr. Srikanth Gururajan, Assistant Professor, Aerospace and Mechanical Engineering
Saint Louis University
Tomislav Žigo, Vice President, Virtual Design and Construction
CLAYCO
This program will begin our exploration and panel discussion on how drones are being introduced and deployed in commercial, industrial, aerospace and other sectors to support economic development, policy and research goals. What are the expectations for future uses? How will drones affect the ways we plan and design? How do we employ people, protect assets, collect data and reach customers? The technology is here. How are we using it and are we ready to leverage what it offers?
---


2) It's a Bird, It's a Plane, It's a Drone: Issues to Consider for Local Regulation
Thursday, October 11, 2018
11:30 a.m.-1:30 p.m. | Program begins at 12 Noon
Panelists:
Joseph Bond, Associate Attorney
Cunningham, Vogel & Rost, P.C.
Chief Kurt Frisz, Police Chief
City of Wentzville, MO
Linda Schumm, Bureau Chief Aviation Safety & Education
Illinois Department of Transportation – Office of Intermodal Project Implementation – Division of Aeronautics
"All I want for my birthday is a drone." Local governments across the region are struggling with options to properly regulate drone use within their jurisdictions. Many are grappling with options available to balance the desire of citizens, business, media and public safety departments with issues related to safety, privacy and the first amendment. Our panelists will share information and examples of what municipalities and counties can consider as they create new regulations in the community.
---
3) The Integration of Drones into the General and Commercial Aviation Landscape
Wednesday, October 24, 2018
11:30 a.m.-1:30 p.m. | Program begins at 12 Noon
Panelists:
Debra Sanning, Senior Advisor
Office of the Regional Administrator, FAA—Central Region
Ronald Stella, Deputy Director for Operations and Maintenance
St. Louis Lambert International Airport
Erick Dahl, Director
Downtown St. Louis Airport
Airport operators, large and small, are facing challenges of how to manage drone operation on and around their airports. We are now regularly hearing stories of UAS coming into contact with regulated air traffic. The opinions of how to address these issues vary widely and the FAA is deep into the discussion of regulation at the national and regional level. This session will include a presentation by members of the FAA—Central Regional Administrator's RAUS Team, and commercial and general aviation airport perspectives on how drones fit or don't fit into the general/commercial aviation landscape.
---
Questions? Please contact Julianne Stone at jxstone@bistatedev.org or Erick Dahl at EADahl@stlouisdowntownairport.com
---