Description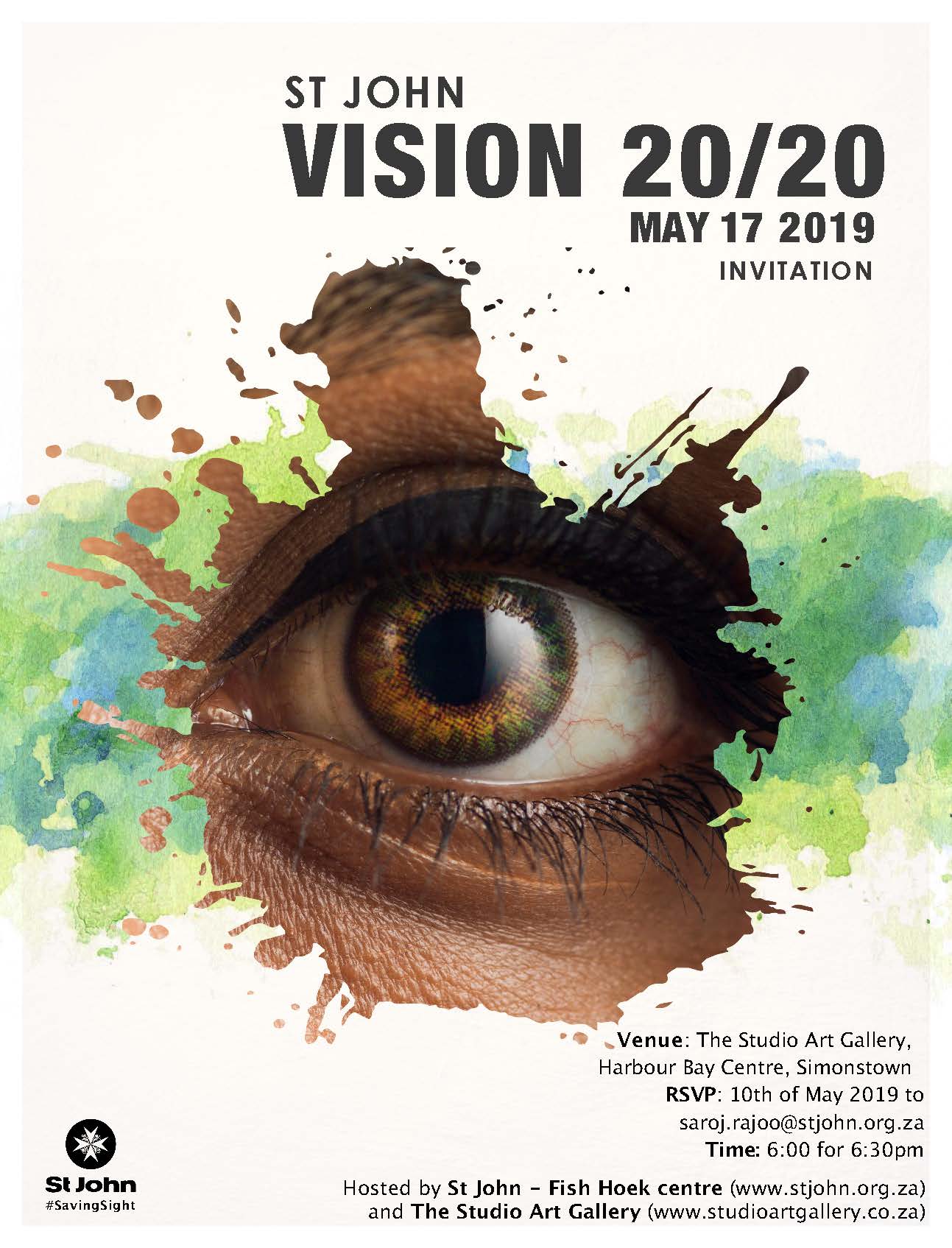 Exhibition opening: Friday the 17th of May at 6 pm *(RSVP extended until 14 May)
Exhibition walkabout: Sat 18th of May at 10 am at The Studio Art Gallery
St John - South Africa, well known internationally for first aid training and related services, has been providing high-quality eye care to South Africans since 1951. They will be hosting photographic exhibitions in Durban, Simons Town, Stellenbosch and Johannesburg throughout 2019 to promote the work conducted in the field of eye care and the impact this work has had on the lives of everyday South Africans – people like you and me.
Sight is a very personal and intimate experience for each individual and this is at the heart of the exhibition; the images showcase the individuals who benefit from the Eye Care services that St John offers and embodies its mottoes: "Pro Fide – Pro Utilitate Hominum" – For Faith - In the service of humanity.
Each individual selected and showcased at the exhibition has a personal story to tell. From dressmakers, truck drivers and construction workers to community leaders, these are the people that shape our lives, our communities; these are the people that St John South Africa serves.
Included in the exhibition are the stories of the unsung heroes within St John; dedicated individuals who give their time as optometrists, receptionists, and bookkeepers. Men and women working towards a better vision, a grander vision, a 20/20 Vision.
The aim of the exhibition is to:
• To showcase how individual's lives are changed when they have the gift of healthy eyesight
• To raise awareness about the eye care work of St John in local communities
• To highlight the importance of accessible, affordable, high-quality eye care
How can you get involved?
St John – Fish Hoek Eye clinic, officially opened at the Fish Hoek center in January 2009 and have been offering quality, affordable eye care services to the community.
Book your eye test by calling them on 021 782 3306 or email Saroj Rajoo at saroj.rajoo@stjohn.org.za
Book your appointment at www.stjohn.org.za/eye-care/book-your-appointment/ or at any of our 12 eye clinics around South Africa.
______
To know more about our St John Vision 20/20 exhibition please email Robyn Keet (robyn@innervoicecreative.com)