Actions and Detail Panel
ST. JOHN EVANGELICAL CHRISTIAN CHURCH
Sun, May 1, 2016, 11:00 AM – Tue, May 2, 2017, 2:00 PM EDT
Description
Welcome to this house of worship. We believe the Bible to be the inspired Word of God, the Foundation of Christian faith, and the Guide to devout, God-fearing living. We believe in revivals, in preaching repentance and urging men and women to forsake sin and seek God for forgiveness and cleansing. Whether you visit in person or via the internet, we hope you will find something here to encourage you in your spiritual growth. Our doors and arms are open wide to those who want to discover the joy of loving and being loved by God.
To serve God by ministering to the needs of his people and make our church your home. St. John has accepted the Great Commandment to love God, others and ourselves. As a church, we are committed to helping each believer find his or her place of service in the Kingdom of God. We invite you to drop in for a personal visit.
St. John is evangelical in doctrine and evangelistic in practice. A youthful church grappling the enemy from every side.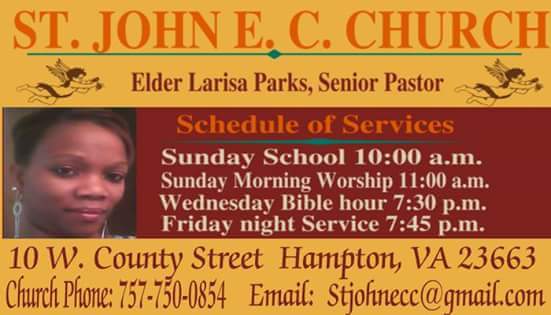 Date and Time
Location
St. John Evangelical Christian Church
10 W County Street
Mallory Street
Hampton, VA 23663