St. Hilary's Primary School, VNSAA St. Hilary's School and AOG St. Hilary's School Information Day 德萃小學、漢師德萃學校及神召會德萃學校資訊日 (2020-2021入學)

Saturday, September 21, 2019 from 9:30 AM to 11:00 AM (HKT)
Event Details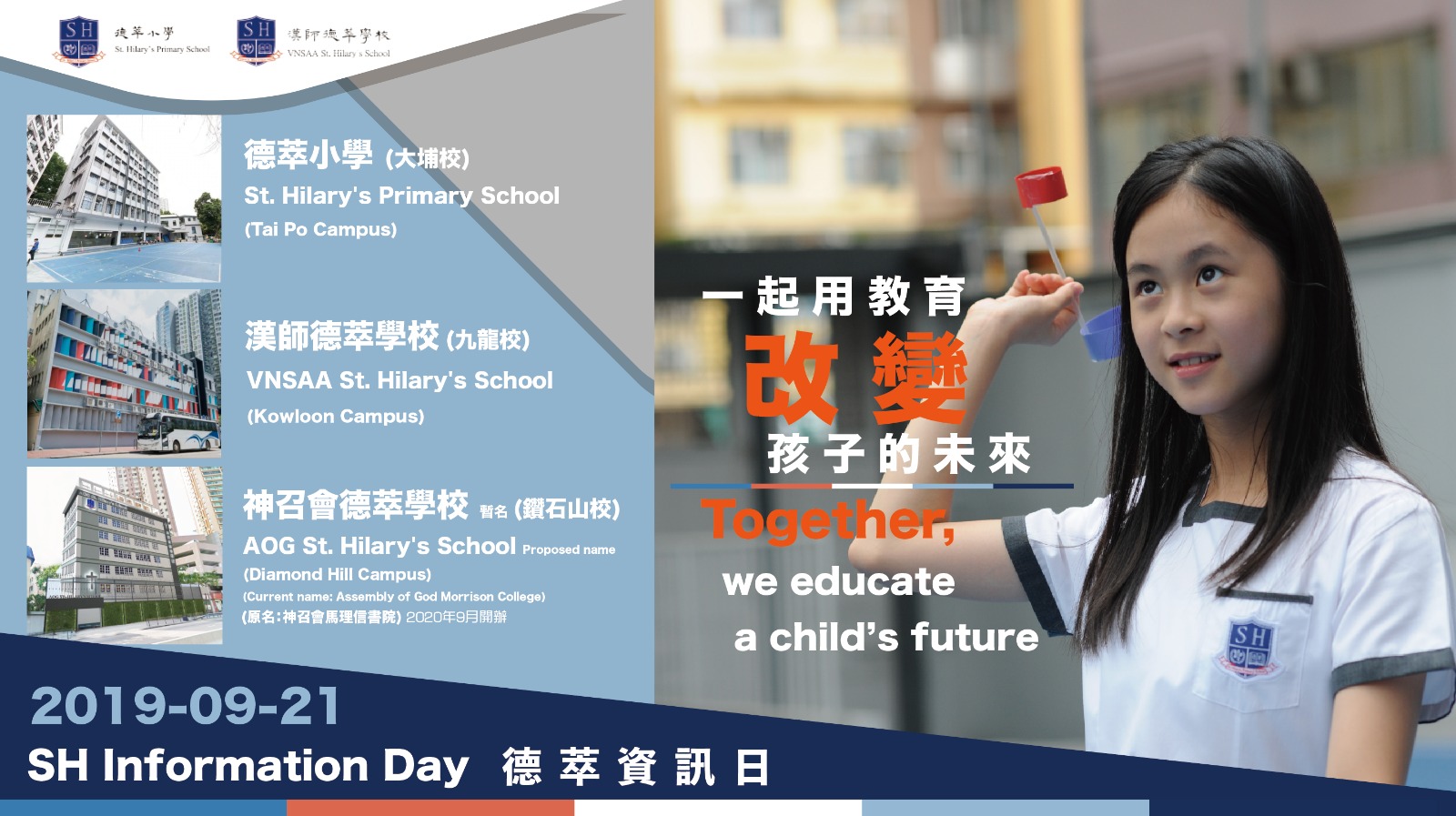 為使家長更瞭解德萃的辦學理念及幼小中一條龍教育資訊,我們誠邀閣下出席本校《2020 至 2021 年度小一入學資訊日》,詳情如下:
日期:2019年9月21日 (六)
時間及安排:
地點:

講者:

校監張灼祥先生 (前拔萃男書院校長)
校董會主席徐飛先生
總校長朱子穎先生
校長馮鑑邦先生
副校長高思敏女士
助理校長伍蘊寧女士
課程發展主任 Chloe Gatrell
科學科主任李振耀先生
內容:

本校的新時代教育理念、課程資訊、校舍資訊、幼小中一條龍教育資訊、德萃小一及插班入學申請資訊、問答環節
校訓:「德以為本,學以精萃」
授課語言:英語及普通話。
學校地址:
電話:23387109

備註:
當天不設兒童托管服務。
第二節設英語現場翻譯服務。We provide English translation service in the second session at 11:30.
Have questions about St. Hilary's Primary School, VNSAA St. Hilary's School and AOG St. Hilary's School Information Day 德萃小學、漢師德萃學校及神召會德萃學校資訊日 (2020-2021入學)?
Contact St. Hilary's Primary School
When & Where

Pui Ching Primary School Hall 培正小學K座大禮堂
80 Waterloo Road, Kowloon City, Kowloon

Hong Kong SAR China

Saturday, September 21, 2019 from 9:30 AM to 11:00 AM (HKT)
Add to my calendar
Organizer
St. Hilary's Primary School (St. Hilary) aims at creating a learning environment that the students are able to cherish and enjoy learning and want to perform to the best of their abilities and talents. It has a comprehensive and cohesive system of education which develops students into persons who are confident, innovative, resourceful and brave in facing their responsibility in society and the challenges in future.