Description
WE SOLD OUT LAST YEAR! DON'T WAIT, GET YOUR TICKETS TODAY!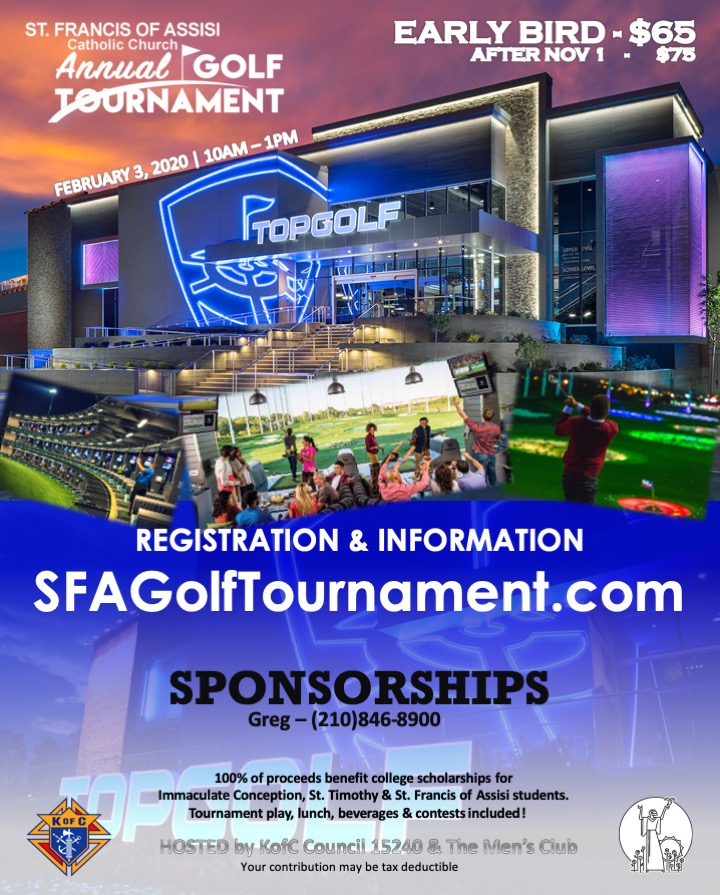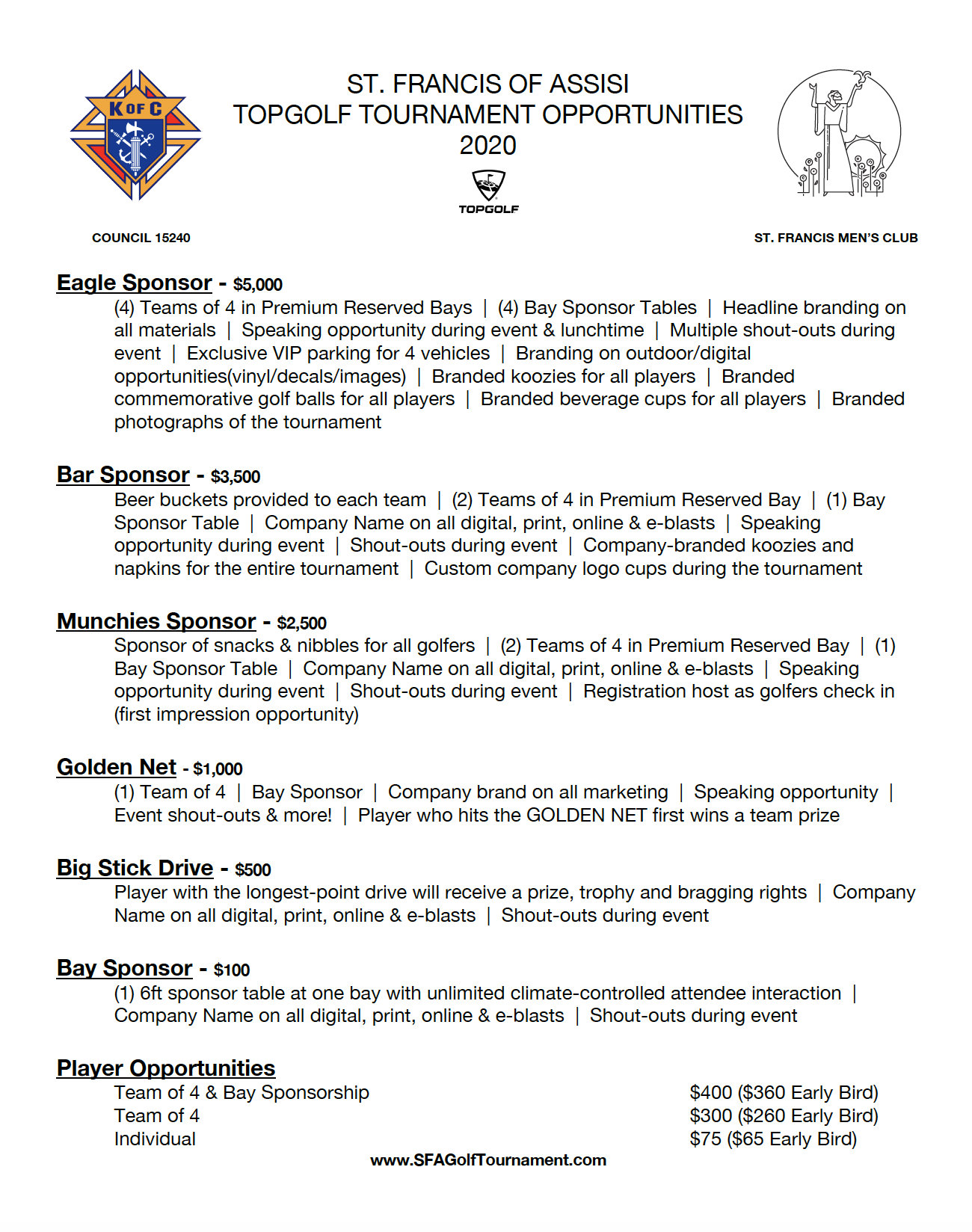 ALL PLAYERS WILL RECEIVE: tournament fees, balls, clubs, lunch, beverages, goodies, contests and more! Just show up and play!


Funds raised benefit Student College Scholarships for Saint Timothy, Immaculate Conception and Saint Francis of Assisi churches.
St. Francis is among the most affluent parishes in the Bexar County area with some of the most notable individuals in the community. Come play with fellow business professionals, business owners, students, young adults and those who love to either play golf or have fun. You do NOT need to have ANY golf skills to play TopGolf. Whether you play golf professionally or have never swung a club, everyone will be out to play and can have fun!
SPONSORED BY:
SFA Men's Club
CRE8AD8 Event Management
Randy Heinz
Signature Lawns
Manny Longoria Insurance Agency
FAQ:
What's included? -- Tournament fees, balls, clubs(but you can bring your own), contest entry, goodies, lunch & beverages.
What do I wear? -- Whatever you want! TopGolf is climate controlled, so you shouldn't break a sweat!
What do I bring? -- Money for mulligans and raffles. Your own clubs are optional.
Who does this benefit? -- College-bound students from Saint Timothy, Immaculate Conception & Saint Francis of Assisi Catholic Churches.
Should I buy now? -- YES! St. Francis is known for selling out golf tournaments, don't wait. Early Bird ends on Nov 1 if not sold out by then!
Should I sponsor? -- If you have a business or company that wants to be in front of some serious business owners and community leaders, then being a sponsor could greatly increase your awareness, branding and hopefully bottom line!
Is there an age minimum? -- NO! Whether you're in college or an adult, this is a family friendly atmosphere.
How long should I plan on being there? -- Plan on arriving about 9:30am for check-in and you should be heading out about 1pm or earlier!
I don't play golf. -- That's OK! TopGolf is not just for serious golfers, but also beginners as well. Some of it is luck and some skill, but it's all fun, GUARANTEED!
This is after Super Bowl Sunday? -- Yes, after the COWBOYS win the big game (ideally), come out on Monday and play with friends and business professionals and have a Bloody Mary!
Is this a good day to have the tournament? -- YES! Since many call-in or take the day after Super Bowl Sunday off of work, this should be a great turnout!
I really can't make it, how can I support? -- Buy an Individual Supporter ticket($25) and we'll put a sign up in your name(or your business).
Who/What is CRE8AD8? -- CRE8AD8 is an event management company owned and operated by parishioner Greg Palomino of St Francis of Assisi, a fellow member of the Men's Club and Financial Secretry/Sir Knight of the Knights of Columbus Council 15240. Greg is also the Chair of the Golf Tournaments.