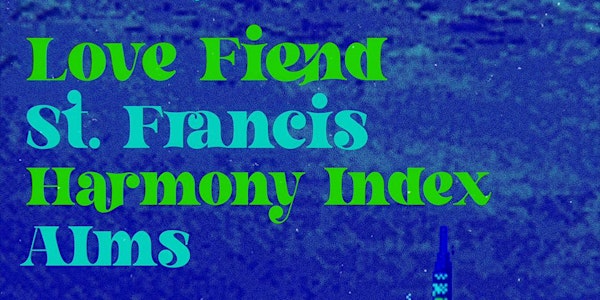 St. Francis, Harmony Index, Alms & Love Fiend
Ages 21+
The Witching Hours Presents
The Witching Hours Presents St. Francis, Harmony Index, Alms & Love Fiend
When and where
Location
Resident DTLA 428 South Hewitt Street Los Angeles, CA 90013
Performers
Headliners
More Performers
St. Francis
Harmony Index
Alms
About this event
Love Fiend
((My drummer and I went to the bar for a drink and while we were boring each other silly outside of Zebulon, a sound kept washing out every time someone opened the venue door. That would be Love Fiend. We were like moths to the flame. What a great fucking band. Every song is hook-heaven. Every member and what they bring to the stage is the perfect piece in the puzzle for raw punk poppy hits. Gary Numan, The Cars, Magazine, Devo: these are all the ghosts that hang around in the air. With a real contemporary-weirdo twist to them. It was like seeing a punk band from a club in Robocop or Buckaroo Bonzai,"
-John Dwyer ))
St. Francis
Inspired by the moodier fringes of LA's nocturnal underground as well as the dark energy of certain fatalist new wave. St. Francis is fronted and produced by Daniel Chavez Crook.
Harmony Index
Harmony Index is the solo recording project of LA-based multi-instrumentalist Nico Leibman. Equally informed by 80s new wave groups, 70s R&B records and 90s dance music, Leibman casts her spell through the sound of Yamaha synth strings, drum machine samples and seductive bass lines. Ethereal and enchanting, her dream pop is served with a side of hard-hitting guitar work.
"It's like Saint Etienne covering the Mahavishnu Orchestra" - Blaine Patrick of No Reality
Alms
Alms was started in 2018 by Roman Zangari as a recording outlet for some songs he had written while attending college in Santa Cruz. Once he finished school and moved back to LA, it grew from a solo-project into a real band with the addition of Tristan Walczak & Ellington Peet. Alms self released their first collection of songs titled "Dogpile", in the fall of 2019. The record largely dealt with themes such as anxiety, disillusionment towards the future, and how uncertainty has become a defining characteristic of the times. Sonically, it incorporated elements of shoegaze, grunge and post-punk into a mix of sentimental, guitar-centric alternative rock, via the likes of "Built to Spill' and 'Pixies'.
Presented by The Witching Hours
21+
Resident
428 S Hewitt St.
Los Angeles, CA