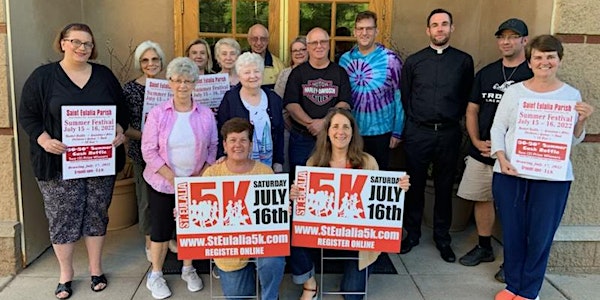 St. Eulalia's Summer Festival & 5K
Location
St. Eulalia's Parish
214 Blue Shutters Road
Roaring Brook Township, PA 18444
St. Eulalia's Summer Festival and 5K July 15-16 features family-focused fun, food/drink, entertainment, raffles, a flea market, & more.
About this event
St. Eulalia's Parish will celebrate its annual Summer Festival on Friday, July 15, and Saturday, July 16, from 5-10 p.m., on the picnic grounds of its parish campus, located at 214 Blue Shutters Road in Roaring Brook Township.
The summer festival weekend, which also features a 5K Walk/Run event on Saturday morning, is the parish's largest fundraising initiative of the year.
The event features "festival favorites" such as an array of homemade ethnic foods, a beer pavilion, the parish flea market, known as Grandma's Attic; Tricky Tray basket raffles; a bake sale; an arts & crafts boutique; kids' games; face painting; pony rides; a 50/50 Summer Cash Raffle; and small games of chance, including gaming wheel.
Featured entertainment includes the Electric City Steel Drum Project, from 6-7 p.m., on Friday, July 15, along with Vito Picozzo of Dynamic Sound Productions. On Saturday, July 16, the Schützengiggles Oompah Band will play from 6-9 p.m.
For more information about St. Eulalia's Summer Festival and 5K Walk/Run, go to the parish website, sainteulalias.com, or the parish Facebook page, facebook.com/sainteulaliaparish.