St. Catherine's Holiday House Tour

Sunday, December 4, 2016 from 1:00 PM to 4:00 PM (EST)
Who's Going

Loading your connections...
3 of your friends are going.
Share it to get more people on board!
Share

Sara Haughty
San Francisco, California

Luke Picard
London, United Kingdom

Rick Vespucio
Florence, Italy
Event Details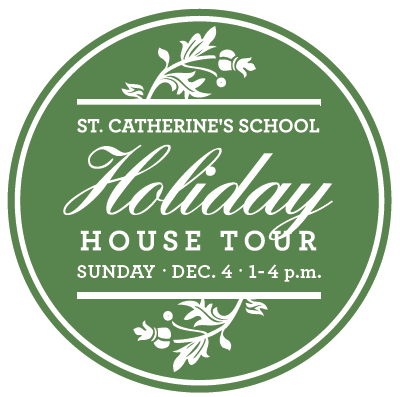 The Richmond Chapter of the St. Catherine's Alumnae Board invites you to visit some of Richmond's most beautiful homes, as the homeowners open their doors this holiday season and welcome you inside. The Richmond Board connects St. Catherine's and the community through activities, service,  and fundraising to support the School.A portion of the proceeds from this event will benefit the St. Catherine's School Scholarship Fund. 
PLEASE NOTE:  
All reserved Tour Passes will be available for pick-up at the check-in table of any tour homes on the day of the tour.

Shuttles will run between the parking lots at St. Giles Church, St. Catherine's Lower School, and all of the houses.  

This is a "rain or shine" event. No refunds will be given.
1 Oak Lane, Will & Elizabeth Krusen
It is said that a 'varied life is a full life.' 1 Oak Lane shows that a varied décor is a beautiful décor.  Asian, modern, contemporary, reimagined-colonial, and vintage all work to form a fashionable consonance that defines this splendid home.  The art collection alone is stunning in its well-curated variety.  Including Japanese art gifted to the family during their time living in Japan, a Paul Maze (a contemporary of Matisse), works by Masao Yamamoto, abstracts, realism, and a focus on color and nature, the artwork of the home effortlessly mixes genre, type, period, and form to create a diverse yet articulate narrative décor.  The furniture and fixtures range from modern to vintage, the vintage lamps are of note, and seamlessly form an amalgam of timeless beauty.  The recently acquired Liz Lindstrom charcoal and conte with a watercolor wash children's portraits, commissioned through Beth Beale, add to the beauty of the collection.  As one passes through 1 Oak Lane, a studious eye will be rewarded, for at each and every turn there is something that delights the eye – and more often than not reminds us that diversity in décor can create splendid spaces.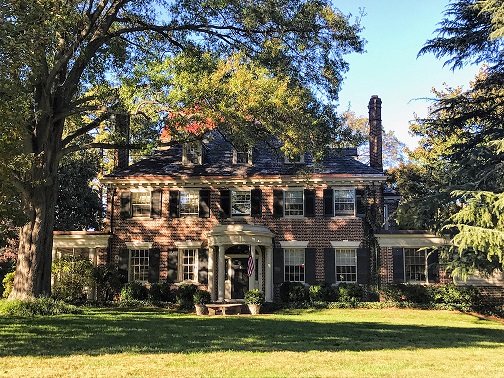 400 Harlan Circle, Geoff & Jennifer Sisk
A 1926 Georgian, 400 Harlan Circle sits upon a picture perfect lot, no surprise given the owner's passion for art and photography.  Inside the home, an artist's eye has informed each room and the result is simply stunning.  Entering through the well-proportioned portico, one is met with an expansive foyer, a lovely curved staircase, fine art, family portraits, and rustic furniture. A wonderful blend of local artists as well as art and artifacts, collected during the family's world travels, enhance the furnishings of the home with curatorial care. 400 Harlan Circle is a seamless blend of contemporary and antique, modern and traditional, elegance and accessibility – in short, a wonderful representation of the poetry that good design and décor can create.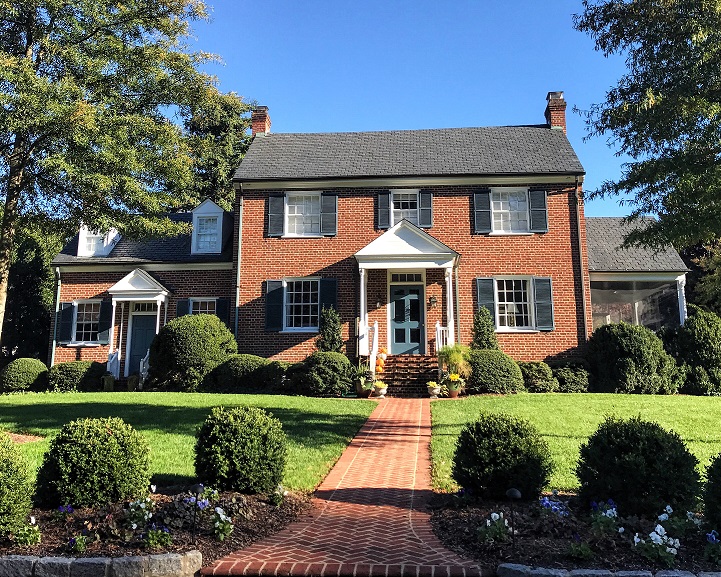 313 Roslyn Road, Pat & Eliza Siegel Branch '93
Not quite Federalist Farmhouse, not quite Virginia Farmhouse, but a farmhouse nonetheless.  313 Roslyn Road is an enchanting, early subdivision, home that encompassed an adjacent productive pea patch well into the 20th century.  Found within the home, and the wonderfully matched addition, are details reminding one of the homes pedigree.  Random width floors, original hardware and locks, and a wonderful 17th Century farmhouse bannister all compliment and continue the intentional composition of the home.  With matching brick and mortar, complimentary carpentry, and a continuation of the representative farmhouse hallways, the recent rear addition seamlessly carries over the original themes of the house.  Artwork from accomplished artist, including Amanda Talley, Wolf Kahn, and Ron Johnson, add a modern touch to the décor while perfectly accenting each room's color palette.   Continuing the theme of personal touches is a wonderful Moroccan rug purchased during a family vacation in Morocco.  While not a 'true to type' farmhouse, it is unquestionable that 313 Roslyn Road is a delightful example of Virginia Continua, where wonderful homes continue to evolve to modern living without compromising on their original charm.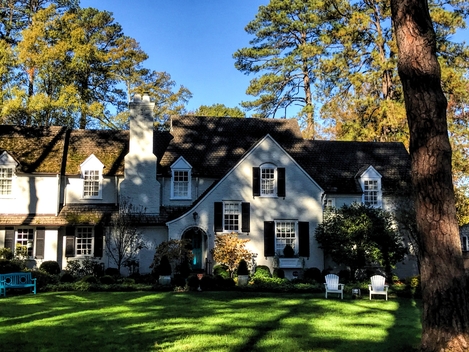 328 Greenway Lane, Mike & Sasha Hogan
The inviting turquoise front door of 328 Greenway Lane builds excitement, a visitor immediately senses that what lays beyond is special.  That excitement and anticipation is handsomely rewarded when viewing 328 Greenway Lane.  A recent renovation, designed to enhance flow of the house, included kitchen and family room additions and an exquisite redecoration.  Upon crossing that turquoise threshold one is meet with a stunning center hall, replete with hand-painted diamonds on the floor and tone-on-tone metallic strips adorning the walls.  A perfectly proportioned arched doorway encourages passage between the foyer and living room.  Continuing the homes thematic arch is a splendid piece of architectural design; the former breakfast nook has been transformed into an arched alcove boasting a coat closet and a powder room.  A relocated breakfast room is a study in simple sophistication; a palette of white serves to enhance the beautiful energetic blue oil painting by Kiki Slaughter.  Another artful design feature is found in the paired mirrored double doors in the dining room as they animate the space reflecting against one another.  As one flows through 328 Greenway Lane, the architecture, décor, and design all serve to delight, just as the turquoise door intoned – in fact as one flows through the home that very same inviting turquoise is found to be a constant element in this very special home.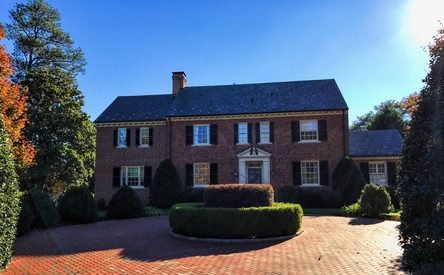 319 Greenway Lane, Eric & Courtney Harper
Entering 319 Greenway Lane is to enter a study in light-filled livable elegance.  As one progresses through the home, reflective surfaces, wonderfully elegant chandeliers, and stunningly proportioned windows all imbue an attentiveness to light.  The effect is simply stunning.  The artful selection of fixtures and finishes achieve that rare combination of being both inviting and yet still supremely sophisticated.  At each turn one is confronted with luxuriant livability, be it the walk in master closet, the brilliant kitchen, or the simply fabulous solarium. The elevated level of design sophistication manages to seamlessly match and compliment the homeowners' desire to have a family home that is both welcoming and functional; a difficult balancing act for even the most discerning.  Yes, 319 Greenway is a study in light-filled livable elegance with each element an inviting, yet elegant testament, to the power of great design.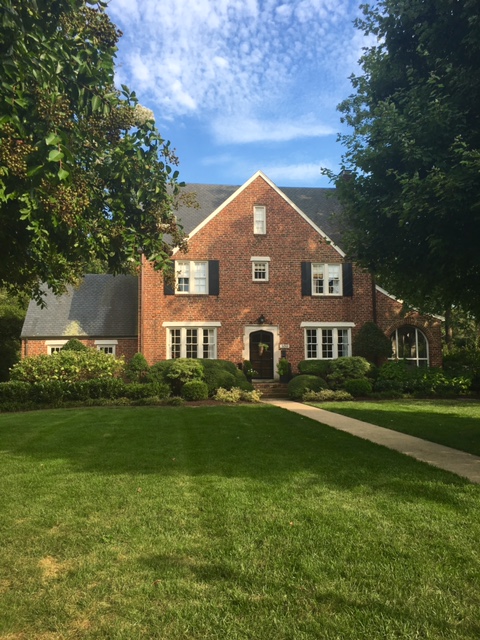 309 Greenway Lane, Donny & Margaret Wade
An archetypal English Revival Cottage, 309 Greenway Lane combines a stunning representative exterior with a family focused and Richmond inspired interior.  Typical of English Revival, the home incorporates wooden lintels into the brick (cottage type) exterior, a restrained side porch with wooden decorative brackets, and a stunning, early revival, entryway.  Once through the wood-paneled entryway, orchids, beautiful flowers, and stunning local art all delight the eye.  309 Greenway is a wonderful study in the distinction between house and home. From the children's artwork adorning the walls of the study, to the transition of the original dining room to a music room for the homeowner's daughter, or the artfully scaled addition, each touch of design or décor lends itself perfectly to living in the house - making it a true home.  The proportions, style, and scale of 309 Greenway Lane are all intentional in their quest for livability.  The delightful selection of, almost exclusively, Richmond artists speaks to the homeowner's local family ties and their love of Richmond.  The wonderfully livable rear addition speaks to the homeowners' desire to ensure that 309 Greenway Lane be a house that always feels like a home, whether entertaining or spending a quiet family night at home.
Thank you to our Sponsors:
Organizer
St. Catherine's School Richmond Alumnae Board
St. Catherine's Holiday House Tour