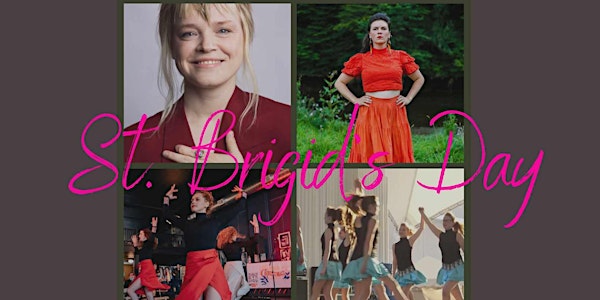 St. Brigid's Day Celebration
Celebrate St. Brigid's Day at the Irish Center with music, dance, and good fun!
When and where
Location
Drexel Hall 3301 Baltimore Avenue Kansas City, MO 64111
Refund Policy
Contact the organiser to request a refund.
Eventbrite's fee is nonrefundable.
About this event
St. Brigid's Day has long been celebrated in Ireland as the feast day of their female patron saint and as the first day of spring. 2023 marks the first celebration of St. Brigid's Day as an official holiday, and the Irish Center is joining the fun!
We're teaming up with some of our favorite female artists, dancers, and business owners for this celebration of Ireland's female patron saint. Join us as we welcome the very beginning of spring and celebrate Brigid's Day with KC Irish Dance Company, the Driscoll School of Irish Dance, Clare Sands, and Wallis Bird!
Adult tickets are $35, and all attendees under 18 are free of charge.
Event Schedule
5:30pm - Doors open
6pm - The Driscoll School of Irish Dance
6:30pm - The Kansas City Irish Dance Company
7pm - Clare Sands
8pm - Wallis Bird
The Kansas City Irish Dance Company is honored to be artists-in-residence at the Kansas City Irish Center. Our company is composed of Championship-Level dancers, the product of several Kansas City Irish Dance schools, joining together to perform at community events such as KC Irish Fest, the St. Patrick's Day Parade, and private events. Expression and choreography highlight our culture as we strive to connect with the audiences with our whole hearts.
The Driscoll School of Irish Dance was founded by Bridgid Driscoll in 2011 and welcomes boys and girls of all ages to enjoy the art and sport of Irish dancing.
Channelling the music of her ancestors, sixth generation fearless fiddler, bilingual singer, multi-instrumentalist, and composer Clare Sands is a unique force in Irish music. Creating boundary breaking Fearless Folk music inspired by her travels around Ireland and the world, Sands sings for the young and the old, brave and the bold. By day, the award-winning young artist has an ever evolving and extraordinary eclectic musical career, whilst by night, Sands is a black belt holding several world medals representing Ireland in martial arts, with warrior lightning bolt energy, both on and off stage.
In September 2019, Wallis Bird released her 6th album, Woman, which covers all of the major life changes Wallis has experienced since her last album, Home, in 2016. "The world's changed a lot, and I've changed with it. The #MeToo movement, Repeal the 8th, Black Lives Matter, Brexit, the rise of racism, the environmental crisis. And, I'm 36 now so I'm officially a woman!" With the release of Woman, Wallis toured extensively all over the world, with shows in the USA, Australia, New Zealand, Japan, and across Europe. 2020 was not a quiet year for Wallis as she began her Retrospective Sessions concert series of 6 monthly concerts. In each show, Wallis performed one of her 6 albums in virtual concerts streamed live from various venues including Britain's oldest queer club, a soccer stadium, and a luxury spa.
Wallis is currently working on her 7th album and renovating her home studio in Berlin. When the album is done, Wallis will be eager to get out on the road again. It's unlikely that her shows will last 12 hours again, but of one thing you can be sure: few can enrapture an audience the way Wallis Bird can.