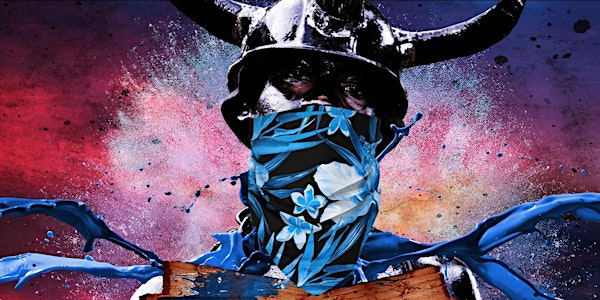 #SSS "BLUE JOUVERT " DE BIGGEST COOLER FETE IN AMERICA 2018
When and where
Location
#SSS JOUVERT GROUNDS 550 NW 24TH ST. MIAMI, Florida 33127
Description
BLUEEEE!!! We go paint d Town Blueeeeee!
Turn d whole Place Upside Down!
And Just Like That its Time to Paint d Town Blue Again!
•
#SSS Blue Miami Jouvert Cooler Fete
Yes Yes Yes!! It's Back!
•
We have Options for You This Year, Hear this You can Buy a Ticket and Bring Your Cooler or You can Buy a Ticket and Get a Hydro-pack to Put Your Alcohol!
Brilliant Right !!!
•
This is the Best Cooler Fete for Miami Carnival, Soca is the Order and Vibes Orgasmic! Get yourself In a Gear DO NOT be left out!
•
#SSS Blue the Insane Jouvert Cooler Experience!
•
Columbus Day

Monday 8th October, 2018
Miami we are Coming to You!! The World Tour is SERIOUS!
•
Grab Your Tickets, Pack Your Cooler and Come ready to get DUTTY!
•
Secret Soca Society aims to give you an event where inhibitions are left at the door and Bravery to take any wine you wish is completely allowed! But Glass Bottle are NOT!


#secretsocasociety #sss #sssfete #sssworldtour #sssmiami #sssblue #jouvertcooler #pace #waist #dutty


ONLY If You Truly LOVE & Cherish SOCA get a ticket ....If not see you at another event !!!
This is for the SOCA ELITE !!!!
PLEASE REMEMBER THIS IS A 21 AND OVER EVENT!!!!
NO ID YOU WILL BE DENIED ENTRY !!!!
NO GLASS BOTTLES / NO ICE / NO CHASER !!!!!
CASH BAR AVAILABLE !!!!!!
ALL SALES ARE FINAL !!!!!!
After completing your online ticket purchase, you will receive an email confirmation with your attached PDF ticket(s). You MUST print and bring your PDF ticket(s) to be admitted for the event, or you may show the ticket on your phone in lieu of printing.


SECRET SOCA SOCIETY Ticket Transfer Policy:


You may gain entry to the event even if you name is not on your ticket ONLY AS LONG as the barcode is scan able. SECRET SOCA SOCIETY is not responsible if ticket(s) that cannot be scanned and the order is a different name than the person presenting the ticket.


Ticket Reminder:


To ensure your satisfaction, SECRET SOCA SOCIETY cannot guarantee tickets purchased from unauthorized third party resellers (individuals or brokers). SECRET SOCA SOCIETY recommends you purchase tickets directly through SECRET SOCA SOCIETY Eventbrite.com link, and our authorized partners.


For questions: EMAIL US SSSFETE@GMAIL.COM