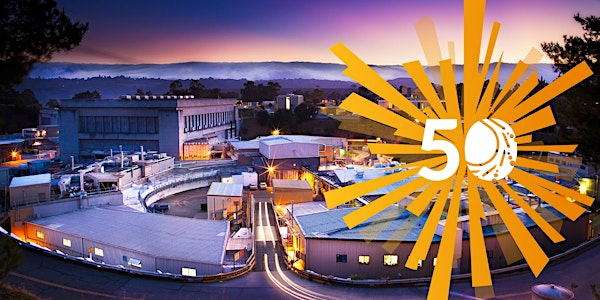 SSRL 50th Anniversary Celebration
Join us for a full day of talks celebrating the 50th anniversary of SSRL.
By Stanford Synchrotron Radiation Lightsource
Date and time
Thursday, April 20 · 8am - 5pm PDT
Location
SLAC National Accelerator Laboratory 2575 Sand Hill Road Menlo Park, CA 94025
About this event
We have a full agenda of interesting talks, a video, a slideshow, and a panel discussion looking at the past, present and future of SSRL. Everyone is welcome, advanced registration is required. ONLY REGISTER IF YOU ARE ATTENDING IN PERSON.
We will gather in the Kavli Auditorium in SLAC building 051. We will also offer a livestream in the Redwood Rooms in building 048. Morning and afternoon refreshments will be provided.
To watch the streamed event via webinar: CLICK HERE
Agenda
50th Anniversary Celebration Agenda
8:30 AM - 8:45 AM
SSRL Welcome
Paul McIntyre, SSRL Director
8:45 AM - 9:00 AM
SLAC and Stanford University Welcome
Stephen Streiffer, Interim SLAC Director
9:00 AM - 9:15 AM
DOE Welcome
Asmeret Asefaw Berhe, Director Office of Science
9:15 AM - 9:45 AM
From SSRP to SSRL, 1972-1998
9:45 AM - 10:15 AM
SSRL and the SPEAR3 Era and the SSRL Structural Biology Program
10:15 AM - 10:45 AM
Coffee Break
10:45 AM - 11:15 AM
VUV and Soft X-Ray Science at SSRL
11:15 AM - 11:45 AM
Molecular Environmental Science at SSRL
11:45 AM - 12:15 PM
Structural Studies of Viral Pathogenesis Enabled by Synchrotron Radiation
12:15 PM - 1:30 PM
Non Hosted Lunch and Group Photo
1:30 PM - 2:00 PM
A Perspective from the Funding Agencies
---
Linda Horton, Associate Director of Science for Basic Energy Sciences 1:30-1:45pm
2:00 PM - 2:30 PM
The Road to SPEAR3 and Beyond
2:30 PM - 3:00 PM
Energy Materials Science
3:00 PM - 3:30 PM
Coffee Break
3:30 PM - 4:00 PM
Chemical Sciences
4:00 PM - 5:00 PM
Panel Discussion
---
Joel Brock- Cornell University, Graham George- University of Saskatchewan, Junko Yano- LBNL , Francesco Sette- ESRF, Susannah Scott- UC Santa Barbara, Kelly Gaffney- SLAC
5:00 PM
Concluding Remarks
Frequently asked questions
Can I walk in the day of the event?
How to I gain access to the SLAC site?
Will there be refreshments?
How much does it cost to attend?
Will the event be live streamed?
Can I stay at the SLAC guest house?
Where will the event take place?