SSM Cert, payment plan avail
Description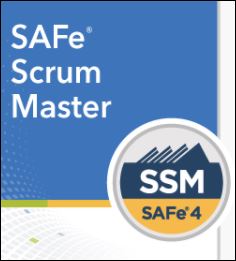 Instructor: Daniel Miklusicak / https://www.linkedin.com/in/agiledaniel
SAFe Scrum Master [SSM] Overview: During this very interactive and information-packed course, you'll gain an understanding of the Scrum Master role in a Scaled Agile Framework (SAFe 4.0) enterprise. Unlike traditional Scrum Master training that focuses on team-level Scrum, this SSM course presents the role in-context of the entire enterprise and prepares you to successfully plan & execute all SSM-related SAFe ceremonies, such as Program Increments (PI), Iteration Planning, Scrum of Scrums, Innovation and Planning (IP), Inspect and Adapt (I&A), & System Demos. You will learn about SAFe's Values & Principles that guide the mindset and mechanics of a SAFe enterprise. You'll also discover how to build high performing Agile teams with a servant leader mindset, and how to coach those teams to deliver the maximum business value. You can also use all you learn here in a "non-SAFe" effort, given a proper mindset of tailoring of selected items that may not be used in the near-term.
Key Elements of this course include:
Scrum + XP + Kanban
Lean and Systems Thinking
Applying & Scaling the Agile Manifesto
SAFe's 4 Values + 9 Principles
DevOps, CI, CD & test automation
Product Development Flow
Six Sigma application in SAFe
Agile Mindset for Leadership style
Agile metrics and SAFe ceremonies
The Pay-off: SAFe [http://www.scaledagileframework.com/ ] is the world's leading framework for implementing enterprise agility. Now practiced in over 70% of the US Fortune 100, this proven framework has shown to significantly improve time to market, predictability, product quality and employee engagement. The SSM certification signifies that you are prepared to perform the role of Scrum Master in a SAFe environment, increasing your value to organizations throughout Corporate America.
Additional topics addressed: Team ownership, scrum values, early value delivery, retrospectives, backlogs for stories, features, capabilities & epics, including enablers and NFRs, road-mapping, program boards, MVP, risk management technique via ROAM, vision, objectives and goals, agile architecture, Agile Release Train [ART] and more ~
What You Get: Class is based upon the latest SAFe 4.0 materials, with discussions/extra info addressing 4.5 as well. registration includes:
Printed workbooks PDF workbooks Course certificate
Eligibility to take the SAFe 4.0 Scrum Master (SSM) certification exam
15 PDUs toward their continuing education requirements with the Project Management Institute (PMI) for PMP and PMI-ACP certifications
Exam Details
Exam Name: SAFe

®

4 Scrum Master Exam
Exam Format: Multiple Choice
Exam Delivery: Web-based; Open Book
Exam Access: First attempt free within 30 days from course completion date
Exam Duration: Candidates have 30 days from course completion date to answer all questions and submit their exam
Number of Questions: 43
Passing Score: 31 (72%)
Instructor Info:
Instructor BIO: Dan has 25+ years' experience in Mgt Consulting, Proj/Prog Mgt and leading transformations in both traditional and agile environments across Fortune 500, F100 & F25 companies. He is a retired AF Officer who served in acquisitions, working with Defense Contractors including Logicon, Lockheed-Martin, Boeing IBM . Dan has worked in Big5 consulting (KPMG), Lean Process Re-engineering, and over 2 dozen companies in 7 major industries for Corporate America, both public and private sector. Most recent engagements include Johnson Controls, Kohl's, Blue Cross/Blue Shield, State Farm & McDonalds. His certifications include SPC4.5, PMP, TOGAF, DSDM, ITILv3, CSM, e-Commerce & Lean6Sigma. Dan understands and integrates key elements of many disciplines, based upon nearly 3 decades of consulting, learning, studying, teaching and improving value delivery. Dan also enjoys having fun while doing all of this – and is known as an instructor who keeps things light and creative for the students even given the gravity of the materials, and the pressures of the business world at large.