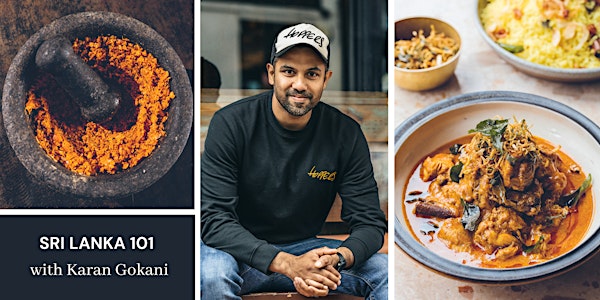 Sri Lanka 101 with Karan Gokani
Bring the popular recipes from the Sri Lankan restaurant in the UK, Hopper, to your home with guest chef Karan Gokani!
Refund Policy
Contact the organizer to request a refund.
About this event
NOTE: iphone and ipad users, CLICK HERE to register for class.
What's on the Menu:
Red Chicken Curry
Pol Roti (Sri Lankan Coconut Flatbread)
Pol Sambol (Spicy Coconut Relish)
Homemade Roasted Curry Powder
Imagine this table: a bowl of deeply red curry scented with cardamom, black pepper and lemongrass. A basket of tender flatbreads studded with coconut and slathered in warm butter. And to accompany it all, a bright and spicy relish with plenty of lime. Where can you find this extraordinary meal? The answer is in Sri Lanka—or at your own table, with the help of guest chef Karan Gokani, founder of London's wildly popular Hoppers restaurants. A red chicken curry may sound like a familiar dish from North India or Southeast Asia, but a Sri Lankan curry transforms familiar ingredients into a very different result. Similarly, you may think you know flatbreads inside and out, but Karan's favorite, a type of roti, is enriched with grated coconut, charred onions and punch from chillies and curry leaves. And that relish? That's pol sambol, a classic accompaniment for Sri Lankan meals of all types. The combination of black pepper, chillies, fish flakes, shallots, coconut and lime is sure to become a go-to condiment. Join us to bring the flavors, textures and aromas of Sri Lanka to your home kitchen.
About Karan: Karan grew up in Mumbai and moved to England in 2005 to study law at the University of Cambridge. Even as a practicing solicitor, Karan's passion for food and hospitality never faded, and he spent time in professional kitchens in his spare time. In 2012, he left his legal career at a city law firm to pursue a career in hospitality, traveling across India and Sri Lanka to immerse himself in their food and culture. In 2015, JKS Restaurants and Karan opened Hoppers, a Sri Lankan and south Indian restaurant on Frith Street in Soho, London. The restaurant was awarded a Michelin Bib Gourmand in 2017 alongside a number of other prestigious awards. A second Hoppers followed in Marylebone in 2017 and a third in King's Cross in 2020. Over the years Karan has written travel features and recipes on Sri Lanka and southern India for publications including The Sunday Times, The Telegraph, The Guardian, National Geographic, Conde Nast Traveller, The ES Magazine, Bloomberg, The Financial Times; and has appeared on Sunday Brunch, Great British Chefs, Sorted Food's YouTube channel and various food festivals across the U.K. Karan's debut book, "Hoppers: The Cookbook" tells a personal story of the inspiration behind Hoppers and the people and places that shaped it, via recipes and stunning imagery.
Order yourself a copy of Karan's new book,"Hoppers: The Cookbook "! Use promo code MILK2022 for 10% off your order here.
Want to give this class as a gift? You can purchase gift cards here.
Bonus: All attendees of this class will receive a one-time 15% off coupon to the Milk Street Store after class.
This event has limited spots, and you must register in advance via Eventbrite. One sign-up covers one device. Closed Captioning is available for this event.
Immediately after registering, you will get a confirmation email that contains the Zoom meeting log-in information. One week prior to class (or within 48 hours of registering, if you sign up less than a week in advance), you will receive an email with the ingredients, equipment and prep you'll need to cook along with us, if you choose.
After class, you will receive a recording of the event, as well as a folder of recipes and resources that we discuss during the event. Class recordings are available to all registered attendees for two weeks following each event.
Payments for Milk Street live stream classes are non-refundable. If you find yourself unable to attend, you may transfer the ticket to someone else, but we are unable to refund fees and all payments are final. Classes are subject to cancellation at any time. In the case of cancellation by the event organizer, all paid tickets will be fully refunded.
Proceeds from live stream cooking classes support Milk Street's non-profit work with The Big Sisters Association of Great Boston, The Boys & Girls Club of Dorchester, and other partners.
If you have any questions about this class, please don't hesitate to get in touch via cookingschool@177milkstreet.com.