Complete 5km + various challenges in your race kit. Select which team you will join Players vs Guards and compete against each other!
About this event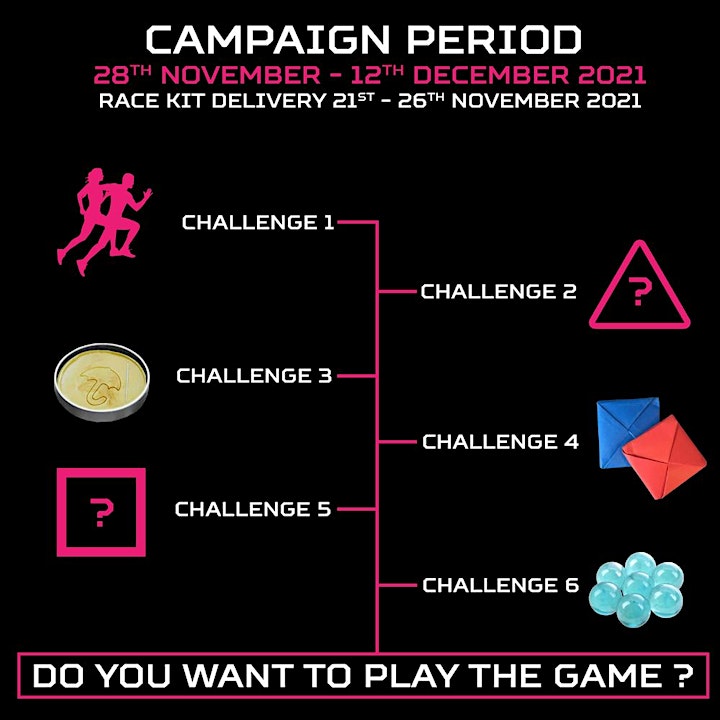 Squid Game has become the most popular show ever, with 142 million households sampling the title. It is the No. 1 program in 94 countries.
This is your chance to join a squid game inspired virtual fun run with opportunities to play many of your favourite exhilarating SQUID GAME games. A 5km fun run including various challenges!
Join us for this interactive opportunity to once again be social!
Once you join, you will decide whether you want to represent Team Guard or Team Player. Which team will you be on? You will also decide whether you will select the basic finisher kit or the premium finisher kit!
A limited edition squid game finisher medal will be included in all finisher kits.
Submitting your challenge outcomes will be fun and interactive while you enjoy being part of a like minded online group offering plenty of banter!
You will have between the 28th of November and the 12th of December to play the game.
You will receive the following items mailed directly to your doorstep.
1. Finisher Medal
2. Dry-fit Finisher Shirt or Premium kit costume
3. Cookie tin challenge
4. Glass Marbles
5. Dajki paper flip
6. Mystery challenge x 2
Running Distance – 5km + challenges
24 Hour Launch Sale Close – 21st October 2021
72 Hour Early Bird Close - 24th October 2021
General Sale Close - 7th November 2021
Final Sale Close - 21st November 2021
Registration Close – 21st November 2021
Running Period – 28th November - 12th December 2021
Submission Deadline – 15th December 2021
Shipping of Entitlements – 21st November 2021 - 26th November 2021
Location – Any time / Anywhere at your convenience
What is a Virtual Run?
A virtual run is a personal challenge which you complete at your own pace and time.
A virtual run works precisely as any other run. The difference is your run may be run at any location and time of day. Whether it be bright or dark, outdoors or indoors on a treadmill.
All you have to do is register for Squid Game Run and provide evidence that you have completed the 5km run + the various challenges. The evidence can be a screenshot of your running app, a photo of the treadmill screen and photos of your attempt to complete the 6 challenges. You will be emailed a submission link to upload the evidence.
All race kits will be delivered before the campaign period. You do not need to complete the run or the challenges to receive your race kit. All race kits will be couriered between 21st November 2021 - 26th November 2021.
If you have any further questions please contact us at play@squidgamerun.com