Squarespace x Lesbians Who Tech + Allies NY || Building Your Creative Confi...
Description
Join the #LWTSQUAD and tech leaders at Squarespace on July 19th for an evening of cocktails, mocktails, talks, and networking as we explore how to build your creative confidence with experts in the field.
In such a male dominated field, learning how to talk yourself up and showcase yourself and your work – and to speak to it – is so critical.
This is for LGBTQ women, women of color, transgender + gender non conforming folks, + our allies for an evening to actually connect, learn, and to share how to build your creative confidence.
We're going to have a headshot/photobooth activation downstairs in the lobby. This is a way for us to provide high quality headshots for the community and help curb an out of pocket expense for you. We'll have a drag queen and a drag king helping to help guests bring out a fierce side of themselves, and to advise on hair/makeup/touchups. The photos will be colorful (we'll use special gels for lighting, a la Pose). Signup here: https://goo.gl/forms/Qw5RcKHMgaZLIL8x1.
Featuring Squarespace leaders, design experts, & your favorite #LWTSQUAD

Location: Enter at 8 Clarkson St (building address is 225 Varick Street)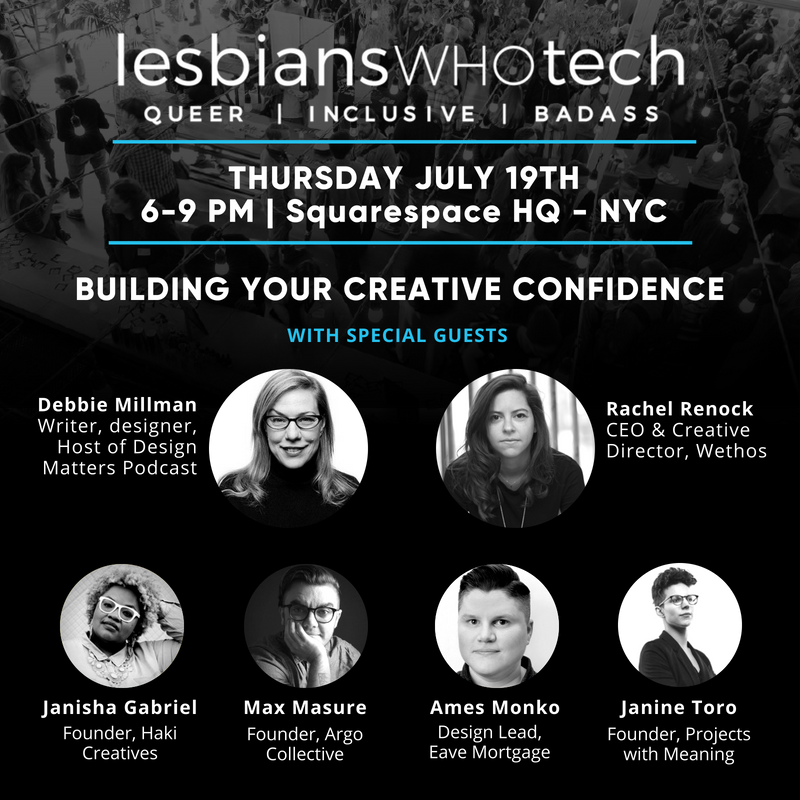 Speakers Include:
Debbie Millman || Writer, designer, and host of Design Matters
Rachel Renock || CEO & Creative director, Wethos
Janine Toro || Founder, Projects With Meaning
Janisha Gabriel || Creative Activist, Haki Creatives
Max Masure || Founder + Creative Director, Argo Collective
Ames Monko || Design Lead at Eave Mortgage
For more than a decade, Ames has aspired to make complex products more accessible to consumers through simple, elegant design.
Agenda:
6:00pm​ ​-​ ​6:30pm Check-in and Mingling​
6:30pm​ ​-​ ​6:45pm Welcoming Remarks from Lesbians Who Tech + Squarespace
6:45pm - 7:10pm Fireside Chat with Debbie Millman x Squarespace Creative
7:15 - 8pm Design Panel + Q&A
8:00pm - 9:00pm Networking and Connecting
This event space is wheelchair accessible with ADA compliant entrance and restrooms.
All ages welcome.
Agree to follow our Code of Conduct:
Lesbianswhotech.org/code-of-conduct
About Squarespace
Squarespace makes beautiful products to help people with creative ideas succeed. By blending elegant design and sophisticated engineering, we empower millions of people — from individuals and local artists to entrepreneurs shaping the world's most iconic businesses — to share their stories with the world. Squarespace's team of more than 700 is headquartered in downtown New York City, with offices in Dublin and Portland. For more information, visit www.squarespace.com/about.

About Lesbians Who Tech + Allies
Lesbians Who Tech + Allies is the largest LGBTQ Technology community in the world. We are 40,000 women, people of color, non-binary, allies, and LGBTQ people in tech, empowering the next generation of diverse tech talent in 40+ cities worldwide. Our 5th Annual Summit in 2018 was the most-attended tech conference for women in San Francisco with over 5,000 attendees who are 40% women of color -- making us the largest professional LGBTQ event in the world. To learn more go to Lesbianswhotech.org