Square Presents: Success on Your Own Terms: Purpose as a Superpower
Learn to identify your brand or company's purpose and use it as a superpower to drive success.
About this event
There is a lot of talk in the business world today about "having a purpose". But, it's not enough to just have one. The most successful brands, creators, and entrepreneurs are not just clear on what their purpose is, but they ensure it comes to life in everything they do via storytelling and action. Whether an entrepreneur, content creator, or corporate employee, this panel will help you identify your brand or company's purpose and use it as a superpower to drive success.
Tia Cummings, SVP Global Brand Marketing Lead, Square
An Atlanta-based, award-winning marketer, Tia Cummings has nearly 15 years of brand marketing experience across companies like Johnson & Johnson, Kellogg's, IHG Hotels & Resorts, and Procter & Gamble. In May 2021, she joined fintech giant Square as the SVP, Global Brand Marketing, leading the team responsible for Brand Insights & Strategy, Advertising & Media, Experiential Marketing, and Brand Partnerships.
Prior to her career in brand marketing, she had varied experiences in corporate philanthropy, manufacturing operations, and product development.
Tia attended Hampton University as a Presidential Scholar and earned her B.S. in chemical engineering. She also has an MBA from the Krannert School of Management at Purdue University where she was a Business Opportunity Program Fellow.
Alex Mas, Marketing Director, Tidal
Alex Mas has been an integral part of TIDAL's marketing team since the company launched in 2015. She now leads the platform's Artist-Marketing efforts, spearheading campaigns that have established the streaming service as a premiere culture destination. Throughout her time at TIDAL, she's focused on executing strategic campaigns that prioritize the artist-fan relationship & artistry, including the exclusive album releases of Prince's Originals and THE CARTERS' Everything is Love, as well as provocative documentaries, exclusive tour partnerships, concert live streams, artist interviews, and more. As part of her expertise, she specializes in tconnecting artist-marketing to the release of new product features, helping to tell the brand story
Alex has also played a central role across TIDAL's ongoing social justice efforts - a key passion point- , including the marquee TIDAL X philanthropic concert series. Her work has helped to increase awareness, drive sales, and generate consumers.
Following Square's acquisition of TIDAL, Alex is playing a key role in the overall brand strategy, ensuring the platform stays true to its mission of putting the artist community first.
Rebekah Monson, Co-founder and COO, WhereBy.Us
Rebekah Monson is co-founder and COO for WhereBy.Us, a platform that helps creators build media businesses, starting with email newsletters. Its brands, Miami's The New Tropic, Seattle's The Evergrey,Portland's Bridgeliner, and Orlando's Pulptown, serve more than a million curious locals each year. The company completed Jason Calcanis's LAUNCH Accelerator, and is currently expanding and enhancing its technology platform to serve creators around the world.
Previously, Rebekah worked in many journalism jobs and later ran communications at the University of Miami School of Communication, where she pursued (but didn't finish) an M.F.A. in Interactive Media. She co-founded Code for Miami and Hacks/Hackers Miami. She frequently speaks and trains about working at the intersection of technology, storytelling and civic engagement for professional journalism and technology organizations, governments and nonprofits.
Vincent Brathwaite, Design Leadership Forum Director, InVision
Vincent Brathwaite is a Caribbean American multi-disciplinary design leader, educator, speaker, and husband to Magalie Lachoua. He's a visionary with a keen ability for assessing an idea's potential and bringing its possibilities to life. His passion is to build bridges between cultures and unite people by their common thread.
For the past two decades, he has worked to transform communities through disruptive design thinking methodologies. A process he learned by studying Industrial Design at Rhode Island School of Design, Product Design at Strate School of Design (Paris), Product Development at MIT, and Project Management and Data Analytics at General Assembly.
He successfully executed projects for Red Bull, IBM, Caruso Affiliated, Tides Foundation, Diaspora Vibe Cultural Arts Incubator, Morehouse College, the US Dept. of Energy Georgia, and various companies in the social impact space.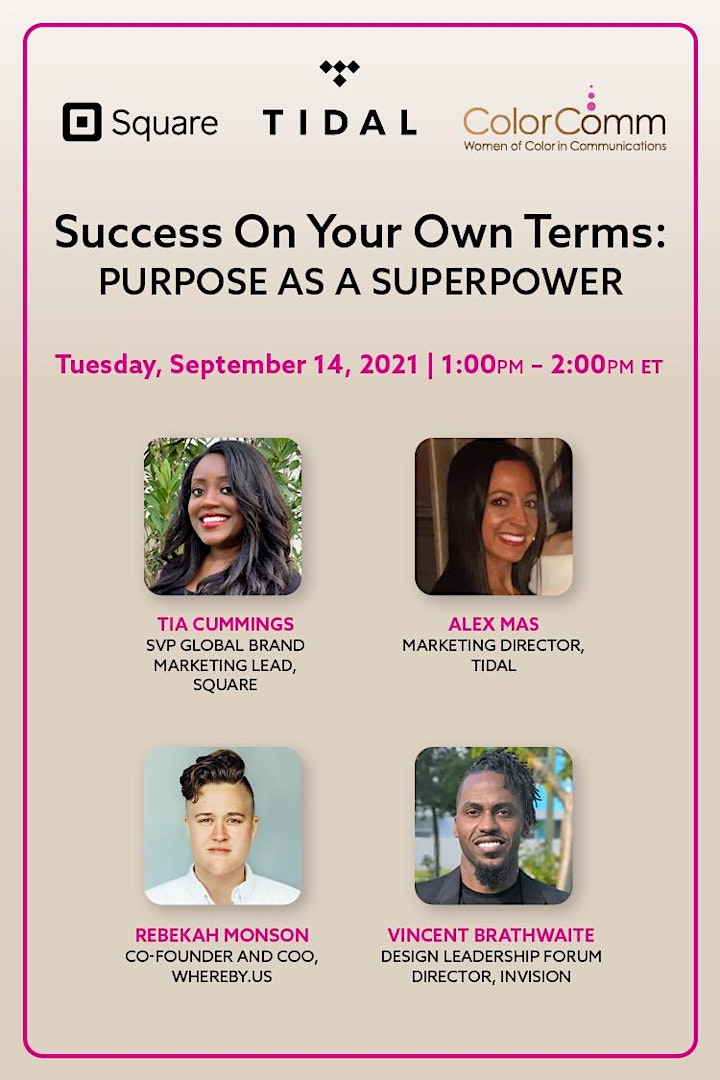 Organizer of Square Presents: Success on Your Own Terms: Purpose as a Superpower
The ColorComm mission is to personally connect women with other like-minded individuals to build a strong network of leaders by creating mentors/mentees, business relationships and friendships. ColorComm offers a unique opportunity for women to share experiences and learn from one another to enhance their personal and professional development.