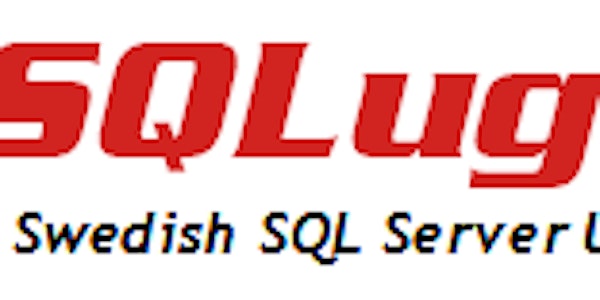 SQLUG-träff med Kalen Delaney i Stockholm
When and where
Location
Microsoft Akalla, Stockholm, lokal: Vision Finlandsgatan 16474 Stockholm Sweden
Description
Välkommen till SQLUG-träff med Kalen Delaney i Stockholm den 9/12 då hon kommer prata om In-Memory OLTP.
Plats: Microsoft, Akalla
Tid: Onsdagen den 9:e december kl 18:00 - 20:00
Det kommer att finnas enklare förtäring och dryck.
Obs! Obligatorisk anmälan. Antal platser är som vanligt begränsade.
Varmt välkomna!
P.S. Kalen Delaney håller en kurs en hel vecka. Detta kan vara sista tillfället någonsin att gå denna 5-dagars kurs för Kalen i Sverige, eftersom hon har planer på att pensionera sig. D.S.
Innehåll
SQL Server In-Memory OLTP (Hekaton), Microsoft's new In-Memory table technology was first shipped as part of SQL Server 2014, will completely change the way you think about data management. As a DBA, you'll need to analyze your memory and storage needs completely differently. All Hekaton data is always stored in memory, and the data stored on disk is basically just a REDO log used to regenerate the contents of your memory-optimized tables. In this presentation, we'll look at the in-memory architecture for your Hekaton data and indexes, and discuss what gets written to disk during checkpoints, as well as what gets logged. We'll also look at how the recovery process recreates your Hekaton tables.
Talare
Kalen Delaney has been working with SQL Server for over 28 years, and provides advanced SQL Server training to clients around the world. She has been a SQL Server MVP since 1993 and has been writing about SQL Server almost as long. Kalen has spoken at dozens of technical conferences, including every PASS conference in the US and multiple TechEd events in both the US and Europe. Kalen is the author or co-author of many books on SQL Server, the most recent being SQL Server Internals: In-memory OLTP, from Redgate. She is one of the main editors for SQL Server Central's SQL Server Stairways Series, http://www.sqlservercentral.com/stairway. Kalen's website with her current training schedule is at http://www.SQLServerInternals.com and she blogs at www.sqlblog.com.