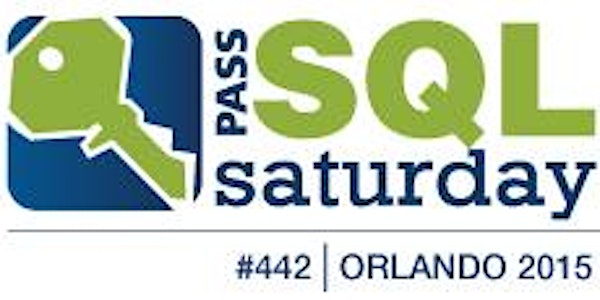 SQL Saturday 442 Seminar W/ Allan Hirt
When and where
Location
Hyatt Place Lake Mary/Orlando-North 1255 South International Pkwy Lake Mary, FL 32746
Refund Policy
Contact the organizer to request a refund.
Description
Date/Time:
October 8th, 2015 - 9AM to 4:30PM
Title:
Planning Highly Available SQL Server Deployments in a Cloudy, Virtualized World
SQL Speaker:
Allan Hirt
Speaker Bio:
SQLHA founder, Microsoft Cluster MVP, and SQL Server mission critical expert Allan Hirt is a consultant, published author, speaker, and trainer who has been using Microsoft SQL Server in various guises since 1992 since interning at Sybase in college. Based in the Boston, MA area, he travels all over the world to work with and train clients. Allan is currently working on the book Mission Critical SQL Server.
---
Session Overview:
DBAs and IT admins have been deploying SQL Server on physical hardware for years. We are moving into a world where most installations are mainly virtualized and companies are considering the public cloud as an alternative to on premise deployments whether they are physical or virtual. Virtualization and either hybrid or public cloud solutions add interesting new options for making SQL Server highly available beyond what is included in SQL Server itself. However, DBAs are often at a disadvantage since understanding the nuances and features of Hyper-V, VMware, or the public cloud has traditionally been a skillset left to others. DBAs should also have a working knowledge of these platforms to plan and deploy highly resilient SQL Server deployments in this new world order.
This preconference will help DBAs and IT admins understand how to plan and deploy highly available SQL Server architectures whether using Hyper-V, VMware, or the cloud.
Evaluating whether a physical, virtualized, hybrid, or public cloud solution is best for your needs

Understanding when and how to utilize features like Live Migration or vMotion with traditional SQL Server availability options like clustered instances (FCIs) and availability groups (AGs) to create an optimal, highly resilient design for HA and DR

Planning FCI and AG deployments in a virtual or cloud architecture, including hybrid architectures that span on premise and the public cloud

Learning about new technologies in storage and networking that can improve SQL Server availability as well as performance

Tips, tricks, and other best practices based on real world deployments
Sign up today to provide yourself with a knowledge to help guide your company's database transition from the physical world we all know today to a virtual one that meets your mission critical demands.
---
Abstract:
Module One – Physical, Virtual, and Cloud – Oh My!
With virtualization and public cloud supplanting physical deployments of SQL Server, everyone needs to know:
A brief history and comparison of the popular players in the game such as Hyper-V and VMware and what that means in relation to SQL Server deployments
The benefits of virtualization and the public cloud for SQL Server
Survival tactics to transition from a physical to a software defined world
The ways in which your job change and what will stay the same
Module Two – SQL Server High Availability Techniques – Past, Present, and the Cloudy Future
The traditional methods of making SQL Server highly available are still in play with virtualization and the public cloud, but there are some changes and also new availability options to consider. You will learn:
Considerations for deploying FCIs and AGs in non-physical environments
How to leverage virtualization-based availability options such as Live Migration and vMotion
How to bridge the gap between what DBAs need and what non-SQL Server administrators want to do (platform versus SQL Server features)
How to choose the best availability option for your architecture
Module Three – The Future Is Now
There are new technologies that can transform the way we deploy SQL Server not only for availability, but performance as well. Understanding and leveraging these new options can make you look like a hero. Topics will include:
The software defined data center
Remote Direct Memory Access (RDMA) and InfiniBand networking
Scale Out File Server and SMB Direct
Module Four – SQL Server Availability Architectures
Solutions are more than just a feature like AGs or vMotion. This module will show how you design solutions by presenting traditional availability architectures and how they look in a virtual, public cloud, or hybrid deployment.
How physical architectures compare to virtualized and public cloud deployments
Implementation considerations for each architecture presented
Lessons learned from SQLHA's experience designing and deploying real mission critical solutions
Module Five – Top Keys to Success
The day will wrap up with the top tips, tricks, and best practices that you will need to do to ensure that you are successful in your availability architectures.
---
For more information on the Power BI track available in the bundle, click here.