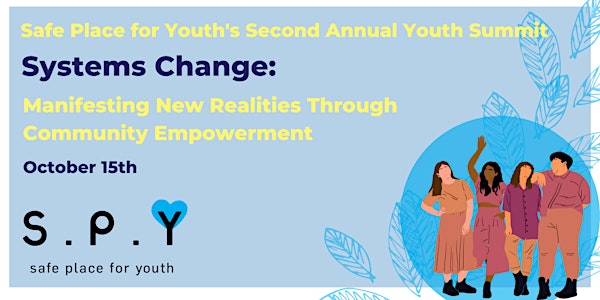 SPY's Youth Summit: Manifesting New Realities Through Community Empowerment
Join us for Safe Place for Youth's Second Annual Youth Summit on Systems Change: Manifesting New Realities Through Community Empowerment
When and where
Location
Westchester-Emerson Community Adult 8810 Emerson Avenue Los Angeles, CA 90045
About this event
Safe Place for Youth invites you to participate in our Second Annual Youth Summit on Systems Change: "Manifesting New Realities Through Community Empowerment" which prioritizes community knowledge sharing and practical skill building.
Recognizing that not all young people have equal access to resources or the opportunity to harness their inner power, we are coming together to collaborate and learn how we as a community can re-evaluate the systems already in place to generate more accessible pathways to activism and healing centered praxis. We want to strengthen youth connections to agency, bring awareness to equitable measures, and foster solutions to support the holistic experiences of systems-involved youth.
"Without community, there is no liberation"- Audre Lorde
As a community, we can address the systems and their impacts to foster new realities and a more equitable future for our systems-involved youth and the community.
This is a community event, all are welcome.
The event will offer a keynote speaker, panel discussions and break out sessions. More information coming soon!
We hope you can join us!
About Safe Place for Youth (SPY)
SPY's mission is to empower young people experiencing homelessness to thrive by providing lasting, community driven solutions that address racial and social inequity. We serve over 1,000 unhoused and at-risk youth each year through 10 core trauma-informed programs:
Outreach and Engagement
Access Center Services
Health and Wellness
Case Management
Healing Arts
Community Garden
Pregnant and Parenting
Education and Employment
Housing
Advocacy and Volunteering