Location
SOLO EVENT SPACE
40 BROAD STREET
New York, NY 10004
Description
Join us at Spyon Productions Annual Made In Africa event, an evening of High Fashion, Style,Music and Individuality. Benefiting Young Rock Soccer Academy – Project Africa.
Event: An evening of African music and fashion
Location: Solo Event Space 40 Broad Street NY, NY 10004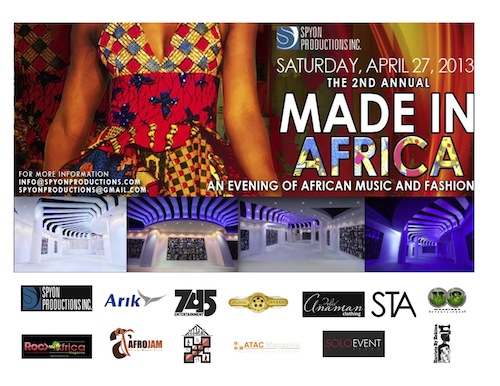 Date: Saturday, April 27, 2013


Designers:
Felix Anaman: Felix Anaman Clothing
Nsaa House Of Designs
HarrietsbyHekima
Live Performance by Rafiya
WIN A ROUND TRIP TICKET TO ANY DESTINATION IN WEST AFRICA THAT ARIK AIR FLIES TO.
Coutsey of Arik Air the official carrier of Spyon Productions INC Made In Africa 2013
General advance tickets $20 with RSVP at spyonproductions@gmail.comsubject MIA2013

Music By: Dj Zimo


www.twitter.com/spyon

FOR MORE INFORMATION | SPONSORSHIP | VIP TABLE RESERVATION | INTERVIEW | BIRTHDAY CELEBRATION| TO SHOWCASE | PARTNERSHIP
EMAIL: info@spyonproductions.com / spyonproductions@gmail.com