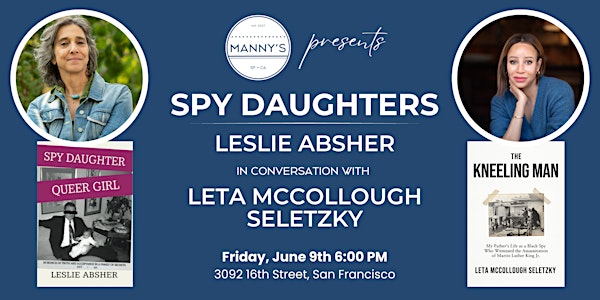 Spy Daughters: A Conversation About Fathers, Secrets & the Search for Self
How do you love a parent whose life is driven by the secrets he's forced to keep? Join us for a riveting conversation between spy daughters.
Date and time
Friday, June 9 · 6 - 7pm PDT
Location
Manny's 3092 16th Street San Francisco, CA 94103
Refund Policy
Contact the organizer to request a refund.
About this event
Join authors Leslie Absher and Leta McCollough Selletzky as they talk about what it was like to be a spy daughter, and to have fathers who kept their secrets close.
Absher's father joined the CIA in the late 1960s and was sent to Greece for his first field assignment. She spent years trying to learn what her Cold War father's role was in that country's coup d'état. Her memoir is about growing up with a spy, her own secret of being queer, and the cost of keeping secrets. It explores her mixed feelings regarding her father's work at the CIA and her journey toward reconciliation.
Seletzky's father was an undercover police officer in Memphis reporting on an activist group when Dr. Martin Luther King was assassinated. Her book explores the process of coming to terms with her father's role as a Black man investigating an activist group and later joining the CIA, and also as a father who she struggled to know.
The conversation will be followed by a book signing with the authors.
Manny's never turns away someone due to lack of funds. If you need a complimentary ticket, please email the title of the event and the word "grapefruit" to angelina@welcometomannys.com.
Want to support community members? By purchasing a "Pay It Forward" ticket you will allow us to provide free tickets to those who may not be able to afford entry otherwise and ensure we can create a diverse socio-economic audience that represents San Francisco.
ABOUT OUR GUESTS
Leslie Absher is a journalist and essayist. Her work has appeared in the New York Times, Los Angeles Times, Independent, Salon, Huffington Post, Ms., Greek Reporter, and the San Francisco Chronicle. Her father joined the CIA before she was born. When she was a baby, her family moved to Athens, Greece. Just in time for a coup. She spent years trying to learn what her Cold War father's role was in that event. She received a master's in education from Harvard, taught G.E.D. to high school dropouts, and currently lives in Oakland with her comic book writer/lawyer wife.
Leta McCollough Seletzky is a National Endowment for the Arts 2022 Creative Writing Fellow. A litigator turned essayist and memoirist, her work appears in The Atlantic; The New York Times; TheGrio; O, The Oprah Magazine; The Washington Post; and elsewhere. She holds a BA from Northwestern University and a JD from the George Washington University Law School. She grew up in Memphis, Tennessee, and now lives in Walnut Creek, California.
PRAISE FOR SPY DAUGHTER, QUEER GIRL
"Spy Daughter, Queer Girl is succinctly written, gorgeously rendered, and emotionally illuminating. One could describe it as part memoir, part spy thriller, but it also has a wider scope: It brings to life a micro-history of being young and gay in America in the '80s."
--Ms. magazine
"A riveting examination of identity and how the people who raise us make us—and how we all must continually remake ourselves. A moving portrait of a father-daughter relationship defined by secrets so big they spanned continents. Absher writes with heart, humor, and the grace that comes with forgiveness—the ultimate mission impossible."
--Jessica Pearce Rotondi, author of What We Inherit: A Secret War and a Family's Search for Answers
PRAISE FOR THE KNEELING MAN
"Seletzky debuts with an intriguing study of her father, Marrell 'Mac' McCollough, a police officer and CIA agent who was seen kneeling over Martin Luther King's body in a famous photograph taken just after the civil rights leader was shot on the balcony of the Lorraine Motel in Memphis in 1968 . . . The result is a nuanced and insightful look at the complex spaces African Americans have navigated in the pursuit of racial justice." —Publishers Weekly
"As reconstructed by his daughter, the life of an undercover police officer present at the assassination of Martin Luther King Jr . . . Seletzky's approach is nuanced, weaving her father's story and its many loose threads into her own . . . Students of 1960s anti-war movements and civil rights history will find useful information in this revealing footnote." —Kirkus Reviews