Access game-changing INNOVATIONS in Sterile Processing by scrolling through your favorite social media feed.
About this event
The SPX2022 expo hours have ended but you can still tune in to all the innovative product and service information from your favorite vendors by scrolling the Beyond Clean newsfeeds on Facebook and LinkedIn.
We invite you to join us for the Expert Series Conference on Friday, April 8th. Here's a link to check out each session and ensure you're registered. CLICK HERE
___________________________________________________________________________________________
Click here to download your SPX2022 Official Expo Guide. Also included is information on the Beyond Clean Expert Series Virtual Conference.
The stage is set, and your favorite vendor partners are ready to share new product and service announcements at SPX2022, a STERILE PROCESSING EXPO, carried out through Beyond Clean's Facebook and LinkedIn pages. Scroll your newsfeed all week for exclusive vendor content!
Exclusive giveaways throughout the event including educational resources, cash prizes, and more will be given to selected registered attendees (you don't have to be present to win).
As the central nexus for the people, processes and products that drive the Sterile Processing industry forward, Beyond Clean understands the importance of building relationships between Sterile Processing professionals and the vendor partners who support us. That is exactly why we invite you to take part in the third annual Beyond Clean SPX2022 Social Media Vendor Expo -- a 100% digital media event.
During SPX2022 you can interact with industry products and learn about vendor services through our low pressure, high impact social media channels like Facebook and LinkedIn. Unlike traditional vendor fairs or other virtual expos, we won't throw everyone in the room together and expect you to wade through all the noise to hear from each vendor. Regardless of your position in the hospital, you have the opportunity to hear directly from their company leaders, see product demos, and read about exciting product announcements. You'll do it all from your home, your car, or your lunch break while you are at the hospital being the essential and critical workers that you have always been.
This is an opportunity to network directly with manufacturers and innovators who are changing the way we serve our surgical teams. It's about bringing the value of an expo hall directly to you with a unique opportunity to finally share your "aha" moments directly with your industry network, department leaders, and hospital administrators. No shipped handouts and heavy suitcases required! This year you won't have to say, "You'll never believe what I saw!" With one click of a button, you can share it with your colleague, your manager, and the world!
As an industry, it's our job to build a safer Sterile Processing environment, and that requires better tools and equipment to do our jobs. We are excited to continue to help that happen this year at the second annual SPX2022! See you online!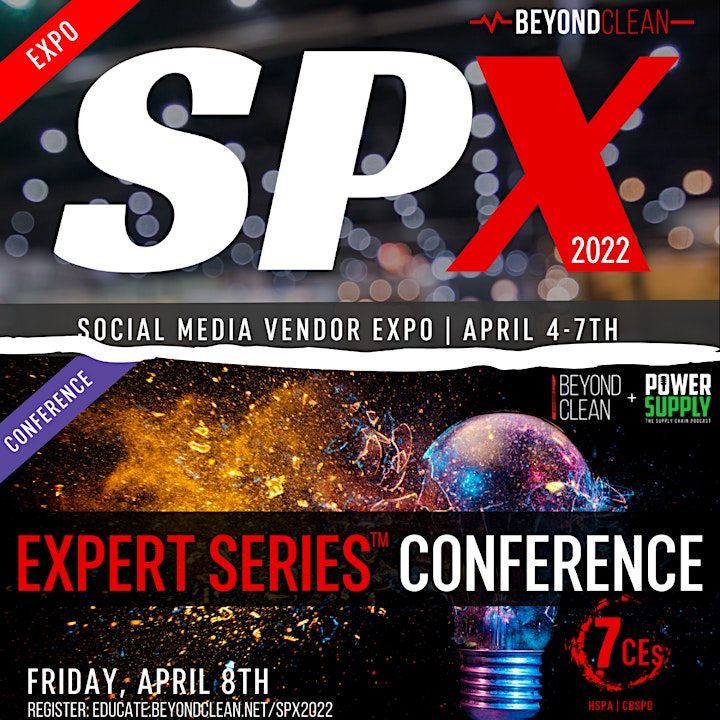 BONUS! By registering for SPX2022, you will automatically be registered for the 2022 Beyond Clean Expert Series Conference on Friday, April 8, 2022. This conference, powered by Beyond Clean and featuring experts from the Beyond Clean and Power Supply platforms, will offer 7 CEs and on-demand viewing options if you can't make it to the live event. Want to know the best part? NO POWERPOINTS ALLOWED! Tune in for casual and engaging conversations with experts in the Sterile Processing industry on topics like Storage, Data, Water, Consulting, Instrument Protection and more!
This program is submitted for approval for 7 contact hours through HSPA, CBSPD, and CBRN.
By registering for this event, you give the event organizers, sponsors, and speakers permission to contact you.