Access game changing INNOVATIONS in Sterile Processing by scrolling through your favorite social media feed.
About this Event
The stage is set, and your favorite vendor partners will be waiting for you to tune in to Beyond Clean's Facebook, LinkedIn and YouTube pages for exclusive vendor content!
As the central nexus for the people, processes and products that drive the Sterile Processing industry forward, Beyond Clean understands the importance of building relationships between Sterile Processing professionals and the vendor partners who support us. That is exactly why we invite you to take part in the second annual Beyond Clean SPX2021 Virtual Vendor Expo -- a 100% digital media event -- April 19-22, 2021.
During SPX2021 you will be able to interact with industry products and learn about vendor services through our low pressure, high impact social media channels like Facebook, LinkedIn, and even YouTube. Unlike normal vendor fairs or other virtual expos, we won't throw everyone in the room together and expect you to wade through all the noise to hear from each vendor. Every hour, on the hour during our SPX2021 expo, ONE new company will be featured at a time so that you have the opportunity to hear directly from their company leaders, see product demos, and read about exciting product announcements. You'll do it all from your home, your car, or your lunch break while you are at the hospital being the essential and critical workers that you have always been.
Are you a vendor interested in participating in the expo? CLICK HERE for more info.
This is an unprecedented opportunity to network directly with manufacturers and innovators who are changing the way we serve our surgical teams. It's about bringing the value of an expo hall directly to you with a unique opportunity to finally share your "aha" moments directly with your industry network, department leaders, and hospital administrators. No shipped handouts and heavy suitcases required! This year you won't have to say, "You'll never believe what I saw!" With one click of a button, you can share it with the world!
As an industry, it's our job to build a safer Sterile Processing environment, and that requires better tools and equipment to do our jobs. We are excited to continue to help that happen this year at the second annual SPX2021! See you online!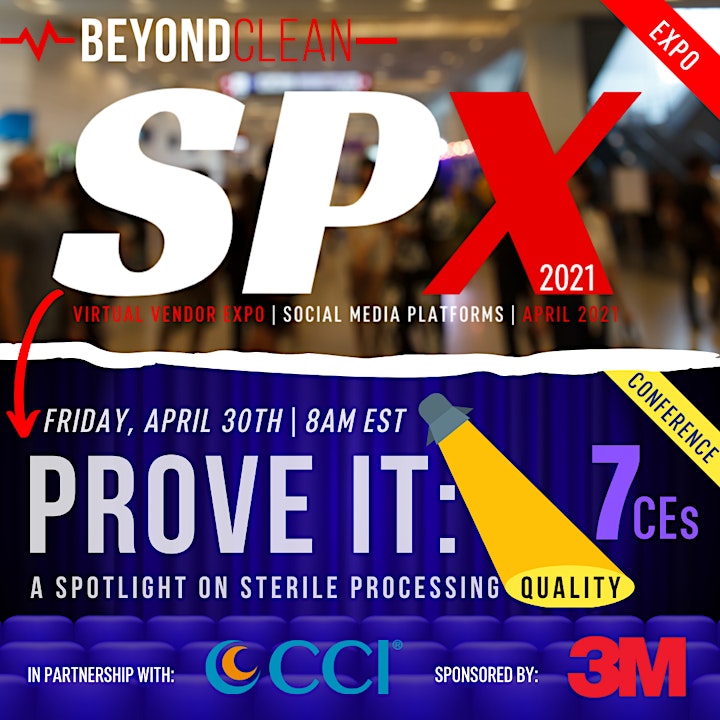 BONUS! By registering for SPX2021, you will automatically be registered for the SPX2021 Virtual Conference: Prove It: A Spotlight on Sterile Processing Quality, sponsored by 3M on Friday April 30, 2021-- one week after the expo. This conference, powered by Beyond Clean, will offer 7 CEs and on-demand viewing options. Can't make it to the live event? No sweat! You'll get the links to watch each session on-demand whenever and wherever it's convenient for you.
*This virtual conference is pending approval for 7 contact hours by CCI, 400 Inverness Pkwy, Suite 265, Englewood, Colorado 80112. Provider approved by the California Board of Nursing, Provider #CEP 15613. Activities approved by CCI are recognized as continuing education for registered nurses.
This program is approved for 7 contact hours through IAHCSMM and CBSPD.
By registering for this event, you give the event organizers, sponsors, and speakers permission to contact you.