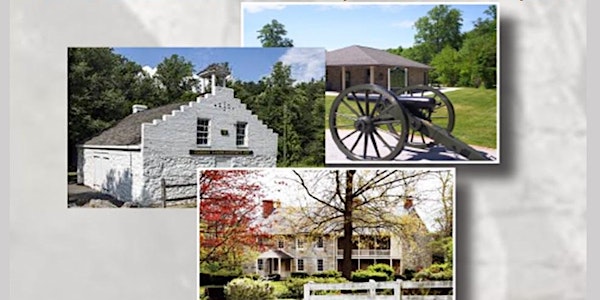 Sprng Into History Stories on the Mountain Tour
When and where
Location
15 South Main Street Chambersburg, PA 17201
Refund Policy
Refunds up to 1 day before event
Description
Explore South Mountain in Stories of the Mountain Tour on August 24, 9 AM to 4:30 PM. South Mountain holds centuries of history and lore. The mountain forests fed the iron ore industry, sheltered escaping enslaved, saw the strife of Civil War and was reborn through Pennsylvania's conservation movement. Life on the mountain is the story of small communities across America. Visit a general store museum, a site where John Brown taught Sunday school, learn how Pennsylvania led the conservation movement, and hear eerie stories of the silvery lady of Pond Bank.
JUST ADDED: The Ghost PIT (Paranormal Investigation Team) is joining the tour and briniging the investigation equipment to do several "mini investigations." ADDED Bonus will be a lunch time investigation of Penn National Inn.

The tour departs Franklin County 11/30 Visitors Center at 9 AM and begins with a comparison of two Franklin County iron ore works—Caledonia Ironworks and Mont Alto Ironworks. Learn about the ore process, layout of the ironworks, and the people who worked at the furnace. Stop at Preserving Our Heritage Museum, housed in a one-room schoolhouse, and visit a relocated 1930 - 1950 general store. Travel across the South Mountain and see the landscape that gave fresh air and hope to thousands of tuberculosis patients. Visit the new home of the Mont Alto Historical Society. Step back to 1812 and visit the Royer farmhouse at Renfrew Park. Continue up the mountain to Monterey Pass Battlefield where 10,000 Union and Confederate troops fought along the mountain ridge in a blinding thunderstorm during the late hours of July 4 and early hours of July 5, 1863, part of the retreat from Gettysburg.
This event is updated and rescheduled from April 13, 2019.

PARKING
Parking is not metered on Saturday, so there is no need to add money to the meters. The Chambersburg Shopper's Lot, located ½-block off South Main, provides ample parking.
To park in the Chambersburg Shopper's Lot When Traveling West on Lincoln Way East
At the traffic lot where Lincoln Way East meets Main Street, be sure to get into the left lane. Proceed through the light, passing Central Presbyterian Church on the left. Immediately after passing the church and its annex is Black Avenue. Turn left onto Black Avenue and continue past the M&T drive-up. Parking is on the right, just after the drive up.
To park in the Chambersburg Shopper's Lot When Traveling East on Lincoln Way West
US Rt. 30 becomes Loudon Street. After passing over the bridge at the Southgate Mall, it will become Queen Street and crosses the Rail Trail. Stay in the left lane and turn left onto Black Avenue. Turn left into the Shopper's Lot.