Description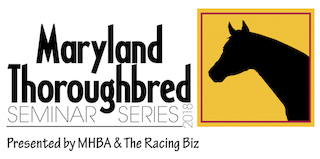 Join us for a day in the country! Learn the basics of Thoroughbred breeding and then enjoy an afternoon of steeplechase racing at the Grand National.
TOPICS:
ACQUIRING A BROODMARE
SELECTING A MATE
THE FOAL HAS ARRIVED - WHAT NOW?
Speaker: Sabrina Moore, GreenMount Farm
Logistics - stud fees, weaning, sales, etc.
The MHBA invites seminar guests to join us for a tailgate at the Grand National Steeplechase after the seminar. Guests will need to purchase their own General Parking ($40/car), but food, drinks and fun are on us!

Get more details on the races and purchase your general parking pass at grandnationalsteeplechase.com. General Parking passes are available at the gate only if they do not sell out in advance. General parking passes go on sale April 1st, online sales end April 15th.
Note:
The seminar topics will be targeted towards beginners. No question is too simple!
This is an outdoor event that will involve walking, please dress accordingly.
You are encouraged to bring a folding chair if you intend to join us for the races.
Questions? Contact Jordyn - jordyn@marylandthoroughbred.com or (410) 252-2100 ext. 113