Spring Urban Hike in the Ironbound • Caminata Urbana de Primavera Ironbound
Explore the Ironbound through body, mind, and spirit. Walk, see, listen, touch, meditate, and exercise in green spaces and city sidewalks.
About this Event
(Desplácese hacia abajo para obtener información en español)
SPRING URBAN HIKE:
Iron & Brick meets Flower Power
A free guided hike in the Ironbound Section of Newark NJ. Bring your sunniest disposition (or the hike will make it sunny!), wear your most colorful or flowery clothes, and let's breath in some outdoor air together and make new friends!
Perfect for Individuals, Families, and Groups. Limited space so register soon! Well-behaved pets welcome to join!
Hike Leaders: Kazi and Les | Distance: 3 mi. (complete route) 1-2 mi. (short route) | Difficulty: Easy | Fee: Free | Age: For all ages who can walk the full or partial route (youths under 17 must be accompanied by adult) | Language: English with Spanish translation.
Our Co-leaders will guide you in an urban hike and a new way of seeing the Ironbound Neighborhood using their skills and knowledge — Kazi with mindful movement exercises, meditations, and blessings and Les with his background of public history and social justice!
We will start outside of Newark Penn Station, head to Independence Park, then to James/Gibson Recreation Center, followed by a short stroll to Down Bottom Farm where we'll have a short break and mindful movement session. The next stop will be River Front Park from where we then head back to Penn to finish.
For a shorter journey, attendees can meet us at Penn Station or Independence Park and leave the hike at any point.
Restrictions: Wearing masks or face coverings and social distancing is required based on the current local guidelines.
Lunch: Please pack your own lunch bag or snacks and drink.
"The mind can go in a thousand directions, but on this beautiful path, I walk in peace. With each step, the wind blows. With each step, a flower blooms."
__________________________________________
Co-leader Bio-notes:
Ib'nallah S. Kazi is a New York-based spiritual wilderness guide, born in Panama and raised in New York. He graduated from Adelphi University, in 1981 with a BA in Psychology. Following careers in human services, public education and public health in the New York City area, he then placed an emphasis on wellness and spiritual cultivation through his own program, presently known as Our Shaman Song. Along with his friend and hiking partner Sala Nolan, Kazi founded the Harriet Tubman Hiking Society in 1988 to expose the African-American community to the strengthening, healing and spiritually grounding benefits of immersion in nature. Kazi lived in Newark, NJ from 2004-2017. He is the Spiritual Director and Meditation Medicine teacher with NCMC.
Leslie S. Arthur has taught in the NJ Public School System for 30 years including African American History, U.S. History, Latin American Culture, and Economics. He is a PhD. candidate in African American History from Rutgers University (RU). His area of interest is Harlem Renaissance, Black Power Movement, and Black Arts Movement. Les studied public history under the late Clement Price, professor at RU who helped establish the National Museum of African American History and Culture in Washington, DC. Les is an avid hiker and a certified hiking leader with the Appalachian Mountain Club, which promotes diversity in nature. He is on the board of NCMC.
A free community service program of Newark Center for Meditative Culture in cooperation with ICC Family Success Centers and ICC Down Bottom Farm.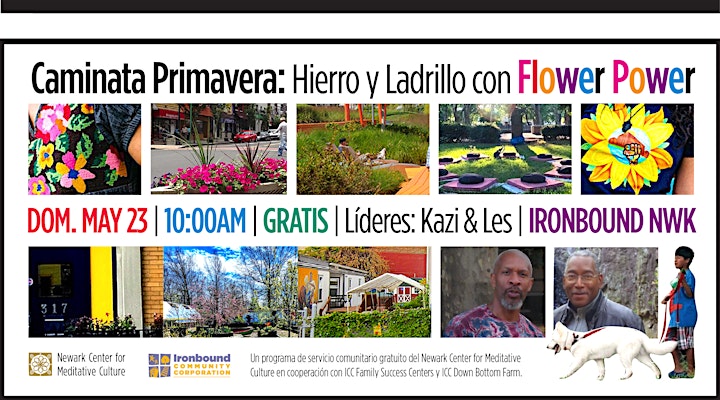 Explore Ironbound a través del cuerpo, la mente y el espíritu. Camine, vea, escuche, toque, medite y haga ejercicio en espacios verdes y aceras de la ciudad.
CAMINATA URBANA DE PRIMAVERA:
Hierro y Ladrillo se encuentran con Flower Power
Una caminata guiada gratuita en la sección Ironbound de Newark NJ. Traiga su disposición más soleada (¡o la caminata hará que sea soleado!), Use su ropa más colorida o florida, y respiremos un poco de aire exterior juntos y hagamos nuevos amigos.
Perfecto para individuos, familias y grupos. Limitado espacio, ¡así que regístrese pronto! ¡Se admiten mascotas que se portan bien!
Líderes de caminata: Kazi y Les | Distancia: 3 millas (ruta completa) 1-2 millas (ruta corta). | Dificultad: Fácil | Tarifa: Gratis | Edad: Para todas las edades que puedan realizar el recorrido total o parcial (los menores de 17 años deben ir acompañados de un adulto) | Idioma: inglés con traducción al español.
Nuestros co-líderes lo guiarán en una caminata urbana y una nueva forma de ver el Barrio de Ironbound usando sus habilidades y conocimientos: Kazi con ejercicios de movimiento consciente, meditaciones y bendiciones y Les con su experiencia en historia pública y justicia social.
Comenzaremos fuera de Newark Penn Station, nos dirigiremos al Parque Independence, luego al Centro Recreativo James/Gibson, seguido de un corto paseo hasta Down Bottom Farm donde tendremos una breve pausa y movimiento consciente. La siguiente parada será River Front Park, desde donde regresaremos a Penn para terminar.
Para un viaje más corto, los asistentes pueden reunirse con nosotros en Penn Station o Independence Park y dejar la caminata en cualquier punto.
Restricciones: Se requiere el uso de máscaras o cubrimientos faciales y el distanciamiento social según las pautas locales vigentes.
Almuerzo: Empaque su propia bolsa o refrigerios y bebidas.
"La mente puede ir en mil direcciones, pero en este hermoso camino, camino en paz. Con cada paso, el viento sopla. Con cada paso, florece una flor."
__________________________________________
Bio-notas del co-líder:
Ib'nallah S. Kazi es un guía espiritual de la naturaleza con sede en Nueva York, nacido en Panamá y criado en Nueva York. Se graduó de la Universidad de Adelphi en 1981 con una licenciatura en Psicología. Después de carreras en servicios humanos, educación pública y salud pública en el área de la ciudad de Nueva York, luego puso énfasis en el bienestar y el cultivo espiritual a través de su propio programa, actualmente conocido como Our Shaman Song. Junto con su amigo y compañero de excursionismo Sala Nolan, Kazi fundó la Harriet Tubman Hiking Society en 1988 para exponer a la comunidad afroamericana a los beneficios de fortalecimiento, curación y conexión espiritual de la inmersión en la naturaleza. Kazi vivió en Newark, Nueva Jersey, de 2004 a 2017. Es Director Espiritual y profesor de Medicina de Meditación en NCMC.
Leslie S. Arthur ha enseñado en el sistema de escuelas públicas de Nueva Jersey durante 30 años, incluida la historia afroamericana, la historia de los EE. UU., La cultura latinoamericana y la economía. Él es un Ph.D. candidato en Historia Afroamericana de la Universidad de Rutgers (RU). Su área de interés es Harlem Renaissance, Black Power Movement y Black Arts Movement. Les estudió historia pública con el fallecido Clement Price, profesor de RU que ayudó a establecer el Museo Nacional de Historia y Cultura Afroamericana en Washington, DC. Les es un ávido excursionista y un líder de senderismo certificado con el Appalachian Mountain Club, que promueve la diversidad en la naturaleza. Está en la junta de NCMC.
Un programa de servicio comunitario gratuito del Newark Center for Meditative Culture en cooperación con ICC Family Success Centers y ICC Down Bottom Farm.