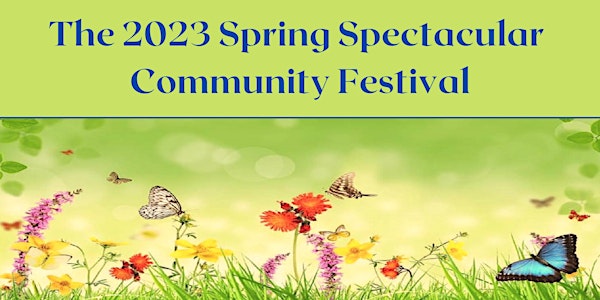 Spring Spectacular Community Festival
The 2nd Annual Spring Spectacular Community Festival, Saturday April 1st, 11AM-2PM Westmoreland County Fairgrounds, Preregistration Required
Date and time
Saturday, April 1 · 11am - 2pm EDT
Location
Westmoreland Fairgrounds 123 Blue Ribbon Lane Greensburg, PA 15601
About this event
The Ray of Hope in partnership with the Westmoreland County BH/DS Office and many other human services organizations are gearing up for the 2nd Annual Spring Spectacular Community Festival at the Westmoreland County Fairgrounds Saturday, April,1st 2023 from 11AM-2PM. We are doing things a little differently this year. The event will continue to be FREE to residents of Westmoreland County. Pre-registration for the public to attend is required and slots are limited. Registration is a first come first served basis. To emphasize that this event is for Westmoreland County residents.
Please Note: If you or your child is not pre-registered, you will not be allowed into the event. (You will need to register every person in your group that will be attending, NOT JUST WHO WILL BE PARTICIPATING IN THE EGG HUNT) With the slots being limited, we need a count for everyone in your group.
We have implemented a lot of new requirements to ensure the safety of everyone at the event this year. We want this to be an opportunity to learn about the many resources in Westmoreland County and provide a safe and fun atmosphere for you and your family.
We will be having a large egg hunt again this year for ages 2yrs -12yrs. We will again be including a separate category for those with special needs. All ages are allowed for the special needs egg hunt.
There will be golden eggs prizes, Bunny Photo Op, Andy the Ambulance, Food Trucks, Face Painting, Balloon Twisting, Resource Tables, a DJ, and lots more!
This event is to highlight the resources in human services for all residents in Westmoreland County. This will be for children and adult services. We will be having a much larger resource area for attendees to meet and interact with providers. (Please stop in to see all of the resources!) In the resource area we will also be giving out popcorn, snow cones, and cotton candy at no cost to attendees while supplies last.
REGISTRATION INFORMATION
Pre-registration on Eventbrite is required to attend this event. Registration closes on 3/18/23 or when all slots are filled. We have limited slots this year. The Park Police and the Department of Public Safety will be assisting to ensure safety at the event. Please fill out all ticket information. We will be having lots of people at the check-in/registration area to allow for a fast process into the event. (We will have a list of all registered.) Please Note: If you or your child are not registered, you will not be allowed into the event.
At check-in, you will receive all needed information for the event including an egg hunt agenda, bracelets for the egg hunt, a list of resource tables, and map of the event space.
Registration will begin at 10:00 AM. We will not be allowing anyone into the event prior to 10:00. The egg hunt will not begin until 11:30 AM, allowing time for people to check-in. We are asking for all attendees to arrive no later than 11AM to ensure everyone gets through the check-in area.
EGG HUNT INFORMATION
We will be having a much larger area for the egg hunt and allowing for more time in between. You will receive an egg hunt agenda with times on the day of the event. Each child will be given an egg hunt bag specifically for the egg hunt before their time slot begins. (No need to bring baskets or bags)
Please note: No parents/chaperones will be permitted in the egg hunt area.
The special needs egg hunt will allow one (1) chaperone in the egg hunt area.
Each child will be given a colored bracelet according to their age group. Each child will only be permitted to participate in one egg hunt. (This will be closely monitored). Each time slot will be given an assigned color. Every child will need a matching bracelet to participate.
By registering, you are agreeing to the following Waiver: I hereby waive and release any and all claims for damages or injury I may have against the sponsors and officials of the Ray of Hope Suicide Awareness and Prevention Task Force and it's members, for my participation in said event of April 1, 2023 and for any and all injuries suffered. I also attest that I am physically fit and able to participate in this event, and acknowledge that photos of the event will be taken for non-promotional purposes. Additionally, I understand and hereby agree that I must supervise all minor children in my care at all times while attending the event.