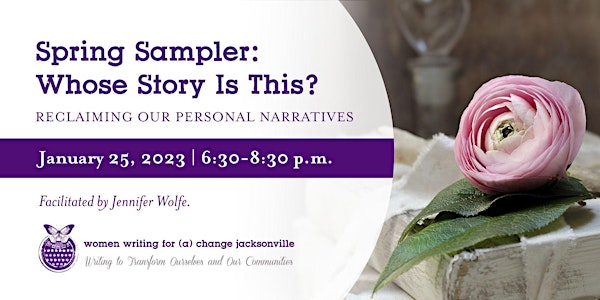 Spring Sampler: Whose Story Is This? [in-person]
Join us for this Sampler of our in-person classes. Learn how we approach
 writing, using practices honed by 30 years of experience.
When and where
Location
Women Writing for (a) Change Jacksonville 1610 Osceola Street Jacksonville, FL 32204
Refund Policy
Contact the organizer to request a refund.
Eventbrite's fee is nonrefundable.
About this event
"One of the rights that the powerful often assume is the power to dictate reality."
—Rebecca Solnit, Whose Story Is This? Old Conflicts, New Chapters
This spring, as part of our theme of "And Justice for All," we will focus on the idea of questioning the narratives that have defined our lives, whether prescribed by society, our families, or ourselves. Using memoir and various intuitive and generative writing techniques, we will explore where our stories come from, how they serve or don't serve us, and what we can do about it. Two core texts for this series will be Cassandra Speaks: When Women are the Storytellers, the Human Story Changes, by Elizabeth Lesser, and Whose Story Is This: Old Conflicts, New Chapters, by Rebecca Solnit. Both books question the narratives we've been fed and can help us begin the process of rewriting the stories of our lives, individually and collectively.
Join us in the comfort of a warm circle of dear friends (old and new) at this Sampler, which will give you a taste of the semester to come. Note: Open to anyone who identifies as a female or non-binary. Class size limited. Register early to reserve a spot. This Sampler facilitated by executive director Jennifer Wolfe.
MORE DETAILS
New writer? Remember, you don't have to be a professional writer to join in. Use this class to find out more about Women Writing for (a) Change's amazing process, used by thousands of women across the country since 1991 to express their authentic selves through writing and community-building. We'll use prompts, poetry, and prose to practice many different writing techniques.
Experienced writer? If you decide to take this series, you'll have a chance to sharpen your craft and technique in our small-group circles. You can bring whatever project you're working on and expect good feedback from people you can trust.
BACKGROUND
Women Writing for (a) Change® was founded in 1991 by Mary Pierce Brosmer, a practicing poet and former English teacher. She developed WWf(a)C to encourage women to find their voices, speak their truths, and tell their stories in a world in which they were often silenced. (womenwriting.org).
The Jacksonville-affiliated school was established in 2014 by Jennifer Wolfe, evolving into a non-profit in 2018, and adding three new faculty members in 2019-2020. Our intention is to expand our outreach and accessibility to a larger, more diverse audience.
"A circle of women may be the most powerful force known to humanity. If you have one, embrace it. If you need one, seek it. If you find one, for the love of all that is good and holy, Dive in. Hold on. Love it up. Get naked. Let them see you. Let them hold you. Let your reluctant tears fall. Let yourself rise fierce and love great. You will be changed. The very fabric of your Being will be altered by this. If you allow it. Please, allow it." — Jeanette LeBlanc
***** Scholarships Available; request application*****