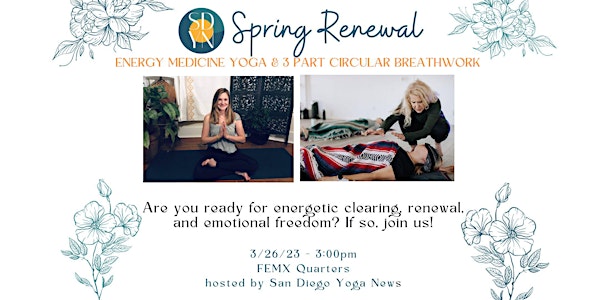 Spring Renewal: Energy Medicine Yoga & 3 Part Circular Breathwork
Learn powerful tools to help you regulate and reenergize your nervous system and heal in community.
By San Diego Yoga News LLC
Date and time
Sunday, March 26 · 3 - 5pm PDT
Location
FEMX QUARTERS - Event Space and Photo + Video Studio in San Diego 1919 San Diego Avenue San Diego, CA 92110
About this event
Are your mind, body, and soul in need of a spring cleaning? Do you want to shake off the winter season and release old beliefs that may be holding you back? If so, join San Diego Yoga News (SDYN) for our Spring Renewal event!
In Spring Renewal you will experience gentle, Energy Medicine Yoga with SDYN's founder, Bridey Scully, 3 part circular breathwork with Suzanne Lederer (@iamsuzannelederer), and a powerful release of whatever is no longer serving you to create space for seasonal renewal and health.
We are so excited to offer this event at FEMX Quarters!
What to expect:
-Gentle movement that incorporates Energy Medicine Yoga (EM Yoga) techniques to amplify the healing benefits of our yoga practice. Our yoga practice will prepare our bodies for 3 part circular breathwork. Watch our reel for a sneak peek at EMYoga in action!
-Guided 3 part circular breathwork
-Time to integrate your healing with journaling or discussion
-A sense of emotional release and energetic renewal!
-You will leave feeling lighter and more in-tune with your body. EM Yoga and 3 part circular breathwork can be powerful techniques to release trauma and emotions. We do our best to create a brave space for all where we encourage you to show up as your whole self. We will be there to guide you the whole way.
-Snacks & tea provided by San Diego Yoga News (@sandiego_yoganews)
-Community building
What to bring:
-Please refrain from eating a heavy meal for at least 30 minutes before the event.
-Yoga Mat
-Blanket
-Eye covering (eye mask, bandana, scarf, etc.)
-Blanket, pillow, or bolster to support your knees during 3 part circular breathwork. We will be laying down for the breathwork.
-Journal & Pen (optional)
We can't wait to see your faces and step into Spring Renewal with you!
We value all community members and do not want finances to prevent folks from participating in our offerings. So, we are offering 3 scholarships for attendance at no-cost. We've been in your shoes and want to support you. If you would like to attend the event but are concerned about the cost, please send an email to hello@sandiegoyoganews.com with subject line "Spring Renewal Scholarship" letting us know. These scholarships are first-come, first-served. So, reach out today if you would like to take part!
Tickets can be purchased at the door, but pre-registering will ensure that you have a spot!
About Energy Medicine Yoga:
Read our blog about EMYoga! Watch our reel for a sneak peek at EMYoga in action!
Energy Medicine Yoga (EMY) is a practice that combines yoga postures with the principles of energy medicine and cal include tapping, holding meridian points, and more while practicing traditional yoga postures. It is said to balance the body's energy systems, enhance vitality, and promote healing. Here are some benefits of EMY:
Enhances overall well-being: EMY is designed to balance the body's energy systems, which can lead to improved overall health and well-being.
Reduces stress: The practice of EMY includes breathing techniques and movement, which can help to reduce stress and promote relaxation.
Promotes healing: EMY focuses on balancing the body's energy systems, which can help to promote healing and alleviate pain.
Improves flexibility and strength: EMY includes traditional yoga postures, which can improve flexibility and strength.
Supports emotional well-being: EMY is said to help release emotional blockages, which can promote emotional well-being and balance.
Complements other Therapies: EMY may be used in combination with other therapies, such as acupuncture, massage, or physical therapy, to enhance their effectiveness.
Suitable for All Levels: EMY can be adapted for different levels of ability, making it accessible to beginners and experienced yogis alike.
Overall, the benefits of EMY revolve around its potential to balance the body's energy systems, promote healing, reduce stress, and enhance overall well-being.
About 3 part Circular Breathwork:
Slowing your mind down so you can get into your body, accessing deep parts of yourself that have been buried. This style of breathwork is a healing modality that connects you to your heart, body and soul through a specific 3 part Circular Breathing technique. We tap into your inner healer. You have all you need for healing but oftentimes our thoughts, past stories and limiting beliefs get in the way and keep us stuck. This practice helps you get present, process and let go of stuck emotional energy, shifts your state and stress levels and allows you to experience deep inner healing. It will allow you to give attention to those parts of you that have been crying out so you can step into your wholeness.
This 3 part Breathwork practice also connects you to your intuition/inner wisdom. You will receive clarity around things that you may have been confused by or have fear around and it gives you the confidence to take the first step. I am a certified practitioner in trauma recovery. Unprocessed pain, grief, anger, fear, anxiety, sadness... live in our body. Unless released, you will eventually experience symptoms like chronic fatigue, panic attacks, self-sabotaging, betrayal, digestive issues, autoimmune diseases, chronic pain and so much more. This 3 part Breathwork practice has been an incredible tool for me in my own healing of unprocessed emotions and limiting beliefs.
No experience required, the process itself is very simple. It is done lying down on your mat with your eyes covered, breathing into your belly, chest, and out, using full deep breaths all through the mouth. Music is playing throughout the practice. No two sessions are the same! I will be holding space and facilitating the whole time.
For your safety, we do not allow persons with the following conditions to participate: If you are/ think you may be pregnant, have a severe uncontrolled physical/mental health condition like complex PTSD, or have been hospitalized for any psychiatric condition or emotional crisis during the past10 years, have had a stroke, seizure, TIA or other brain/neurological conditions or disease this practice, is strongly not recommended.
About Bridey:
Bridey is a yoga teacher, environmentalist, and entrepreneur working to build community in the San Diego yoga space through inclusive and welcoming events and uplift local practicioners. Bridey has been practicing yoga since 2010 and teaching since 2018. She focuses her teachings on strengthening the connection between the mind and the body. Bridey is originally from Florida and has lived in all 4 corners of the continental U.S. After living in several new places, Bridey settled in San Diego in 2019. She started San Diego Yoga News during the COVID-19 pandemic as a way to build community, share yoga events, and uplift local yogis. SDYN has grown to have a robust online presence with a website featuring a San Diego yoga events calendar, a bi-weekly yoga blog, an email newsletter, and in-person events. Bridey loves spending time at the beach with her husband and dog and you can find her exploring coffee shops, thrift shops, and nature spots across San Diego.
About Suzanne:
Suzanne had type A personality busy and productive, but over the years it took its toll on her nervous system and in 2010 she started experiencing autoimmune symptoms and became very sick. At that point she realized her busyness and running from her emotional pain needed to change. This began the inward journey! She has since learned the tools to process her emotions, see and heal her limiting beliefs and step into her wholeness. A huge piece in her transformation was her first 3 part Circular Breathwork class. She is now a Trauma Informed Somatic Breathwork Practitioner and also educates people on the nervous system and regulation tools. She is passionate about creating an environment of safety so healing can happen. When she is not teaching or coaching, you can find Suzanne hiking, traveling, biking, yoga, and having soulful conversation with her community.
DISCLAIMER: By registering for and participating in this event, you understand that yoga, meditation, and 3 part circular breathwork are not a substitutes for medical attention, examination, diagnosis, mental health assessment & support medical treatment. Yoga, meditation and 3 part circular breathwork are not recommended, and are not safe under certain medical and mental health conditions. Please carefully review the terms and conditions when registering for this event.
About the organizer
San Diego Yoga News was created out of a love for yoga, community, and the human need to belong. The goal of SDYN is to help yogis find their niche, build community, and explore all that the San Diego Yoga Community has to offer! We believe strongly in an inclusive, justice-oriented approach to showcasing yoga. We aim to represent all yogis across San Diego and uplift those often unsupported by mainstream media.
We value community and the health and wellness benefits we gain from being a part of a healthy and supportive community. Our Community Connection events are a part of our signature event model that bring together yoga, healing, and local businesses to bring you new and exciting offerings with the space to mingle and build relationships with new folks.