Description
Spring Psychic & Wellness Fair
Second Year! Last year 342 attended!
Presented By: Keene Intuition
Location: Best Western Sovereign Hotel
$10 ADVANCE TICKET SALES END May 5 at 11:59pm/MEN ARE FREE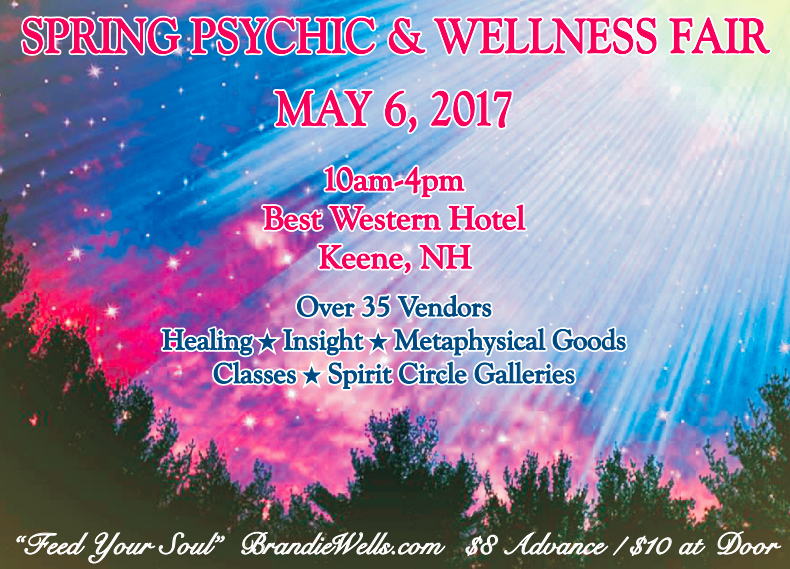 The Spring Psychic and Wellness Fair:
35 vendors: Spiritual and Healing sessions, Metaphysical and wellness goods. Enrishing classes and Spirit Circle Galleries.
Bringing people together through love and light, exposing talents, gifts and merchandise for insight!
All exhibitors will be complimenting each other, creating a balanced event.
Located in Ballroom, the exhibitors will be in one large, open space.
There is a delegated space for Enriching classes with various Spiritulists and Spirit Circle Galleries with Brandie Wells, Compassionate Clairvoyant. Open seating. $10 per person advance/ $12 at door for classes.
10:30, 12:00, 1:30, 3:00 Limited to 25 per circle.
Lunch available at Waxy's.
*The customers attending will be paying $10 to enter/ MEN ARE FREE
Brandie Wells, Brandie Wells, Compassionate Clairvoyant
Co-Host of Soul Central, A1R International Radio Tues.,9:30pm est
Certified Angel Card Reader, Psychic Medium & Animal Communicator
Readings, Parties, Paranormal Investigations & Psychic Events
Psychic Parties of New England
Owner of THE 555 Para-Psychic Investigations
47 Main St, Ste 4, Keene, NH 03431
Vendors Email: SpringPsychicWellness@gmail.com