Description
Join the Vermont Green Building Network (VGBN) for our spring networking event at the Vermont Energy Investment Corporation (VEIC) in Burlington on Wednesday, June 14th. This event will include a networking reception with appetizers and a cash bar, and a presentation by Brian Just entitled "Step Away from the Cliff! Avoiding the Unhealthful Home." Attendees will be eligible for 1.5 CEUs via Passive House Institute US (PHIUS). The event will also feature Vermont Passive House group, and will be hosted in the beautiful Town Center space at VEIC.
Free for VGBN and PHVT members and $10 for non-members.
Walk-ins are welcome the day of!
To learn more about becoming a VGBN member, please visit: http://www.vtgreenbuildingnetwork.org/community/become-a-member/
Step Away from the Cliff! Avoiding the Unhealthful Home
"Green" buildings are about more than just energy. Americans spend 90% of their time indoors, yet there are several building practices—and not necessarily the ones you think—that may be harmful to all occupants. "Build tight, ventilate right" is a mantra in energy efficiency work, but mantras, like codes, fall short of guaranteeing safety, health, and comfort. Ventilation and materials are two factors you directly control that can significantly affect air quality and the healthfulness of surfaces. This information-packed session summarizes key research, not hearsay, to highlight recent findings and also looks at new data from Vermont homes. It steps through five sections, breaking down and prioritizing actionable items, and includes two case studies. Whether you're a new/existing home building professional or an interested homeowner, you'll walk away with strategies for creating healthy, budget-friendly work and living spaces.
Brian Just's bio:
Brian is RESNET, CPHC, and LEED AP certified. While obtaining his MASc in mechanical engineering, his research focus was on indoor air quality and biomass combustion, which deepened his interest in health impacts and the built environment. Outside of his daytime role working with residential energy efficiency programs, he volunteers with the International Living Future Institute as an Ambassador Presenter.
Event Details:
Date: Wednesday, June 14 from 5:00 to 7:30pm
Location: Town Center room at VEIC in Burlington
Agenda:
5:00-6:00pm: Networking with appetizers and cash bar

6:00-6:10pm: VGBN welcome and sponsor talks

6:10-7:30pm: "Step Away from the Cliff! Avoiding the Unhealthful Home" presentation by Brian Just +2 case studies by guest presenters, followed by Q+A
Directions + parking information:
At 128 Lakeside Avenue, enter the Innovation Center driveway on the east side of the building (closest to Pine St) and follow it to the large parking lot north of the building. Enter the main entrance of the Innovation Center building which faces the parking lot and take the elevator to the 4th floor. Go through two glass doors and follow the hallway (with the red/orange floor) to the right of the reception desk. Continue along the hall/orange path to the middle of the building where you will see a 2-story open area with a railing and stairway down into the Town Center space where the event will be held.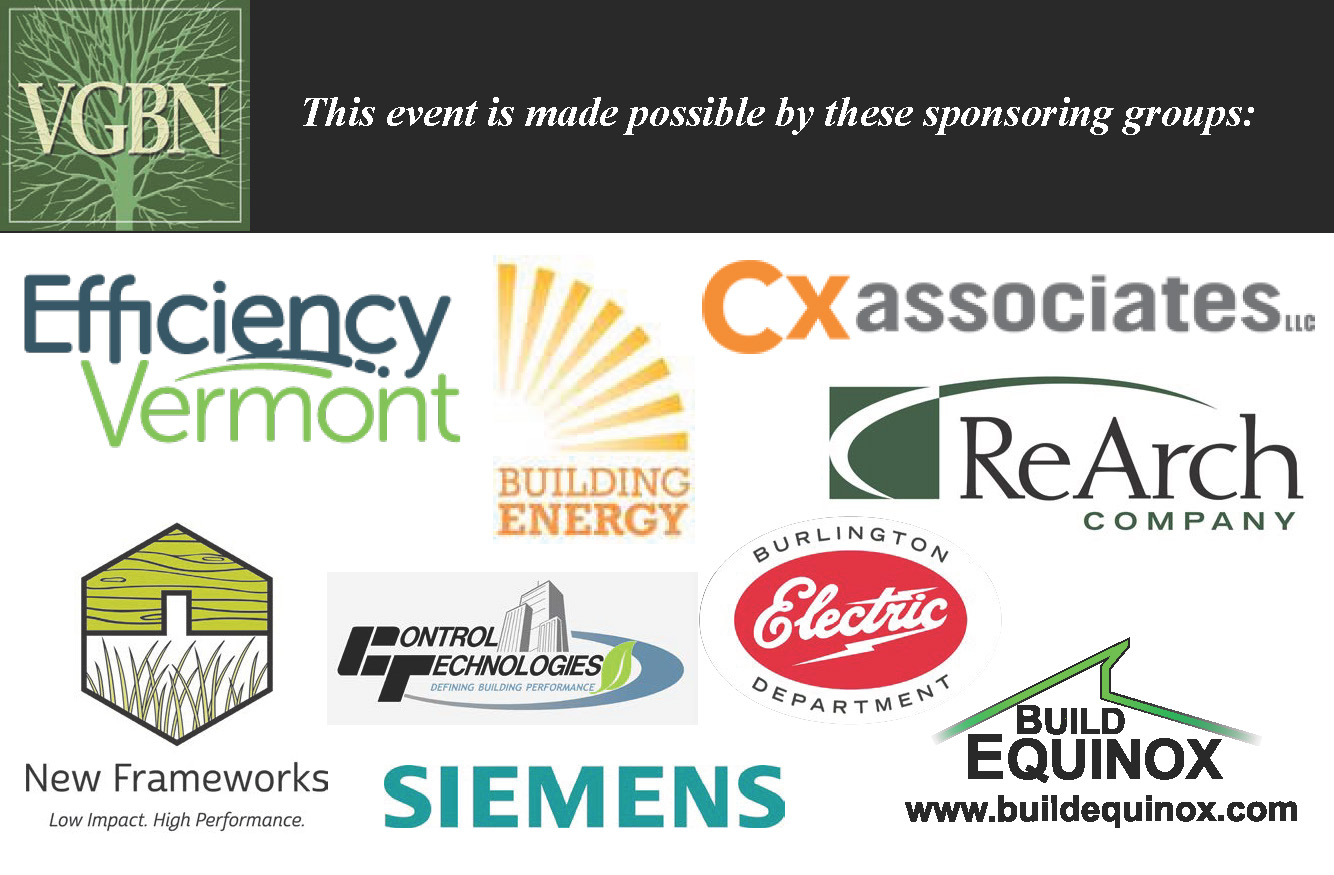 Efficiency Vermont | Build Equinox | Burlington Electric Department | Control Technologies | Cx Associates | New Frameworks | ReArch Company | Siemens | BuildingEnergy