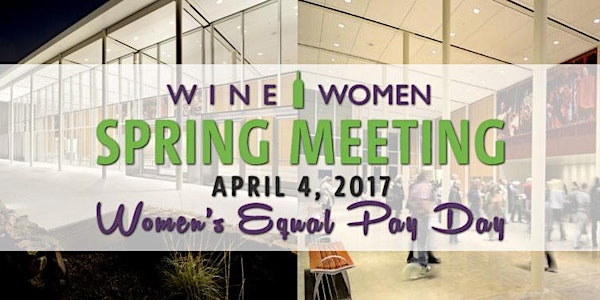 Spring Meeting - Women's Equal Pay Day
When and where
Location
Napa Valley College Performing Arts Center 2277 College Way Napa, CA 94558
Description
April 4, 2017, marks Women's Equal Pay Day in the U.S., the day women finally earn the same amount men earned as of December 31, 2016. To celebrate, WINE WOMEN will hold a spring meeting, consisting of a mini-expo, wine tasting and speakers at the Napa Valley College Performing Arts Center.
The event features Cathy Corison, Jean Arnold Sessions and Linda Higueras in conversation with Geni Whitehouse. They'll speak to issues of gender parity and their lives in the wine industry.
WHAT TO ENJOY
Exhibitor hall

Wine tasting featuring Boisset Collection, Corison Winery, Tulocay Winery, Y. Rousseau.,

Adler Fels, Pacific Trail

and more...

Appetizers from Tarla Mediterranean Grill

Keynote speakers
WHAT YOU'LL LEARN
You will hear stories from leading members of the Wine Industry about their own experience in getting paid, negotiating for positions, and working in a male-dominated industry.

You will learn about Bay Area companies who are fighting to reverse the unequal pay trend as well as those who are the worst offenders.

We will talk about new roles, changing families and how this impacts the work place going forward.

You will leave with strategies and tools to help you take charge of your career and your compensation.
WHO YOU'LL HEAR FROM
Cathy Corison, Winemaker/Owner, Corison Winery, St. Helena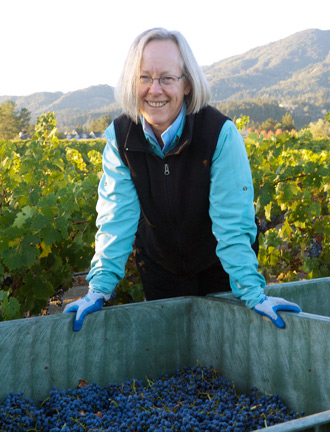 With tenacity and determination, Cathy Corison has forged a life of wine that has spanned more than three decades, transcended formidable challenges and surpassed her wildest dreams.
Cathy discovered her passion for wine while pursuing a bachelor's degree in Biology at Pomona College in Claremont, California. Inspired by the notion that wine is "alive at every level," she went on to receive a Master's in Enology from U.C. Davis in the mid 1970's.
Many years of winemaking for others, including Chappellet Vineyard, Staglin Family Vineyard, York Creek Vineyards and Long Meadow Ranch, honed her skills and left her eager to express her own winemaking voice. In 1987 she made the first vintage of Corison Cabernet. "There was a wine inside me that needed to be made", she says. The harvest of 2016 marks Cathy's 30th vintage of Corison Cabernet!
Winegrower Cathy Corison produces artisanal Cabernet Sauvignon that speaks of place, sourcing great benchland vineyards between Rutherford and St. Helena in the Napa Valley.
Corison Winery, in its timeless Victorian-style barn, is situated in the heart of Cathy's beloved Kronos Vineyard. With eight acres planted exclusively to St. Georges rootstock, Kronos is a historic treasure. As one of the last old Cabernet Vineyards in the Napa Valley, it is one of the few vineyards to have produced world class fruit continuously for more than four decades.
---
Jean Arnold Sessions, Executive Director, Sonoma County Vintners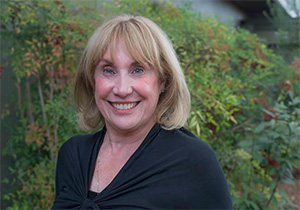 Jean is the Executive Director of Sonoma County Vintners, a role she stepped into a year ago after retiring from Hanzell Vineyards where she had served as president for twelve years. She is also founder of the Jean Arnold Group, a strategic consulting firm, and creator of Women in the Business of Wine, a platform for mentoring women in wine, food and hospitality.
Her career has spanned three decades working with independent family owned wineries dedicated to the highest level of quality in grape growing, winemaking, and marketing. Always working with in-depth research and real-time information on brand positioning, luxury goods marketing, and customer relationship management, Arnold-Sessions guides ownership vision, financial commitment, and leadership roles into culturally relevant communications and executable business strategy. She is honored to list among her experience working with the following list of outstanding wine industry leaders and exceptional estate properties.
Acknowledged as a leader in the Luxury Wine Business, Jean is taking forward private consulting in brand positioning and image creation in this highly specialized market segment. Outside of her time at Sonoma County Vintners, she is focused on the leadership of Jean Arnold Group Collective and is the Founder of the Jean Arnold Group Foundation. In fall 2014, Arnold-Sessions launched Women in the Business of Wine, a generative platform for mentoring women in wine, food, and hospitality.
Jean is a past recipient of the "Women of the Year in Wine" designation from North Bay Business Journal; "Women of the Year, Pulse Award," from the Sonoma Valley Hospital Foundation; "Women Forge Ahead in California" Wine Spectator; National "Sabre" Certificate of Excellence, from The Holmes Report, and many more awards.
---
Linda Higueras, MA, Senior Bilingual HR Consultant, Personnel Perspective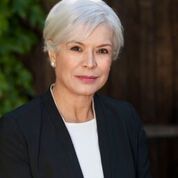 Linda is a human resources professional with thirty years of experience in employee relations, performance management, succession planning, outplacement, recruitment, training, diversity, employee engagement and conflict resolution. Linda is fluent in Spanish and has an in-depth understanding of cross-cultural issues in the workplace. Her professional background encompasses diverse industries such as wineries, manufacturing, financial services, and retail, and she has worked in U.S. and international operations.
---
Geni Whitehouse, CPA, CITP, CSPM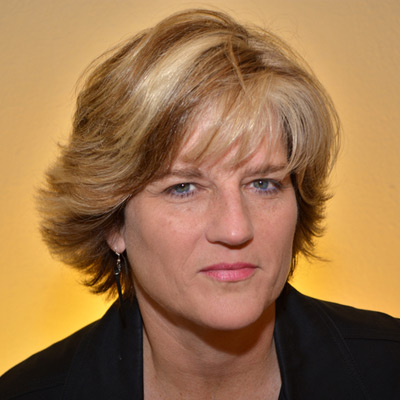 Geni Whitehouse,CPA is a self-proclaimed nerd who has been heard around the globe on topics ranging from communication to finance to social media for introverts. An author, keynote speaker, and accounting industry influencer, Geni believes everyone has something interesting to say and is out to prove it. She spends half of her time working as the Countess of Communication at BDCoCPA.com and the rest of her time writing and speaking on financial and technology topics. A former tech company executive and CPA firm partner, she has been named one of the 25 Most Powerful Women in Accounting and an Industry Top 25 Thought Leader.
"Geni was our ending Keynote at our Fall 2016 ITA Collaborative ... she delivers her message with humor and common sense analogies. I highly recommend Geni as a speaker." ---Stan Mork, President at Information Technology Alliance and Owner of Mork Consulting, LLC
We hope you'll join us for this entertaining and informative event!
---
FAQs
Are there ID requirements or an age limit to enter the event?
Alcohol will be served at this event. All attendees must be of legal drinking age, over 21.
Where can I contact the organizer with any questions?
Contact Events Director Christine McMillan, at Christine@WineWomen.net.
Can I update my registration information?
Yes. You may return to this site to update your ticket.