Description
Aside for all the awesome kickball action, we will host weekly bar socials and league-wide parties to make Kickball the thing you most look forward to the most each week!
Night: Wednesday
Start Time: 7:00pm
Season Length: 6 weeks regular season + 1 week of playoffs
Season Starts: May 9th
Season Ends: June 20th
Team Size: Minimum of 6 men and 6 women
Sponsor Bar: Fatty McGee's
**New for 2018, Now one person can register their entire team. Select the 'Team Entry' option at checkout. Use this option to save $$$ if you are playing on a full team of 13+ players.
**New for 2018, Captains who have a full team registered by the early registration deadline (3/25) will receive a free individual entry into a future league of their choice!
3 Ways to Join the League
FREE AGENT: Choose 'Free Agent' if you are joining the league as an individual and wish to be placed on a team.
SMALL GROUP: Choose 'Small Group' if you have a group of friends that want to be kept together, but don't have enough for a full team.
FULL TEAM: Choose 'Full Team' if you are a part of a team that has a minimum of 6 men and 6 women. Full teams will not receive any free agents or small groups.
*entry fee includes all umpire fees, team shirt, weekly bar socials, pre and post season parties, photographer, all equipment and trophies to the championship team.
IMPORTANT DATES!
January 1st: Registration Opens
March 25th: Early Registration Ends (register early, save $10/person)
April 15th: Late Registration Starts ($10/person late fee)
April 19th: T-Shirt Pickup Party
May 6th: All Registration Ends
May 9: Season Starts
June 20th: All Teams Playoffs
June 27th: Rainout Date
See a night in the life of LI-Kick on YouTube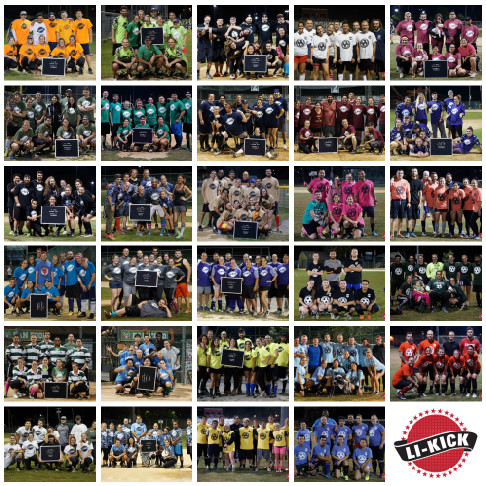 ABOUT LI-KICK: LI-Kick is Long Island's premier provider of co-ed adult social sports. Our mission is to provide a fun and social experience for adults on Long Island. We pride ourselves on offering strong recreational and competitive platforms for players to strengthen friendships & meet new people, all while playing a really fun game. Since 2013 over 4,000 people have played in an LI-Kick league or tournament.