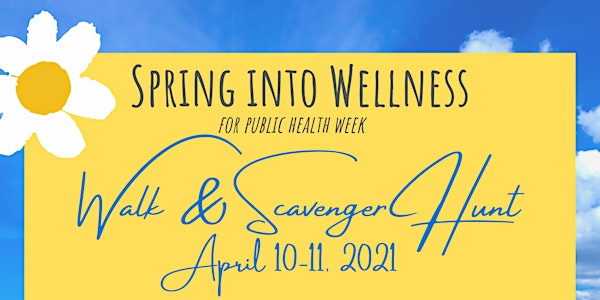 Spring into Wellness for Public Health Week Walk and Scavenger Hunt
Spring into Wellness in Worcester County by Participating in the 2021 Public Health Week Walk and Scavenger Hunt this April.
About this event
A walk scavenger hunt is scheduled to take place April 10-April 11, 2021. Residents can get in their steps from 8am-8pm at any one of the following park locations:
● Byrd Park-Snow Hill, Maryland
● Cypress Park-Pocomoke, Maryland
● Stephen Decatur Park-Berlin, Maryland
We encourage residents to walk through the park and look for wellness rocks. The first 50 who report the number of wellness rocks found along with a photo will receive a free Spring Wellness Bag. Submissions should be emailed to crystal.bell1@maryland.gov. This is an excellent event for anyone and a way to increase physical activity by walking and participating in a scavenger hunt. To earn even more great prizes, join the free Just Walk Physical Activity Program. Visit justwalkworcester.org to learn more.
By accepting a ticket for this event, I intend to be legally bound for myself and on behalf of my child, where applicable, my heirs, and personal representatives and do hereby release and discharge the County Commissioners of Worcester County, Maryland, their employees, representatives, volunteers, successors and assigns (hereinafter called indemnities), from any and all liability for death or damages and for any and all loss, claim, or injuries to me, to my child, where applicable, or to my property, arising in any way out of my participation and that of my child, where applicable, in this program. I further agree that I will defend, indemnify, and hold harmless each and every one of the indemnities against all claims, demands, and causes of action including court costs and attorney's fees directly or indirectly arising from any action or other proceedings presented for my benefit and/or the benefit of my child, where applicable, contrary to this waiver and release. This waiver and release extends to all claims whether foreseen or unknown, I attest that I have full knowledge of the risks involved in this program, that I and my child, where applicable, are physically fit, have sufficient training, and I and my child, where applicable, are physically prepared for participation, as well as completion of the Just Walk event.
I give permission to the Worcester County Health Department to use my picture and testimonial in educational and promotional materials. I reserve the right to review any information before it is published. If I decide to revoke this consent, I will submit a written statement to that effect.