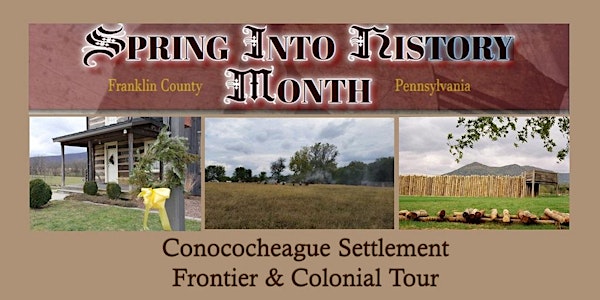 Spring Into History Conococheague Settlement Frontier & Colonial Tour
When and where
Location
Franklin County 11/30 Visitors Center 15 South Main Street Chambersburg, PA 17201
Refund Policy
Refunds up to 1 day before event
Description
Step back 300 years and explore the earliest settlements of Franklin with the Franklin County Visitors Bureau Spring Into History Frontier & Colonial Tour on April 6, 9 AM to 4 PM. Participants will meet at the Franklin County 11/30 Visitors Center to begin the tour with a brief overview of early Franklin County and early America. The tour takes in sites of frontier settlement and raids by the native tribes. Living history portrayers at Conococheague Institute and Fort Loudoun. Learn about these early residents of the Cumberland Valley. Glimpse their lifestyle, culture, customs, and challenges.
Total cost of the tour is $50. Bring a friend and save Two tickets for $75. Lunch is included along with several historical items and information pieces.
Experience a new awareness of American history and gain respect for the frontier settlers in the Spring into History Conococheague Settlement Frontier & Colonial Tour.
PARKING
Parking is not metered on Saturday, so there is no need to add money to the meters. The Chambersburg Shopper's Lot, located ½-block off South Main, provides ample parking.
To park in the Chambersburg Shopper's Lot When Traveling West on Lincoln Way East
At the traffic lot where Lincoln Way East meets Main Street, be sure to get into the left lane. Proceed through the light, passing Central Presbyterian Church on the left. Immediately after passing the church and its annex is Black Avenue. Turn left onto Black Avenue and continue past the M&T drive-up. Parking is on the right, just after the drive up.
To park in the Chambersburg Shopper's Lot When Traveling East on Lincoln Way West
US Rt. 30 becomes Loudon Street. After passing over the bridge at the Southgate Mall, it will become Queen Street and crosses the Rail Trail. Stay in the left lane and turn left onto Black Avenue. Turn left into the Shopper's Lot.