Description
Spring Into Happy with a 3 Night Retreat in the Colorado Foothills
Sometimes happiness takes a back seat over the wintertime due to short days and long nights. Let's spring into happiness together over daylight savings weekend by playing in the woods together. At this intimate retreat, we'll:
Turn off our digital devices
Smile through laughter yoga
Play improv games
Take walks in the woods
Enjoy campfire conversations
Explore ways to be happy alone — and together
What's Included
Ground transportation to and from Denver International Airport
All food/drink from Thursday dinner to Sunday breakfast
Lodging
All activities and activity materials
See What People Have To Say About Amy & Gary's Events
"Thank you for hosting this meetup! I had so many memorable moments at World Domination Summit and your meetup was truly one of the top. As adults we can get caught up in the rat race and taking ourselves too seriously. One of my favorite quotes is "life is too import to be taken so seriously". Love what you bring into this world as we need more of it. Wish you both endless laughter and success in your pursuits. Hope we can stay connected - All the best!!"
- Ebony Cauley, Apollo Beach, Florida

"I had a wonderful time at my first ever improv session! It brought my inner creative and confident child to live (and to the stage too!). I don't think I would have delivered my story on stage the same way, if I had not attended your meetup! (Really!). So, thank you!"
- Naser Al Sughaiyer, Dubai, United Arab Emirates
---
Learn about your hosts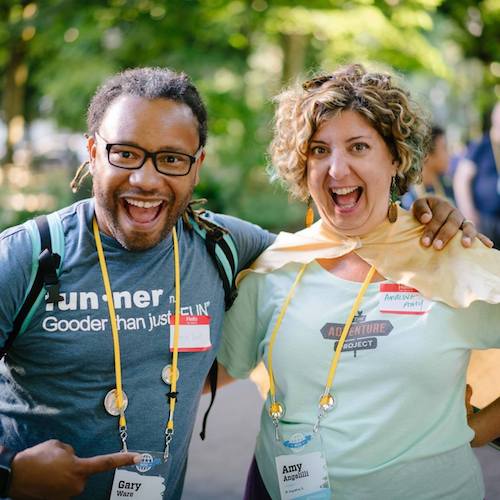 Amy Angelilli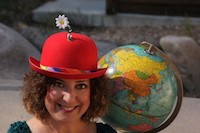 As Chief Adventure Officer of The Adventure Project, and as a certified laughter yoga leader, Amy Angelilli combines the art of play with mindfulness exercises and laughter to help others discover their own life adventures. She has facilitated playshops for summer camps (for kids and grown-ups!), after school programs, spiritual centers, yoga communities, business leaders, college students, active senior centers and women's retreats. Her immersive play-work focuses on self-discovery and meaningful connections ... and, of course, fun! Currently she heads up an improv training center at Limelight Theatre in St. Augustine, Florida. Since arriving in the sunshine state, she has facilitated play experiences for people from 9 to 92 and every age in between. When not playing or planning adventures, she's usually enjoying meaningful travel or improvisational theater. Her greatest performance is as herself in "It's All About Amy" – the improvised story of her life. She also created, produces and directs the theater experience "3 Blind Dates" – an unscripted romantic comedy that showcases the phenomenon of modern dating. Follow her adventures at www.adventure-project.com and you just might find your own adventure (like this one)!
Gary Ware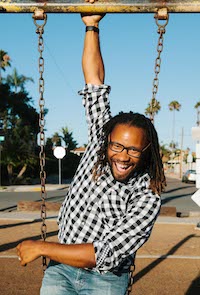 Gary Ware is the founder of BreakthroughPlay.com, a site that helps professionals level-up their confidence, creativity, and happiness using play.
In working with young professionals and pulling from his own experiences, Gary realized that something was missing in his life. After experiencing burnout after burnout in pursuit of success and happiness, he realized that what was missing was Play.
As adults, we often feel that "play" is childish or something that is a distraction. But after taking an improv class over six years ago, Gary realized that when you play, your life just works better. He began creating workshops and events to share the ways you can incorporate play into your life and experience how it can improve all areas of your life; from relationships to confidence and creativity.
Combining over half a decade experience with improvisation, and over 14 years in the field of Digital Marketing, Gary has helped hundreds of companies and thousands of professionals like you make major breakthroughs in their life.
He now hosts retreats, corporate workshops, emcees events, and delivers keynotes nationwide spreading the power of PLAY.