Description
A FREE EVENT!
Bask in the soothing full moon light as it rises over the ocean and be transported far away to a place of peacefulness and tranquility by beautiful mantras and live music.
Enjoy a community of like minded individuals, family/friends and a tea at our free Chai Bar.
Watch a teaser video on facebook.
---

DETAILS
Where: Wellington Point Recreation Reserve (Follow the carpark loop and look for the flags.)
When: Saturday, 14th September, 6 - 7:30pm. Moon rise is at 5:41pm and it will be dark around 6pm so we recommend you plan to arrive at 5:40pm and settle in before 6 if you want to watch the moon rise.
What to bring: Bring a jacket, yoga mat, cushion, picnic throw and insect repellant for your comfort.
Weather: As this is an outside event it is weather dependent. We will post any cancellations and if you are unsure please check back here or phone John on 0403 676 435.
Please RSVP by clicking the Register button above so we can guage numbers and contact if you if we need to cancel due to weather. Thank you!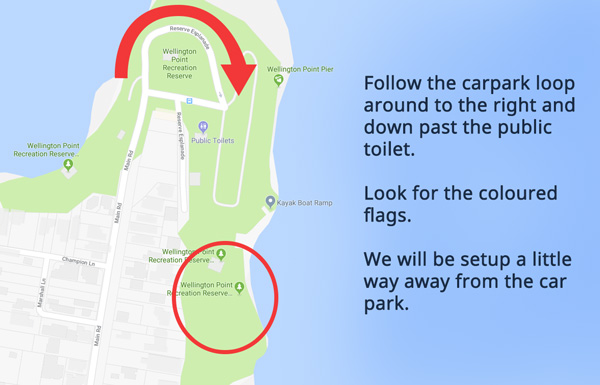 ---

PLEASE HELP US!
This is a special evening that we are thrilled to be able to put on for you.

Due to popular demand and the magical location we will be at Wellington Point again but this time we want to make it bigger and better with your help.

The more people that come together and participate in this yoga meditation practice known as Kirtan, the more inspiring and enlivening it can become. Kirtan is a group meditation that brings people from all walks of life together in a shared experience that creates peace and goodwill in one's heart.

So please, if you enjoyed it last time help us by sharing this far and wide and invite your family, friends, and neighbours - hell bring your pets!

We hope to see you there. Please RSVP so we can know attendance numbers and keep you up to date with details.

Wishing you well,

Jayadharma and friends
---

WHAT TO EXPECT
Deep Peace Relaxation
For 20-30 minutes you will be guided through a variety of breathing, meditation, and relaxation techniques for the mind and body while lying down. This is a gentle and deeply relaxing practice where you may even fall asleep.
Kirtan Meditation
After putting your mind and body into a deeply relaxing space, it is time to move into Kirtan. Kirtan is a very simple and guided group meditation process, where you focus your mind and your heart on hearing and singing of wonderful mantras (sacred yoga sound vibrations). This brings about an inner peace and joy of the heart.
The mantras are lead and guided by the instructor, accompanied with relaxing live music.
Refreshments
After the Kirtan winds down there will be free Chai available for everyone and it's an opportunity to socialise or simply relax under the cool moon.
Hosted by Redland Yoga and Meditation in conjunction with the Australian School of Meditation & Yoga.