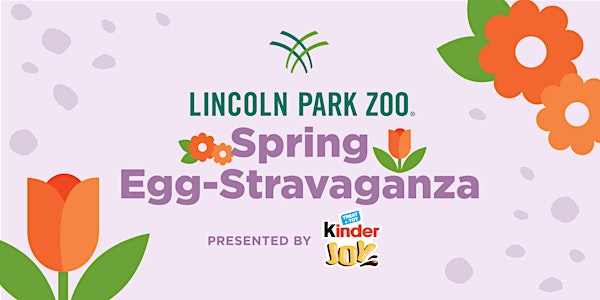 Spring Egg-Stravaganza Presented by Kinder Joy®
Get "egg"-cited! Lincoln Park Zoo's Spring Egg-Stravaganza Presented by KinderJoy® will have the whole family hopping.
When and where
Date and time
Saturday, April 8 · 8am - 12pm CDT
Location
Lincoln Park Zoo 2234 North Cannon Street Chicago, IL 60614
About this event
Come celebrate spring at the zoo with this family favorite event. Highlights include:
Egg hunts for every age group
Photos with the Easter Bunny
Musical fun with Mary Macaroni and the Impastas
Free rides on the AT&T Endangered Species Carousel and Lionel Train Adventure
Outdoor activities and games
Chats with zoo animal experts to learn more about what spring means at the zoo
One $5 Bunny Bucks voucher per attendee to use on a breakfast, lunch or snack item at any zoo concession area during the event
Schedule of Events:
8 a.m.–11:30 a.m. | Meet the Easter bunny, enjoy outdoor activities plus games and music
8 a.m.–12 p.m. | Scavenger hunt Presented by Kinder Joy®
8 a.m.–12 p.m. | Free carousel and train rides (weather permitting)
8 a.m.–11:45 a.m. | Musical performance by Mary Macaroni and the Impastas
11:50 a.m. | Easter Bunny farewell parade
8:30, 9:30, 10:30 and 11:30 a.m. | Egg hunts
Note: Egg hunts will take place in assigned waves organized by age group. If you have multiple children in different age groups and would like for them to participate together, please select the age group of the older child for all children. Children may participate in the age group above their actual age, but not below. All ticket purchases are final and no changes are permitted after purchase. If you miss your egg hunt time, we are unable to move you to another wave due to capacity limits of each egg hunt area.
We do not recommend the egg hunt for children under 12 months of age. Kinder Joy® Eggs are intended for children 3+ and will only be distributed in egg hunts for the older age groups.
Space in each wave is limited and tickets are first come, first served. Note: All ticket purchases are final and no changes are permitted after purchase.
Lincoln Park Zoo will provide approximately 15 eggs for each child. Please be respectful of other participants when hunting.
Guests are required to bring their own baskets or bags for egg hunting. Bags or baskets will not be provided.
All Lincoln Park Zoo event tickets are nonrefundable and nontransferable.
Interested in sponsorship opportunities? Email corporatealliances@lpzoo.org.
Interested in hosting a private event at Lincoln Park Zoo? Email groupsales@lpzoo.org.
Have accessibility needs or need help buying a ticket? Email accessibility@lpzoo.org.
Interested in volunteering at Lincoln Park Zoo? Email volunteerservices@lpzoo.org.
Have other questions or issues not listed here? Email events@lpzoo.org.
About the organizer
About Lincoln Park Zoo
Vision
Inspire communities to create environments where wildlife will thrive in our urbanizing world.
Mission
Lincoln Park Zoo is dedicated to connecting people with nature by providing a free, family-oriented wildlife experience in the heart of Chicago and by advancing the highest quality of animal care, education, science and conservation.
Funding
Lincoln Park Zoo is a privately managed institution that depends primarily on the support of its visitors, members and donors to remain open and free every day. More than two-thirds of the zoo's operating budget is provided by revenue from its food service, retail shops, parking, and fund-raising activities. The remaining portion is provided by a fixed annual subsidy from the Chicago Park District.
Leadership
Lincoln Park Zoo is ambitious—a direct reflection of our executive staff and the passion they bring to the zoo each and every day. Their talents lead to the conservation of animals around the world, the cataloguing of critically endangered plants at the zoo, the development of learning programs throughout Chicago, and the creation of animal-care techniques that benefit individuals across the globe. The zoo also relies on its Board of Trustees for leadership and guidance. Providing insights on financial and operational matters, they are primarily responsible for the fiscal health of the zoo. The Women's Board and Auxiliary Board provide supportive funds through extensive fundraising efforts, such as Zoo Ball, and public service initiatives, such as Spooky Zoo.
Reservation and Ticket Policies
Capacity
Lincoln Park Zoo reserves the right to increase or reduce the number of reservations available on any given date/time based on visitor data, operational capacity, and/or City and State guidelines.
Refunds
All events at Lincoln Park Zoo are non-refundable.
Weather/Emergencies
Lincoln Park Zoo and associated events are rain or shine. In the case of severe weather or unexpeced emergencies, we will do all we can to notify guests in advance of specific cancellations .
Photography and Filming Notice
During your virtual and in-person visit to Lincoln Park Zoo, you may be recorded or photographed by or on behalf of Lincoln Park Zoo. Your purchase/entry to this program serves as permission for use of your image by Lincoln Park Zoo.
Lincoln Park Zoo regularly uses this media to review our practices as well as safeguard our participants should any unwanted behavior arise. At times recordings/photographs are requested by the media for promotional consideration as well. Lincoln Park Zoo may also share the recorded video or photographs after the program, for future promotional efforts.  
If you do not want your likeness or name recorded at virtual events, please ensure your camera is turned off and the alias associated with your account is updated. 
Lincoln Park Zoo will do everything possible to communicate media schedules in advance as well as clarify recording status to all guests participating in both virtual and in-person events.