Spring Detoxification for Health & Wellness: A Three Part Series

Wednesday, April 8, 2015 at 6:00 PM

-

Wednesday, April 29, 2015 at 6:00 PM (PDT)
Event Details
Spring Detoxification for Health & Wellness:
A Three Part Series
Springtime is liver time in many systems of traditional medicine, and the liver is our primary organ of detoxification. This three part series will focus on how to support the liver and other detoxification pathways to promote health and wellness.

The liver is responsible for more than 500 different functions! By learning to improve your liver health you will also improve digestion, energy levels, hormone balancing, nutrition, and especially metabolism. But with all the hype and fads around detox-ing, it can be hard to know what's the best way to go and where to start. In this series we will explore springtime health in a new way that emphasizes nourishment and satisfaction!
Part 1: Coping with Seasonal Allergies
April 8, 2015 • 6-8pm
Did you know seasonal allergies (like our Sierra cedar season!) have a whole lot to do with how well your body's detox systems are working? In this class we will talk about ways to support the body's detox through allergy season as well as discussing and tasting some of the most important nutrients and herbs for combatting seasonal allergies.
Part 2: The Myth of the Dirty Liver
April 22, 2015 • 6-8pm

Your liver is actually a superhero. It does so many different things for your body (more than 500 processes!) that sometimes it just gets a little tired. In this class we will talk about what your liver does, how it works, and the best herbs, activities, and foods to help it do its thing. Since doing is learning, we will be tasting and sampling herbs and blends in this class.
Part 3: 21 Day Sugar Detox: How to Break Up With Sugar!
April 29, 2015 • 6-8pm
We are learning more and more about how damaging and addicting sugar is to the body, but even for those of us who want to, quitting sugar in all its forms feels next to impossible. This intro session will help acquaint you with how you can break free of sugar and carb cravings and gain food freedom. There will be delicious snacks and treats to try! Please note that this sugar detox is not recommended for vegans.
---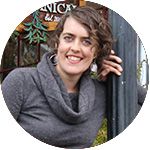 Instructor
Alanna Whitney  is a medicine maker, wildcrafter, plant geek, and kitchen witch. She loves teaching more than anything because there is nothing so exciting as empowering people to take back control of their own health because WELLNESS IS OUR BIRTHRIGHT!
She is a Certified Clinical Herbalist and flower essence practitioner, having completed a two-year intensive clinical program at the North American Institute of Medical Herbalism (now CSCH). She spent 10 months working in the school's sliding scale public clinic.
Having recently (and happily) returned home to Nevada County, she now serves the community as a practitioner at HAALo. She currently serves as adjunct clinical faculty at the Colorado School of Clinical Herbalism.  Read more about Alanna and her work or contact her for more details.
Registration
Take one class or the full series!  All materials fees are included.
Individual classes - $30
Full series, 3 classes - $80
---
Cancellation Policy
Refunds will be offered for cancellations made at least two weeks in advance.  Registration is transferable to another person at any time.

Have questions about Spring Detoxification for Health & Wellness: A Three Part Series?
Contact HAALo
When & Where

HAALo
412 Commercial St
Nevada City, CA 95959


Wednesday, April 8, 2015 at 6:00 PM

-

Wednesday, April 29, 2015 at 6:00 PM (PDT)
Add to my calendar
Organizer
HAALo Herb Shoppe is nestled in the Sierra Nevada foothills, in the charming Victorian town of Nevada City, California. Alternative health practitioners and herbalists work behind the counter to help explore healing alternatives. 
HAALo's mission includes education for our local community for home herbalism, as well as continuing education courses for herbalists and practitioners. HAALo sponsors and supports annual events that celebrate all that is herbal and botanical.
HAALo has a full herbal apothocary including Western, Chinese, culinary, and Ayurvedic herbs. In addition to bulk herbs, we have many off-the-shelf remedies and products that are hand-crafted by local herbalists and artisans.
HAALo serves as a support network for practitioners, farmers who grow our medicine, and for those in the community who need healing.