Symposium on Design and Construction Issues at Hazardous Waste Sites
About this Event

Spring 2021 Virtual Symposium
DCHWS East will be virtual in Spring 2021
Due to the ongoing pandemic, DCHWS 2021 will be held virtually on March 29, March 31, and April 1 using the CLU-IN presentation platform. Registration for the virtual event will open in early 2021 with new pricing for sponsors and exhibitors. Our call for abstracts and moderators is open!
To the private sector, by keeping your 2020 registration, sponsorship, and/or exhibit, you are automatically registered for our April 6-8, 2022 in-person event and will get ongoing advertising related to this event!
For our government attendees that registered for the 2020 event, your registration will be canceled, as there was no cost associated with your registration. The intent is to keep government registration free for 2022.
We launched a new DCHWS website (dchws.org) that includes information about the East, West, and Virtual Symposiums and the Webinar Series. Ongoing updates will be posted on this website. If you have questions, please email east@dchws.org.
Call for Abstracts/Moderators is Now Open! 
Summary of Event
The applications of engineering and science associated with cleaning up hazardous waste sites continue to evolve rapidly. Our goal is to facilitate an interactive engagement between professionals from the government and the private sector related to relevant and topical issues affecting our field. We will make every effort to mirror all aspects of past symposiums in terms of format and spirit. As a SAME event, registration fees will be covered by private sector sponsorships and registration fees. The registration fee is being waived for government employees.
Event Registration Fees
*We will be updating the Virtual Pricing soon*
The registration fee is being waived for government employees. Registration fees are as follows:
Private Sector - $300
Young Member - $250
Military/Government - Free*
*Military/Government attendees need to be approved through their chain of command.
Sponsorship & Exhibiting
Sponsorships and Exhibitors will include one registration ticket.
Exhibitor Instructions: Click here!
Important Dates
Registration Closes - March 1, 2021 @ 11:30PM 
March 29, 2021 - Conference starts
March 31, 2021 - Second Day of Conference
April 1, 2021 - Third Day of Conference 
Sponsorships
Wednesday Reception Sponsor- $1250-Sold Out
Thursday AM Breakfast Sponsor- $1250- Sold Out
Thursday AM Break Sponsor- $1250- Sold Out
Thursday Reception Sponsor- $1250- 1 left
Friday AM Breakfast Sponsor- $1250- Sold Out
Friday AM Break Sponsor- $1250
Room Key Sponsor- $1250- Sold Out
Mobile App Sponsor- $1250- Sold Out
Internet Sponsor- $1250
Water Station Sponsor- $1250-Sold Out
Signage Sponsor- $1250- Sold Out
 Current Sponsors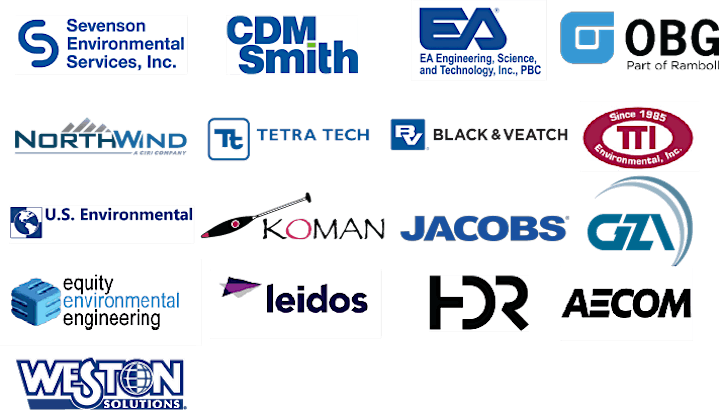 Exhibitors-Sold Out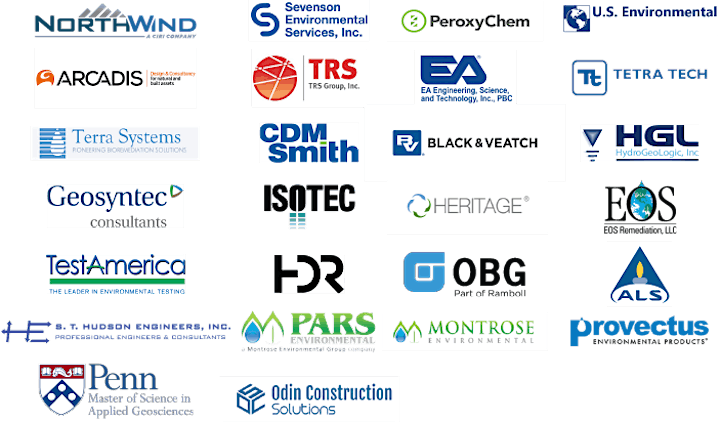 Steering Committee Members
Jim Romig, CDM Smith
Andy Bullard, CDM Smith
Lyle Trumbull, Ramboll
Jimmy Blake, Ramboll
Gordon Araujo, UGI Utilities, Inc.
Mike Badeau, Bluestone Environmental
Amy Basehoar, KOMAN Holdings, LLC
Jaimie Wright, KOMAN Holdings, LLC
Karen Buniak, TTI Environmental
Dan Amate, GZA GeoEnvironmental
Kate Garufi