About this Event
** Sorry this event was cancelled due to circumstances beyond our control with the Coronavirus National Emergency announcement **
______________________________________________________________________
Prepay here for BOTH the Dance Camp & St. Patrick's Dance!
SPRING DANCE CAMP 2020 - 8 DANCE LESSONS
Saturday, March 14 - 1:30 PM to 6:00PM
Come enjoy a no pressure enjoyable afternoon and learn 8 EASY DANCE LESSONS OR BRUSH UP with men rotating partners. Practice on dance breaks with new people you've met. Have two-left feet, join us. Singles invited and separate area for couples. It's a fun day!
You will LEARN 8 NEW DANCES or Come to Brush Up:
• Hustle
• East Coast Swing
• American Waltz
• American Foxtrot
• Cha Cha
• Bachata
• Nightclub 2-Step
• American Rumba
Marcin has an easy style that makes it fun for everyone while you learn or brush up on these dances.
Taught by professional dance instructor and dance champion Marcin Mocarski the owner of Fred Astaire Ballroom.
Take advantage of this amazing price that normally would cost $200 or more for 8 DANCE LESSONS with Marcin Mocarski. Don't miss it with big savings for dance lessons and fun learning to dance!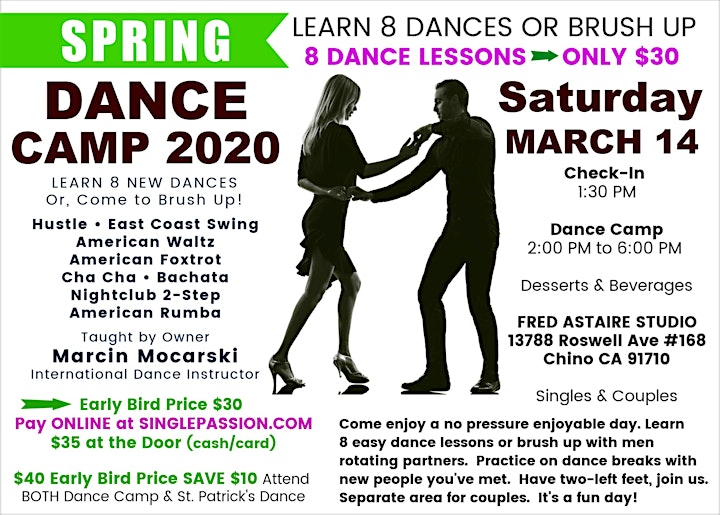 Arrival Time:
Check-In 1:30 PM
Dance Camp Begins 2:00 PM:
2:00 PM to 6:00 PM
Includes 8 Dance Lessons. Complimentary refreshments. Head to dinner with people you met at the dance camp. Come back after dinner for our fun St. Patrick's Party. See the St. Patrick's Dance at SinglePassion.com and past Dance Camp photos.
COST :
$30 - Early Bird Price
$35 - Pay at the Door, cash/card
$40 - Early Bird Price: Dance Camp & St. Patrick's Dance. SAVE $10!
Click here: SinglePassion.com about the St. Patrick's Dance!
PARKING:
Plenty of free parking. You'll see the water fountain in the center of the parking lot and our sign. Walk down the center. The dance studio is easy to find on the left side #168.
Presented by Single+Passion a 501(c)(3) nonprofit. No refunds offered, but your spot is transferable to a person of your choice.