Spring Commissioning at IYRS: Prepare Your Boat for Boating Season
Description
Gain hands-on experience in order to prepare your boat for the upcoming season.
The workshop covers many of the common systems found in boats in the 40 ft. range and under. Focus will include battery evaluation and preparation for season, flush and sanitization of fresh water system, clean prepare and test sanitation system, engine and power train inspection, checking fuel and fuel filters, changing oil and filter, inspect cooling system and impeller replacement, install shaft zincs and polish propeller, inspect and service sea cocks, inspect shore power cord, commissioning and clean air conditioning and refrigeration, and more.
Workshop Instructor: Nels Larson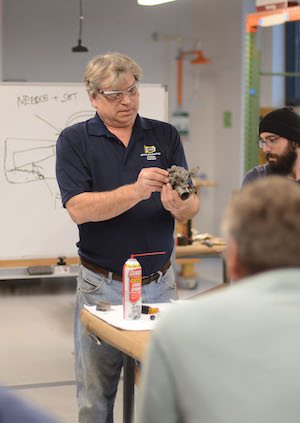 About the Instructor
Nels Larson has over thirty years' experience in the marine industry. Graduating trade school in the spring of 1983, he gained a true passion for custom sailing yachts during the last America Cup race to be held in Newport, RI. He has worked for prestigious companies such as as Cambria Yachts and Ted Hood yacht builders, where he gained extensive knowledge of onboard marine systems. Nels used his experience to start his own company, Nordic Marine, where for the past ten years he has worked building, refitting and repairing systems on yachts such as Dorade, Santana, Oliver Hazard Perry and many other notable projects. Nels is an ABYC Master Technician and holds many certifications and factory training. Nels Larson is currently the Lead Instructor for the Marine Systems program at IYRS School of Technology & Trades.
---
FAQs
What should I bring into the event?
All tools, materials and safety/protection will be provided. Please wear closed-toed shoes or boots and wear clothing that you do not mind getting dusty or dirty.
What's the refund policy?
No refunds will be offered once you have registered for the course.
Do I have to bring my printed ticket to the workshop?
Yes, please bring your ticket to the event or have your registration pulled up on your smartphone.
Is there parking on-site?
Yes, IYRS has a parking lot right off of Thames Street. While it is a paid lot year-round for Newport guests and visitors, you will be provided a parking pass for the day at no additional cost.