Description
Looking for a great way to encourage your children to spend time outdoors this Spring Break? Register now to participate in Spring Break Adventure at Miller Woods, a two-day Watershed Education Adventures (WEA) program to connect kids with nature and our Yamhill River Watershed (ages 6-12). Led by local environmental educators, Theresa Crain and Neyssa Hays, WEA is a unique opportunity for your child to learn through a structured and engaging outdoors experience. Brought to you by the Greater Yamhill Watershed Council and Yamhill Soil and Water Conservation District.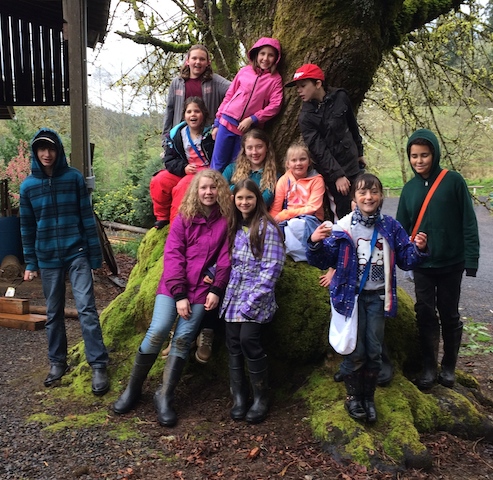 FAQs
Where can I contact WEA with any questions?
Please email questions to wea@gywc.org.
Additionally, if your child has special needs (ie allergies, food sensitivities, etc), please let us know so we may prepare. We will not provide lunch, but some of our activities do involve treats such as cake, candy, nuts, etc.
Can I register for single dates of the event?
Yes! Each day will have a new adventure. While we'd love to see your child's smiling face both days, we also understand that spring break can be very busy.
I just heard about this and your online ticket sales are closed. Can I still bring my child?
Maybe. Please check with us for availability. "At the door" registration is cash or check only.
Are there scholarships available?
We have a limited number of scholarships or sliding-scale fee passes available. If you are interested, please contact us at info@gywc.org.
What should my child bring?
Lunch and water. Please pack a "cold lunch" with energy to burn in mind.
This is an outdoor event and spring in the Pacific Northwest can be unpredictable. Please make sure your child is prepared. We encourage layering clothing and wearing articles and shoes that can get very muddy and that will protect them from stickery, prickly plants. Rubber boots and a change of shoes would be appropriate. Please no sandals or open-toed shoes of any kind. Depending on weather, rain gear may be a good idea.
If your child has extreme allergies to things like insect stings, please send appropriate medications, written directions, and let us know.
Please put your child's name on everything and contact us as soon as possible if something gets left behind. It is likely to be cold in the morning and warm in the afternoon, so layers are likely to be peeled.
What shouldn't my child bring?
Please do not send your child with any toys (electronic or not), gaming devices, music devices, etc. We want all of our guests to have a fun, "unplugged" day of connecting with nature. If necessary, children will be able to call or text you at the end of the day, but toys or devices being used during the program will be confiscated until the end. We will give time for taking pictures, but again, we don't want picture taking to take over the whole day.
Money: there is NOTHING to buy at our program, so there is no need for your child to have money with them.
WEA, GYWC, Miller Woods, YCSWCD or their affiliates, staff, or volunteers will not be held responsible for lost or stolen items.