Description
This event has changed venue and scope.

Our project for 2017 is centered on a water retrieval and purification system in Harar, Ethiopia. Harar is a walled city in eastern Ethiopia, formerly known as Gē and one of the five holy cities of Islam. Our project will serve 5,500 residents who currently have no reliable source for clean water.
The project costs is $192,500 and (do that math) that comes to $35.00 per resident. $35.00, by the way, is more than the monthly income of the people in the area. So we thought we'd ask you to decide how many people you want to help.
Tasting Room Admission - $35.00 – help one person
Vintage Room Admission - add $35.00 – help a second person

You can, of course, donate for as many persons as you would like and you can help with every purchase you make this evening. Orders of $350 mean Nicholas Roberts chips in $35.00 to help too.
As a result of last year's Spring Awakening and Harvest Tastings, we successfully completed a project in Beliti Ethiopia. If you would like to travel with us for the inauguration of that project later this year, please let us know.
Last year you helped turn this ...

... into this.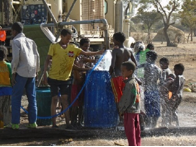 All it takes is $35.00 to help Turning Wine Into Water.
FAQs
What are the best directions for getting to the St. Philips Mansion?
From Merritt Parkway
Take exit 40A (Main Ave. south, toward Norwalk). At 1.5 miles (7th traffic light), bear left onto Route 123 south, still on Main Avenue. After an additional 6/10 mile (3 more traffic lights), turn left on US Route 1 (North Ave.). At the 2nd traffic light, turn left onto France Street (gas stations on two corners). Proceed about 1/10th mile up hill. Turn left into parish driveway.
From I-95
Take exit 16 (East Avenue). If coming from the north (Westport), turn right off the ramp; from the south (Darien), turn left off the ramp. Proceed on East Avenue for 6/10 mile; at a 5-way intersection, bear left (but do not turn left) onto Park Street; the Town Green will be on your right. Continue 2/10 mile to the intersection of US Route 1 (North Ave,). Cross over Route 1 and proceed 1/10th mile up hill. Turn left into parish driveway.

Do I have to bring my printed ticket to the event?
No. We will have a check-in list at the event registration table.