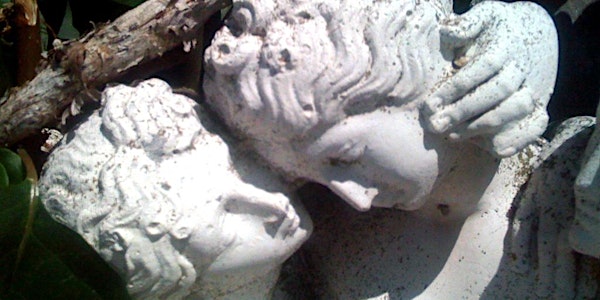 Spring and Her Muse! At The Heart of the Muse
When and where
Location
Rhythmix Cultural Works 2513 Blanding Avenue Alameda, CA 94501
Description
The Heart of the Muse Presents – Spring and Her Muse!

"It is spring again. The earth is like a child that knows poems by heart."
— Rainer Maria Rilke
Featured Guest: Sarah Kobrinsky, Poet Laureate of Emeryville Emeritus
Featured Readers: Hugh Behm Steinberg, Julia Park Tracey, Andrena Zawinski
Guest Visual Artist: Jon Kerpel
Special Guest Musician: Dawn Oberg
Host: Amos White

The Heart of The Muse – an arts forum presenting inspired artists, poets, designers and their latest cultural works and ideas in conversation with the audience.

Fine art, wine and stimulating conversation
amongst the latest cultural works and ideas
and the creatives who dream them.

Spring and Her Muse! At The Heart of The Muse
Doors Open 6:30p | Show 7:30p

FEATURED Guest | SARAH KOBRINSKY
Sarah Kobrinsky is the Poet Laureate Emeritus of Emeryville, CA. Her poems and stories have appeared in Fjords Review, Eleven Eleven, Magma Poetry, 100 Word Story, Monkey bicycle, Shampoo, and Writing without Walls. Sarah Kobrinsky's poems and stories have appeared or are forthcoming in Jewish Quarterly, Bayou, The Molotov Cocktail, Berkeley Fiction Review, among many others.

FEATURED Reader | JULIA PARK TRACEY
Julia Park Tracey is the Poet Laureate of Alameda, CA. Her poems and poetry reviews have been published most recently in Sugared Water, Sweatpants & Coffee, East Bay Review, and Postcard Poems, with forthcoming work in Yellow Chair Review. She is the author of three novels, two women's history compilations and Amaryllis, a collection of poetry.

FEATURED Reader | ANDRENA ZAWINSKI
Andrena Zawinski's latest book, Something About from Blue Light Press in San Francisco, received a PEN Oakland Josephine Miles Award in poetry; her first collection, Traveling in Reflected Light, won a Kenneth Patchen Prize from Pig Iron Press in Youngstown. Author of four chapbooks, founder and editor of the San Francisco Bay Area Women's Poetry Salon anthology, Turning a Train of Thought Upside Down from Scarlet Tanager Books in Oakland. Her work has appeared in The Progressive Magazine, Rattle and many others. She has collaborated with musicians and visual artists with her poetry and is an avid shutterbug with photos appearing in many literary magazines. She is also Features Editor PoetryMagazine.com.

FEATURED Reader | HUGH BEHM-STEINBERG
Hugh Behm-Steinberg is a former Wallace Stegner Fellow and the recipient of an NEA fellowship. His short story "Taylor Swift" won the Barthelme Prize for short fiction in 2015. His works include The Opposite of Work and Shy Green Fields; chapbooks: Sorcery, and Good Morning!; and two libretti: Terrible Things Will Happen But It's Going to Be Okay: A Donner Party Opera with composer Guillermo Galindo, and a children's opera based on the Chinese folktale, The Clever Wife, (Houston Grand Opera - Opera to Go). Hugh collaborates on text/sound art projects with Matt Davignon, and is a member of The Crank Ensemble. He is a Senior Adjunct Professor, Writing and Literature at California College of Arts, faculty editor of Eleven Eleven, CCA's journal of literature and art, the founder and chair of the Art School Writing Faculty Caucus, and publisher at MaCaHu Press with Caroline Goodwin and Mary Behm-Steinberg.
GUEST VISUAL ARTIST | JON KERPEL
The artworks Jon creates "are all about the creatures of planet earth, big and small alike. Animals, whether ocean fish, bees or land mammals, are a key part of the web of life, whereby each is dependent upon the others. As I set to task in my studio I am constantly asking myself how can my artworks have a positive effect on our delicate environment? I am always searching for ways to make the creature world more visible and to attract more positive attention to it through my creations. My assemblages take the form of temples and shrines in order to affirm the importance of the natural world. Some artworks are reactions to world events or tributes to environmental pioneers. I often combine jewels and shiny objects with animal imagery. When you stop and think about it, at some point there is no difference - creatures are the jewels of our planet and we need to view them as such. Whether for food, pollination or pets, creatures are an integral part of our lives. Our environment is everything; without it we have nothing. The materials used in my artworks are 95-100% recycled/repurposed, including wood, animal figurines and other findings."

GUEST Musician | DAWN OBERG
Dawn Oberg is a San Francisco-based songwriter. Bravely eschewing the confines of graceful aging, her upcoming release contains no less than four references to vomit. She has been compared to Randy Newman on NPR.

+++++++++++++++++++++++++++++++++

The Origin of "The Heart of The Muse"
The heart of the muse is the mystical center of creativity and inspiration that lies within what we may identify as our "muse". It is the artistic intelligence exhibited in poetry and verse, in artistic and architectural design, in computer code, or in song. It comes from some place inspired, beyond the conscious poet, artist or musician. The heart of the muse is best exemplified by the poem or verse that "writes itself" or "comes through" the poet-- the oracle of the written "truth."
Website: www.heartofthemuse.com
Facebook: www.facebook.com/heartofthemuse