Description
The Silicon Slopes Spring 2019 Entrepreneurship Lecture Series
Who is the Lecture Series for?
The Lecture Series is open to students and community members who are interested in learning from experienced entrepreneurs. If you've started a business, are thinking about starting a business, or just want to hear about the experiences of seasoned entrepreneurs, this lecture series is for you.
What is the Lecture Series?
The Utah Valley University Entrepreneurship Institute is teaming up with Silicon Slopes to deliver this series of talks from all-star entrepreneurs. Over 14 weeks the series will cover the following topics:
January 15 - User Feedback, lecture by Kendall Hulet, CEO, and Joe Wilson, Head of Product for Cake Browser
January 22 - Starting a Student Startup, lecture by UVU student and Founder of Blue and White Collar Ben Perkins
January 29 - To Be Announced, lecture by Eric Farr and John Wade, Owners and Executive Officers of Brainstorm Inc.
February 5 - A Futuristic Look at the Next 100 Years in Technology, lecture by Jerry Ropelato, CEO of WhiteClouds
February 12 - To Be Announced, lecture by Clark Jensen from Utah Mortgage
February 19 - The Business of Artificial Intelligence: Past, Present, and Future, lecture by Lindsey Zuloaga, Director of Data at Hirevue
February 26 - I Married an Entrepreneur, Brandon Nilsson, husband of Rags.com Founder Rachel Nilsson and LaRee Hansen, wife of Travis Hansen, Founder & CEO of Tesani Companies
March 5 - To Be Announced, lecture by Jacque White, Senior Vice President of SaltStack
March 12 - Fail Fast or Thrive: The Path to a Successful Startup, Brock Blake, CEO & Founder of Lendio
March 26 - To Be Announced, Danielle Ackles, CEO of Merkle
April 2 - Planning For Growth, Jason Olsen, Founder and President of Image Studios 360 and Prestman Auto
April 9 - Revive and Thrive, lecture by Utah Market Leader from HUB International Ltd. Brent Bennett
April 16 - To Be Announced, lecturer Joe Salisbury, DAI Utah
April 23 - To Be Announced, Brent Andersen, Founder & CEO of Loveland Living Planet Aquarium

When is the Lecture Series?
The lectures begin at 12 Noon on Tuesdays on the dates listed above. Each lecture will be approximately thirty minutes followed by ten to fifteen minutes for Q&A.
Where is the Lecture Series?
The lectures are held in the Clarke Building in room 101a in one of UVU's cutting-edge classrooms. See below for a map.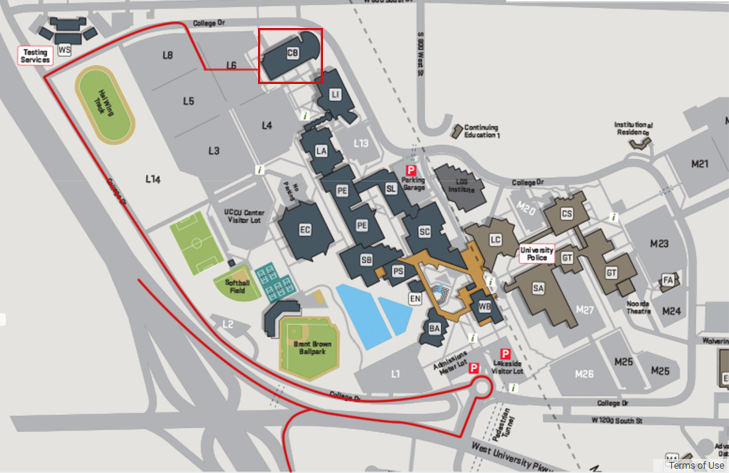 Parking
Visitor parking is marked with red Ps on the first map. Visitor parking is $1 per hour. The closest lot to the Clarke Building is the parking garage. We suggest you come a little early, pay for an extra hour, and enjoy lunch on the campus at one of the vendors on campus. Additional information about parking is available on the UVU Parking website.
Why should I attend the Lecture Series?
Because about 50% of small businesses fail in the first year. You owe it to yourself and your business (or idea) to learn as much as you can from people who have been where you are. You can learn from their mistakes and from their successes. The series is short and free and jam-packed with valuable information. Why shouldn't you go?
Contact
For any questions or concerns, please contact Meagan Sanders at msanders@uvu.edu or (801) 863-5354.