Spring 2019 NSF CAC Industry Advisory Board Meeting

Thursday, April 4, 2019 at 8:00 AM

-

Friday, April 5, 2019 at 12:00 PM (MST)
Event Details
Invitation Venue More Information UA CAC
---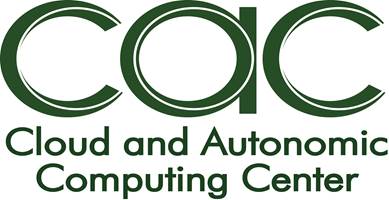 Cloud and Autonomic Computing Center (CAC) Semi-Annual IAB Meeting
April 4-5, 2019
The University of Arizona, Tucson, AZ
 Wednesday, April 3, 2019
5:00--7:30 p.m.      Reception (Tucson University Park Hotel Lounge)
 Thursday, April 4, 2019
Location: Kiva Room, Student Union
08:00

Registration Desk Open

08:00-08:30

Informal Socialization Opportunities

08:30-08:45

Attendee Introductions

08:45-09:00

CAC Center Directors Report

09:00-09:30

NSF Program Director Update

09:30-10:00

Keynote Speaker, TBD

10:00-10:15

Coffee Break

10:15-12:00

Session I: 2018 Continuing Project Updates and Reports
Brief summary of closing CAC projects. Detailed questions if necessary.

 (15 min reports, 5 min Q&A and completion of LIFE forms)

12:00-13:00

Lunch (Kachina Lounge)

13:00-14:20

Session II: New Project Proposals (15 min presentation, 5 min Q&A and completion of LIFE forms)

14:20-14:30

Coffee Break

14:30-15:30

Session III: New Project Proposals Contd. (15 min reports, 5 min Q&A and completion of LIFE forms)  

15:30-15:40

Break

15:40-16:20

Session III: New Project Proposals Contd. (15 min reports, 5 min Q&A and completion of LIFE forms)  

16:20-17:30

Center-Wide Project Discussion, Updates from University of Sonora

18:00-20:30

Poster Session and Dinner @ ECE Main Floor (Lounge and Autonomic Computing Lab)
Friday, April 5, 2019
Location: Kiva Room, Student Union
| | |
| --- | --- |
| 09:00-12:00 | Session IV: Project review and adjustments; meeting conclusions |
| 09:00-09:30 | L.I.F.E. comments review |
| 09:30-10:00 | Project review and selection by IAB |
| 10:00-10:15 | Coffee Break |
| 10:15-11:00 | Closed IAB Business meeting presided by IAB chair |
| 11:00-11:30 | Closed session between industry attendees and the NSF evaluator |
| 11:30-12:00 | Wrap up, setting dates for next meeting etc. |
| 12:00 | Close of meeting followed by lunch provided at the meeting location. |
Center-Wide Projects (Thursday during networking dinner)
In this session we will extend the discussions on stimulating cross-site interactions. Each of our faculty investigators from the sites has unique strengths, specialty areas, and technical perspectives. During this discussion session they will bring these together to identify synergistic research thrusts that no subset of them could do alone. Discussions will include identifying the stakeholders outside the center and brainstorm on innovative industry-research partnership opportunities that could address current and developing challenges.
Venue
The event will be held at The University of Arizona in Tucson, Arizona.
The Meeting (April 4,5 2019) will take place at the Student Union, Union Kiva Room, 1303 E University Blvd, Tucson, AZ 85719. Union Kiva room is at the North-East side of student union (2nd floor, ground level).
University of Arizona map: http://map.arizona.edu/
Student Union map (see level 2): http://www.union.arizona.edu/infodesk/maps/index.php?
Lodging Arrangements
Event Hotel
Tucson University Park Hotel (Main Gate Square, 880 E 2nd St, Tucson, AZ 85719). Participants must contact hotel by March 11.  Room availability cannot be guaranteed after that date.
Rate: $149
Hotel is walking distance to the Student Union, Kiva Room.
Method of reservation
Online: Please use the link given below:
Book your group rate for UA ECE CAC

Or use the url below:
 Other options near the University of Arizona  
- Best Western Royal Sun Inn & Suites (1015 N Stone Ave, Tucson, AZ 85705)     
- Aloft Tucson University (1900 E Speedway Blvd, Tucson, AZ 85719)
- Hotel Congress (311 E Congress St, Tucson, AZ 85701)
More Information
Who should attend this event?
Industry Advisory Board members from member companies and/or their designated representatives should attend. Note that voting will take place on industry-sponsored projects for the upcoming year for the center. National Science Foundation program officers or their appointed program evaluators are also welcome to attend, along with students and faculty members associated with CAC projects from all university sites. The CAC meeting is restricted to IAB members, NSF personnel and CAC university faculty or student project participants. Prospective members from companies or organizations interested in the CAC may request to attend the rest of the sessions of the meeting if desired, which requires signing a non-disclosure agreement. 
What will happen at the meeting?
The primary purpose of the CAC meeting is to review progress on projects and proposals for new research projects to be presented to the Industry Advisory Board. The bulk of the agenda will be devoted to CAC site and project reports and on a prospectus for upcoming work to be conducted by the researchers of the center. The meeting will also include a review of the NSF I/UCRC program, discussion and explanation of CAC by-laws, election of the CAC IAB chair and vice-chair, and other IAB business.
Who can I contact for questions?
Send any questions regarding the center or meeting arrangements to
Ali Akoglu (akoglu@email.arizona.edu) or Salim Hariri (hariri@email.arizona.edu). 
For lodging or local transportation questions, you may also contact Ms. Nancy Emptage (emptagen@email.arizona.edu). 
How should I get from the airport to the meeting location?
The University of Arizona, Kiva Room, Student Union​
1303 E. University Blvd., Tucson, AZ 85719​
UA Campus Map is at: http://map.arizona.edu/
From the airport to the University of Arizona (8.7 mi)
By shuttle: 
There are shuttles available at the airport: http://www.azstagecoach.com/airport-shuttle.html
If you rent a car: 
Take S Tucson Blvd and South Kino Pkwy to N Mountain Ave, Head south on S Tucson Blvd, Slight left toward S Tucson Blvd, Sharp left onto S Tucson Blvd, Continue onto E Benson Hwy,Turn right onto S Campbell Ave/Kino Pkwy/South Kino Pkwy, Continue to follow South Kino Pkwy, Continue onto N Campbell Ave, Use the left 2 lanes to turn left onto E Speedway Blvd, Continue on N Mountain Ave. Drive to E 2nd St, Turn left onto N Mountain Ave, Turn left onto E 2nd St.
Enter Second Street Garage on the south side of the street. This is a pay parking garage. The Student Union is located at the Southwest exit of the Garage. Union Kiva room is at the North-East side of Student union (2nd floor, ground level).
How long will the meeting last?
The IAB agenda will cover all day Thursday, April 4 through the morning of Friday, April 5. Please plan to arrive in time for an 8:00 am meeting start each day. 
What is the cost to attend?
Attendance at the meeting is free for all CAC participants (IAB members, associated NSF program officers or evaluator, CAC-affiliated faculty members, researchers or students), but limited to these attendees. Please register for confirmation.
What meals will be provided?
Lunch and break refreshments each day at the IAB meeting for all registered CAC attendees. There will be a reception Sunday evening for IAB members, CAC researchers, and other CAC participants that we encourage all IAB participants to attend. 




When & Where

The University of Arizona, Student Union
1303 E. University Blvd.
Tucson, AZ 85719


Thursday, April 4, 2019 at 8:00 AM

-

Friday, April 5, 2019 at 12:00 PM (MST)
Add to my calendar
Organizer
This event is organized on behalf of the National Science Foundation Cloud and Autonomic Computing Center, which is part of NSF's Industry/University Cooperative Research Center Program.
The mission of the CAC is provide a practical and collaborative work arena for development and coordination of industry-relevant software, standards and methods specifically applicable to cloud and other advanced forms of distributed computing. 
The CAC's goals in this arena are to identify and foster industry-academia-government partnerships, to identify and develop coordinated efforts on workable reference implementations of these methods, and  to create a trained workforce capable of sustaining the activities and opportunities created through this joint effort. 
The Center is governed through an Industry Advisory Board consisting of its industry members, which selects research topics and sets Center priorities. Participation is open to any industry member or government agency under the terms of the NSF-approved Membership Agreement.