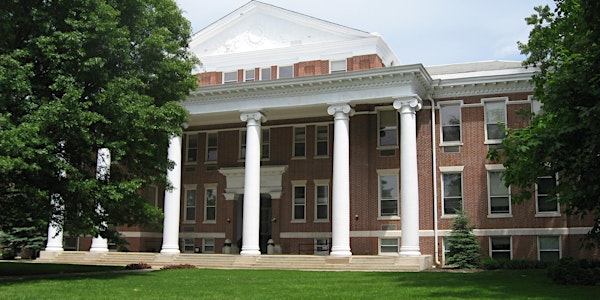 Spring 2019 Indiana MAA Section Meeting
When and where
Location
University of Indianapolis 1400 East Hanna Avenue Indianapolis, IN 46227
Description
The Spring 2019 meeting of the Indiana Section of the Mathematical Association of America will be held April 5-6, 2019 at the University of Indianapolis in Indianapolis, IN.

The due date for abstracts of contributed papers is Friday, March 15, 2019. Title and abstract submission is on-line at http://www.maa.org/indiana.

The invited speakers are: Dr. Deanna Haunsperger (Carleton College and President of the MAA), Dr. Alissa Crans (Loyola Marymount University), and Dr. Manda Riehl (Rose-Hulman Institute of Technology)
Registration Information
Registration for everyone (except students and high school teachers) is $25, if you register on or before Friday, March 15; afterwards, registration is $30. Students (both undergraduate and graduate) and high school teachers register for free.
The registration fee for the Indiana College Mathematics Competition is $20 for each team (of up to three students per team) until Friday, March 15 and $25 after that as available. This Eventbrite registration will serve as your notification of the organizers of your intention to participate.
You may also order dinner Friday night and lunch on Saturday from the above registration form. Cost is $17 for Friday dinner and $8 for Saturday lunch. Orders may be placed on or before Friday, March 15. The menu is posted on the Indiana MAA web site; both meals (Friday dinner, Saturday lunch) will have vegetarian options available. Please email the local organizers about other special menu needs.

You may buy multiple tickets and register a group of people. The next EventBrite page will ask for information on each attendee, in order to ease the registration process at the meeting. Some of the demographic questions are optional and requested by the national MAA to gather statistics on meeting attendance.

Please note that a fee is now charged per ticket by EventBrite, not the section. You are urged to purchase your tickets in such a way as to minimize the amount of fee you are charged.
If you do not want to pay by credit card and instead you wish to pay by check, you can download a printable registration form from http://sections.maa.org/indiana/meetings/Current/registration.pdf and mail it to the Indiana Section Secretary (address is on the form). This form must be received by Friday, March 15 in order to be eligible for the reduced registration rate and meal tickets.
Refund Policy: A registrant who will be unable to attend the meeting can receive a refund of all but $5 of the registration fee by making a request to the Secretary before the start of the meeting. If a registrant informs the Secretary that a prepaid meal ticket will not be used, then that ticket will be made available for purchase during the meeting. If the ticket is purchased, that money will be refunded.
Guests: A meeting participant may bring a guest, who is otherwise not participating in the meeting, to the Friday dinner and/or Saturday lunch - just register the guest under the above "student" rates for meal tickets.